Content Marketing World is part of the Informa Connect Division of Informa PLC
This site is operated by a business or businesses owned by Informa PLC and all copyright resides with them. Informa PLC's registered office is 5 Howick Place, London SW1P 1WG. Registered in England and Wales. Number 3099067.
Direct Marketing and Content Marketing: A #CMWorld Chat with Sue Brady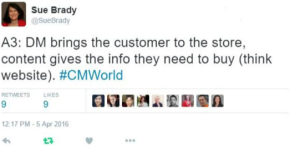 Direct marketing (DM) is a traditional marketing approach — and one that content marketers can learn a lot from. Sue Brady joined our recent #CMWorld Twitter chat to learn about DM and how to apply it to their current efforts.
Visit this week's Storify for even more great conversations on this topic.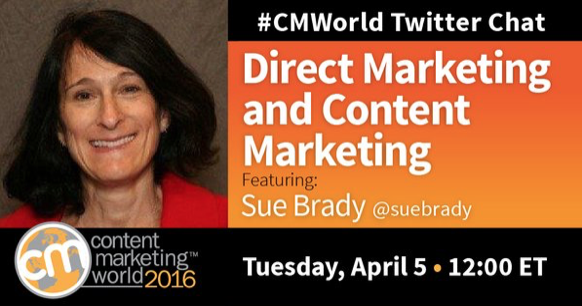 One of the consistent themes this week is that you need to target your efforts, and direct marketing has many applications for content marketers. These tweets from Jeremy Bednarski and our friends at The Content Council sum up what many from our community were feeling.
Participants also see many benefits to including social media and community in direct marketing efforts. For instance, this is what to of our #CMWorld Twitter chat regulars, Danalynne W. Menegus and Mike Myers, had to say:
If you want to learn more about how content marketing fits into all of your marketing efforts, join us at Content Marketing World from September 6 – 9 in Cleveland, Ohio. We'll have 21 tracks fitting all of your content marketing needs, including demand generation, social media and email marketing. Don't forget – BLOG100 saves $100 – register today!
Posted April 6, 2016 in: Event by Cathy McPhillips
---
UP