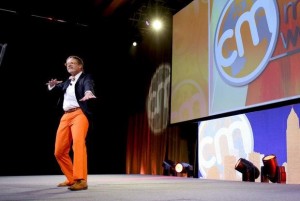 This guest blog post is written by Sue Spolan, Director of Content Marketing for LeadiD, a customer acquisition platform. 
Andrew Davis turns up for the show. Arriving at Content Marketing World like a boss, clad in orange tight pants and orange specs, you could tell he was someone special before he ever opened his mouth.
Davis is on the cusp of even greater achievements. He's about to launch a guaranteed winner of a marketing podcast, but we'll get to that later.
Surprising News About The Funnel
Let's go back in time, back to the beginning of Content Marketing World 2014 when Andrew first took the stage, and provided a textbook example of the right way to do a presentation. Lil Jon's high energy dance hit Turn Down For What announced a frenetic video montage that brought the man onstage like a modern day Houdini.
There's nothing like a bracing history lesson. The sales funnel is not new, and it's not even from the 20th century. Keep scrolling back to the year 1898. Davis explained that the sales funnel concept originated with a man named E. St. Elmo Lewis, an early advertising Hall of Famer whose Awareness/Interest/Desire/Action model is still in use today.
Now an active evaluation loop, according to Davis, the consumer driven sale starts with search. Once the prospect hits Google, all bets are off. The path is made of a multitude of online touchpoints, all related. "Google is the comfort food of search," Davis explained, backed by an image of meatloaf, mashed potatoes and peas. His search for that image quickly morphed into a journey that led him in and out of ecommerce sites, flickr, Wikipedia, YouTube, WebMD and a kaleidoscope of others. That is Davis' reality, and it's also the reality of today's customer.
Harness that nonlinear energy and convert at the moment of inspiration, preached Davis. Don't sell the tools. Locate the problem and solve it. That's the backbone of great content marketing. We are not selling a product, said Davis. We are selling the fulfillment of a need. In the end, one must not sell the drill or the bit. One must sell the hole that the drill produces. The orbit of purchase can be summed up in four phases: inspiration, trigger, evaluation, and finally the transaction.
Real to Reel: Podcast Revealed
About that much anticipated podcast: Davis has zeroed in on a brilliant and disruptive podcast production formula. At an impromptu meeting outside the Expo Hall following his presentation, David sketched out his plan to tap into a national network of highly skilled, yet underutilized talent.
It's the ideal efficiency: the concept is to source public radio stringers through the Public Radio Exchange (PRX) and create a high quality production. Pamela Muldoon, who heads up the new Content Marketing Institute Podcast Network , is looking forward to Andrew's upcoming show with great anticipation. "He's hiring PRX reporters to interview business leaders all over the country," she explained while in line to see Content Marketing World's final keynote speaker, Kevin Spacey.
It turns out that radio stringers can be harnessed for any number of purposes, including going onsite to interview a thought leader thousands of miles away. Rather than rely on a scratchy phone line or the built-in microphone of a laptop, a freelance radio producer will go into the field equipped with broadcast quality microphones and recorders. The Public Radio Exchange (PRX), well known among the PBS crowd, was until now relatively unknown to the business community.
Breaking New Ground
John Barth, Managing Director of PRX, says it's currently a rarity to see the organization's freelancers hired for commercial endeavors, but, he says, it's time. "I have always believed this is a massive talent pool."
At the moment, public radio stringers can be hired for well below market value, creating a happy match of non-profit and for-profit entities. Makes complete sense. A recent search on the PRX website returned over 3,000 independent audio producers in the United States. Barth says, "When we started PRX, we knew it would be a repository for content, but then realized it could also be a repository for talent. Visitors to the site can very quickly locate producers with an expertise in a specific area. PRX is a pretty massive repository of people who know how to tell stories. It's a powerful open source collection of people who know how to produce radio, and it's easy to find people by state."
Storytelling is more important than ever, but few people pull it off. Expertly handling a microphone, whether in the company of one other person or thousands, is a rare skill. And Andrew Davis is master of both.
Posted September 19, 2014 in: Event by Laura Kozak
---