Content Marketing World is part of the Informa Connect Division of Informa PLC
This site is operated by a business or businesses owned by Informa PLC and all copyright resides with them. Informa PLC's registered office is 5 Howick Place, London SW1P 1WG. Registered in England and Wales. Number 3099067.
Diversity in Community Building: A #CMWorld Chat with Ben Rome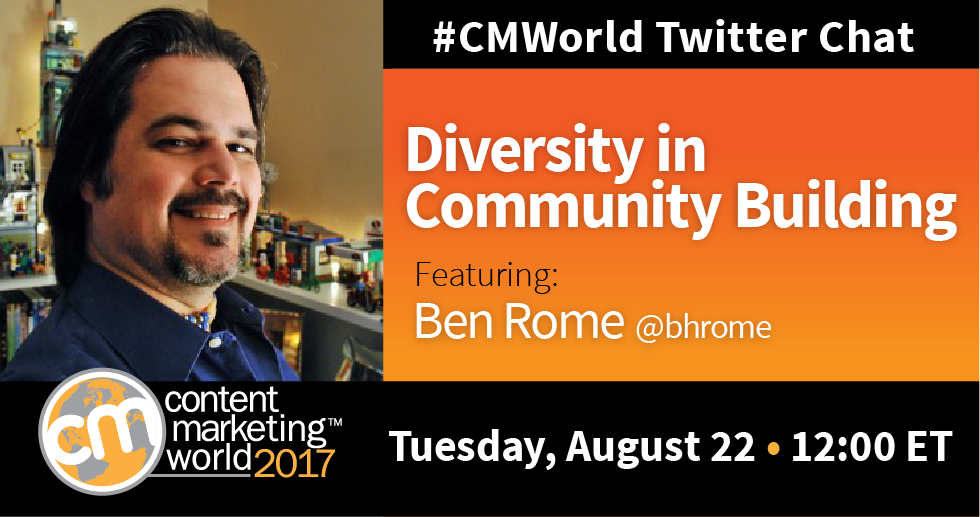 Diversity refers to the variety of differences between people in a community. It can encompass race, gender, age, religion, and more. Communities with diverse cultural backgrounds bring unique experiences to the table. Demonstrating your community is invested in fostering a safe, inclusive environment can make your group more attractive to potential members and help retain the ones you have.
On a recent #CMWorld Twitter chat, we discussed the important topic of diversity and community building with AIHA Marketing Manager Ben Rome. The following provides highlights of the chat. Our community provided numerous insights into the tremendous value diverse communities have. To learn more, be sure to check out our Storify recap.

Foster open conversations
Successful communities recognize the need for honest discussions and are ready and willing to spend resources managing diversity within it.
Implement a plan
Members are expected to show respect and courtesy within a community. However, attitudes towards diversity originate at the top and filter downward. Leaders must be committed to incorporate diversity policies, like a Code of Conduct, into every aspect of the community's function and purpose.
With what brands have you experienced an open community environment? Let us know in the comments below.
Ben joins an all-star panel at Content Marketing World discussing the role of community in content marketing. Register now to attend his session. Use code SM100 at checkout to save an extra $100
Posted August 24, 2017 in: Event by Monina Wagner
---
UP