We've scored BIG speakers with BIG takeaways for Content Marketing World 2018. Now, attendees have a chance to win BIG inside the Expo Hall. Game on!
Every day of CMWorld brings the opportunity to start conversations with other marketers. We all have stories to tell. At CMI, we want to give that same chance to those who cannot speak for themselves. That's why we're raising money for the Orange Effect Foundation.
It is important for us to support OEF, an organization started by CMI founders Joe and Pam Pulizzi. But our fundraising serves another crucial purpose. Every dollar raised will help finance services and technology needed by children and young adults with speech disorders.
Why Are We Doing This?
Giving back is a significant part of our culture at CMI. UBM, our parent company, encourages us to volunteer with local organizations. I am an associate board member of Recovery Resources. Creative Director Joseph Kalinowski is an honorary elf for the charity, Santa's Helper. PR & Media Manager Amanda Subler works with the True2U Mentoring Program. Vice President of Marketing Cathy McPhillips is an OEF board member and part of the No Kid Hungry Social Council.
We know our attendees have the same generous spirit. That's why we want to provide you a more purpose-driven experience at CMWorld.
Power Up Your Giving
You're probably wondering, "What does this have to do with me?" and "Didn't she mention winning prizes?"
Yes, I did. See, we need your help. For the last two years, you have helped raise over $5,000 for OEF. This has gone towards ensuring children have the resources needed to communicate. This year, we want to make a bigger impact in unlocking their potential.
So, we want to team up with you. And we are offering two opportunities for us to play together.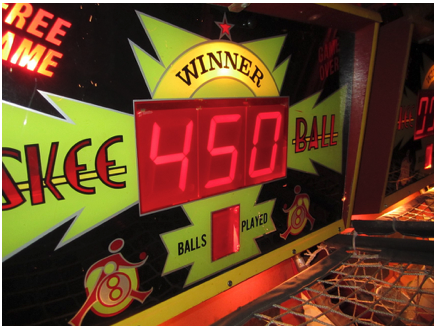 SKEE-BALL COMPETITION
Location:Near CMWorld Chatter Studio in Expo Hall
Times:Wednesday networking breaks
We couldn't host an event with a game theme and not have a competition! Go head-to-head with other marketers in our first-ever Skee-Ball contest!
Rules and restrictions apply. Check back for full contest rules.
But that's not all! How about a special photo-op that is PAWS-itively amazing?
 (photo credit: City Dogs Cleveland)
YAPPY HOUR
Location:Near Booth 415 in Expo Hall
Time: Wednesday Cocktail Reception, 5:45-7:00 pm
A day of learning is far from ruff. But if you're looking for a fun way to unwind, you'll want to join us for Yappy Hour with City Dogs Cleveland. After Wednesday's closing keynote, you'll have a chance to play with one of our friends. A $5 donation to OEF gives you 5 minutes of belly rubs and kisses. Be sure to have your camera ready; these dogs have some of the best smiles around! (To thank CityDogsCLE for their visit, CMI will be donating to the organization. Win-win!)
Other Ways to Help
Are prizes not your kind of thing? Can't make it to CMWorld this year? That's ok. You can make a donation to OEF and City Dogs Cleveland on their websites.
Have questions? Leave a comment below, tweet @moninaw, or come find me in the Expo Hall. I look forward to giving back with the CMWorld community. Amazing things happen when we work together!
One Last Thing
We could go on and on about OEF and its mission. Instead, we'll let them tell their story.
Posted August 3, 2018 in: News by Monina Wagner
---