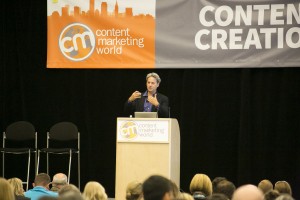 Every Thursday, a Scripted writer will recap a session from Content Marketing World 2014 that will be published here on the CMWorld blog. Find out more about Scripted by visiting their website.
It's important for a brand to have a unique voice in order for their content to stand out from all the noise. At Content Marketing World 2014, Doug Kessler — the co-founder and creative director at Velocity Partners — explains that tone of voice is typically not a high priority for content marketers. Instead, they tend to focus all their energy on the story itself. While that seems logical, how people say something is just as important as what they say. Brands that master both story and tone of voice have the most memorable impact.  In order to establish a strong voice, Kessler proposed the following 10 key strategies.
1. Designate a Manager
To truly master tone of voice, businesses should have a specific person to manage it. Otherwise, it's a task that will likely slip through the cracks.
2. Decide Who You Are
Once the task has been assigned to one person, they must develop a thorough understanding of the brand's identity. A brand's goals and values must be established before all else. New hires, writers, editors — everyone needs to understand the brand's identity.
3. Use Voice to Differentiate Your Identity
It's hard to differentiate in any industry where hoards of folks may be doing the same thing. A product or service isn't enough to differentiate, but a solid tone of voice can help set a business apart.
4. Capture Your Voice
Once a brand's voice is determined, it must be captured. In order to capture the intended tone of voice, businesses must adopt habits that actually cater to that voice. Kessler recommends using guides or simple checklists writers can easily digest and follow.
5. Choose Three Base Notes
The best brands stick to three primary tones, or personality points. He uses companies like HubSpot (enthusiastic, positive, helpful) and Innocent Juice (simple, friendly, silly) to demonstrate this point. It's not enough to have "humanistic" as a base note, as that should be a given. Content marketers need to determine their base notes and remain loyal to them.
6. Add Accents
Next are accents, which Kessler says is "how you adapt base notes to situations and contexts." It would be unnatural to speak to everyone in exactly the same way, for example — a spouse, friend, coworker, client, etc. Thus accents should be tailored to each unique audience, medium, and situation.
7. Craft Your Microcopy
Microcopy is the copy that content marketers are most likely to overlook: error messages, e-commerce checkout instructions and so on. These little areas of a website can serve as clever opportunities to further project a tone of voice.
8. Beware of Lawyers
Plain and simple: Listening to lawyers too much can ruin a brand's tone of voice. Kessler uses the example of The Ritz-Carlton, who botched their luxurious tone of voice by placing a lengthy legal paragraph at a transitional page of their site. This was done to ensure that the associate's brand and ideas would not be confused with The Ritz-Carlton. However, it would've been wiser to simply examine the associate site and ensure their content was not in conflict with their brand's identity.
9. Embrace Good Jargon
Content marketers are told to avoid jargon like the plague. Kessler says, that's not necessarily true. Good jargon is precisely chosen. It speaks to a brand's target audience and makes them feel like insiders. Bad jargon, on the other hand, is overly technical and isolates the audience.
10. Find Good Writers
Last, but certainly not least, is the importance of having great. Anyone can update statuses and other communications for a brand, but only a writer who understands the identity of a brand, and the motivations of the audience, can be considered a great writer.
Read more of Doug's brilliance on the Content Marketing Institute blog, and join us on our #CMWorld chat on April 21 when Doug chats with us about writing headlines.
Scripted provides high-quality, original content for a flat rate with a set turnaround time. Post guidelines for what you need, and five days later you'll receive professionally written and edited content.
Posted March 12, 2015 in: Event by Scripted Writers
---