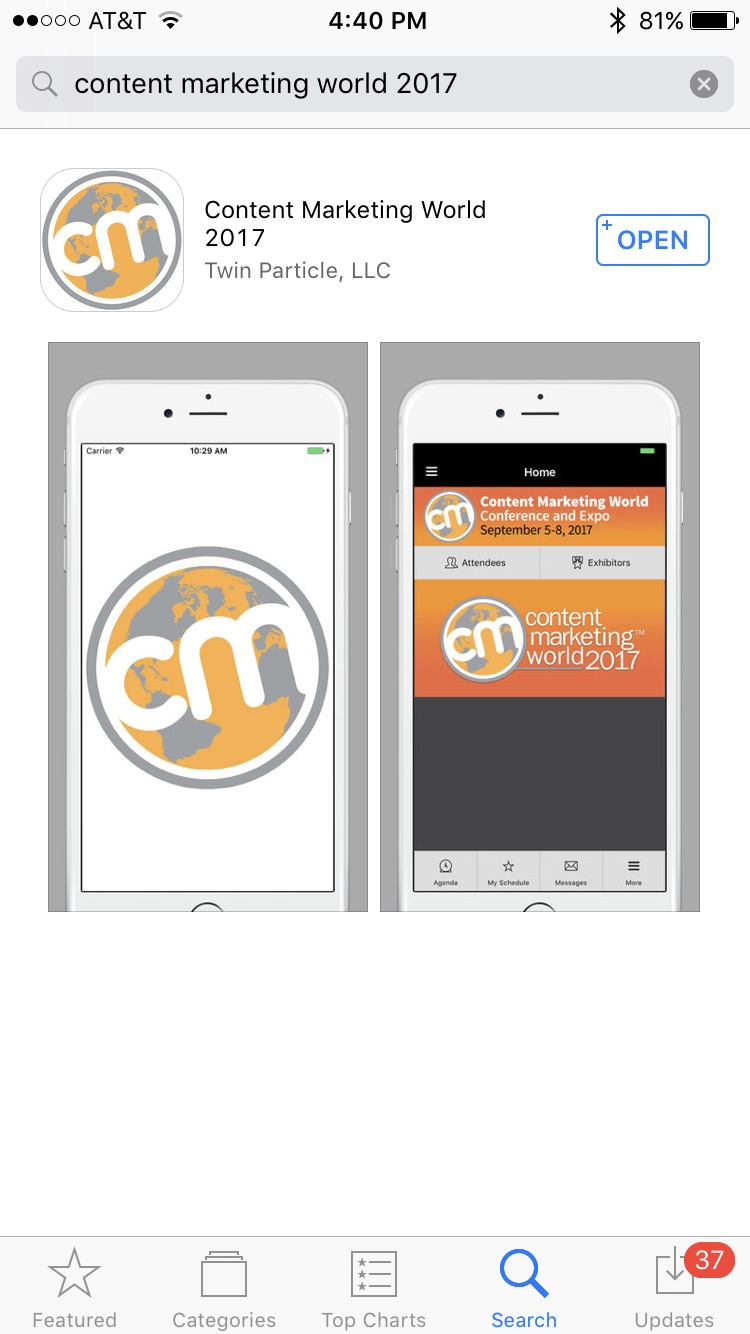 Great news! The Content Marketing World 2017 app is up and running, and ready for download. This is when things start to seem real, then you look at a calendar and notice that CMWorld is less than 2 months away!
There's so much to do to prepare for your time in Cleveland, but this may be the most mission-critical action item you need to take. Quickly.
Haven't registered yet? STOP. Go immediately to our registration page and sign up, because #CMWorld app access is only given to registered attendees. Go ahead, we'll wait.
All registered? GREAT! Let's proceed.
Download the app – Visit the app store and find the Content Marketing World 2017 app in iTunes or Google Play.  This is a new app this year. If you have last year's app, please delete it and download the new app.
Log in to the app  – Use the email address you used at registration along with your confirmation number as your password.
On the top left you'll have your "hamburger" menu – the clickable three lines that expand into our full menu. You'll see the usual suspects here – Agenda, My Schedule, Messages, Exhibitors, Speakers, Attendees and so on.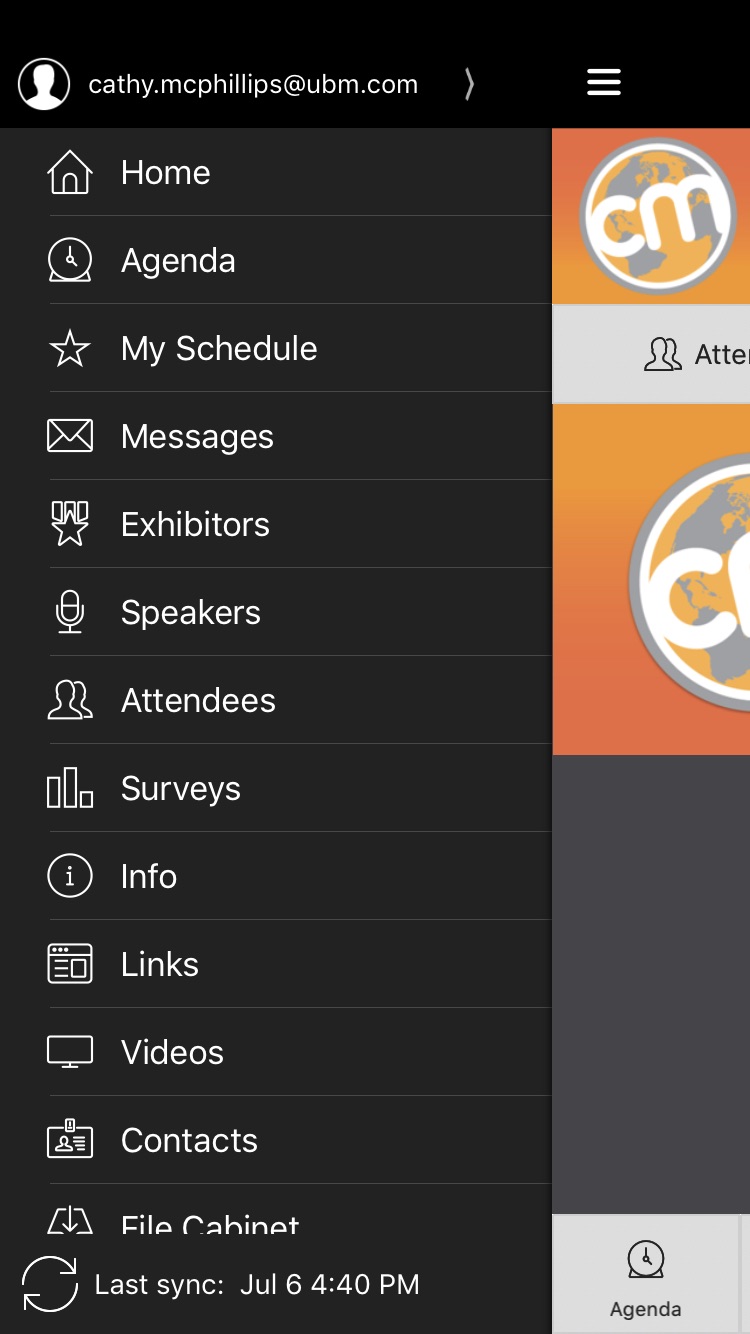 Start by updating your profile. Click on your email address at the top of the navigation menu and then "Edit." Follow the prompts, then click "Save," so your profile is complete for other attendees to find and connect with you.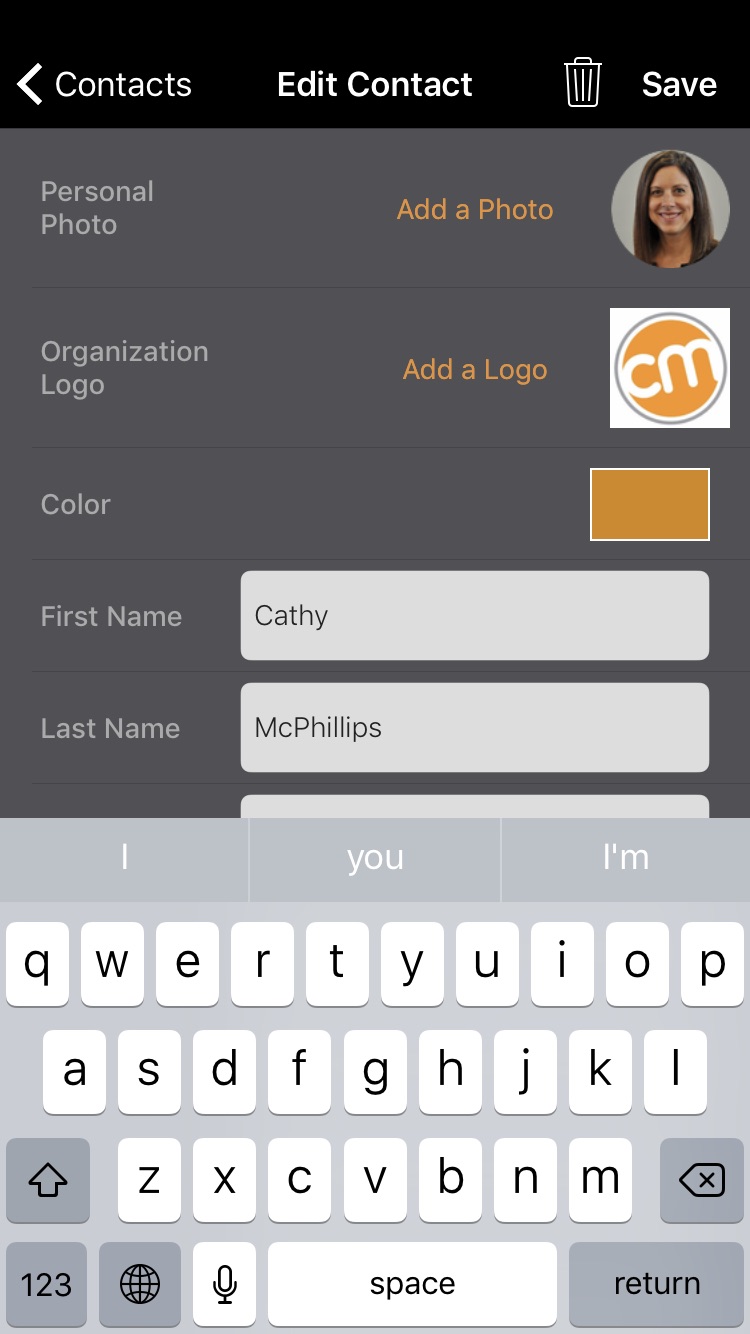 Going back to the main menu, click on the agenda. Hopefully by now you've navigated the agenda on the website and have an idea of which sessions you'd like to attend. If not, that's OK! The app is easy to use and you can decide along the way.
Scroll through the agenda, and you'll see the times of each general session, breakout session, networking break and more. You'll want to definitely select your breakout sessions, as these have limited capacity and will fill up. The early bird gets the worm, so be sure to select your sessions now. You can always change your mind, but it's best to lock in sessions now. The agenda page will look like this: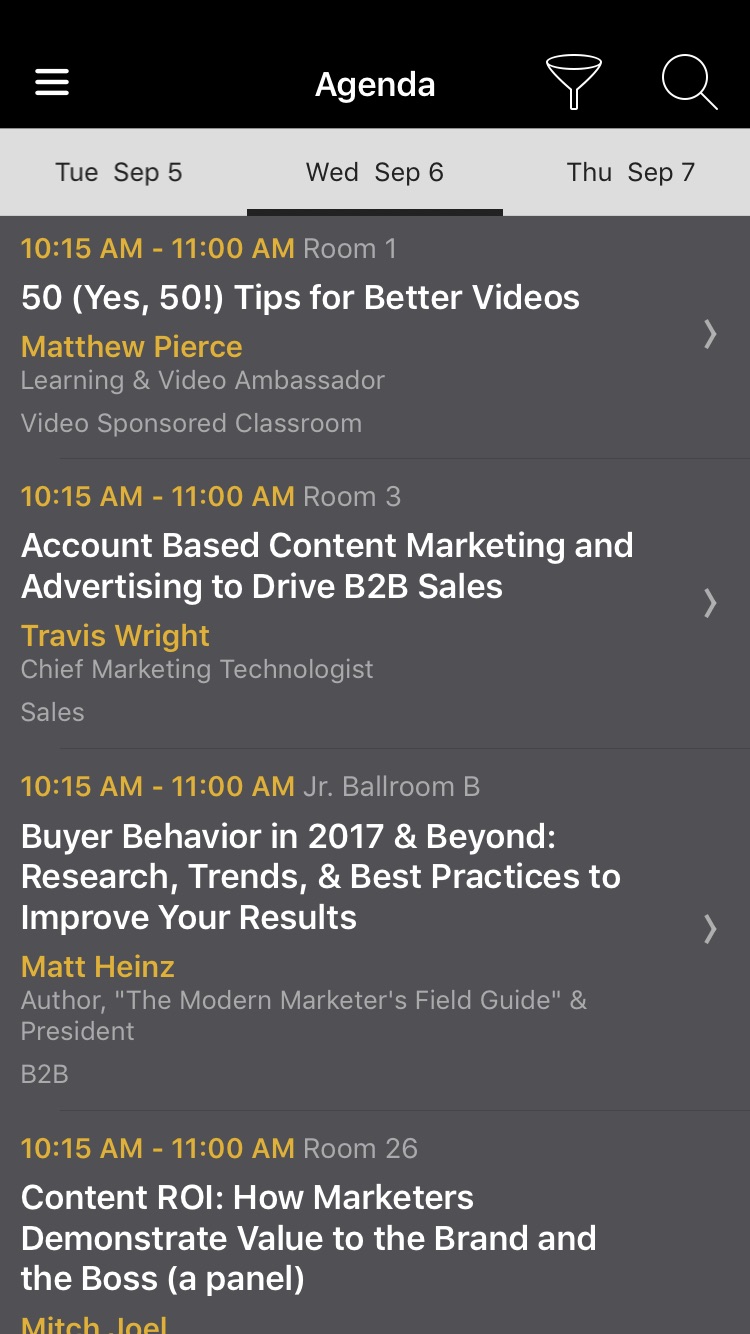 If you click on a session, you'll get more details. When you're ready to add this to your agenda, click on the "My Schedule" button on the top. When it has been added to your agenda, the "My Schedule" box will turn orange.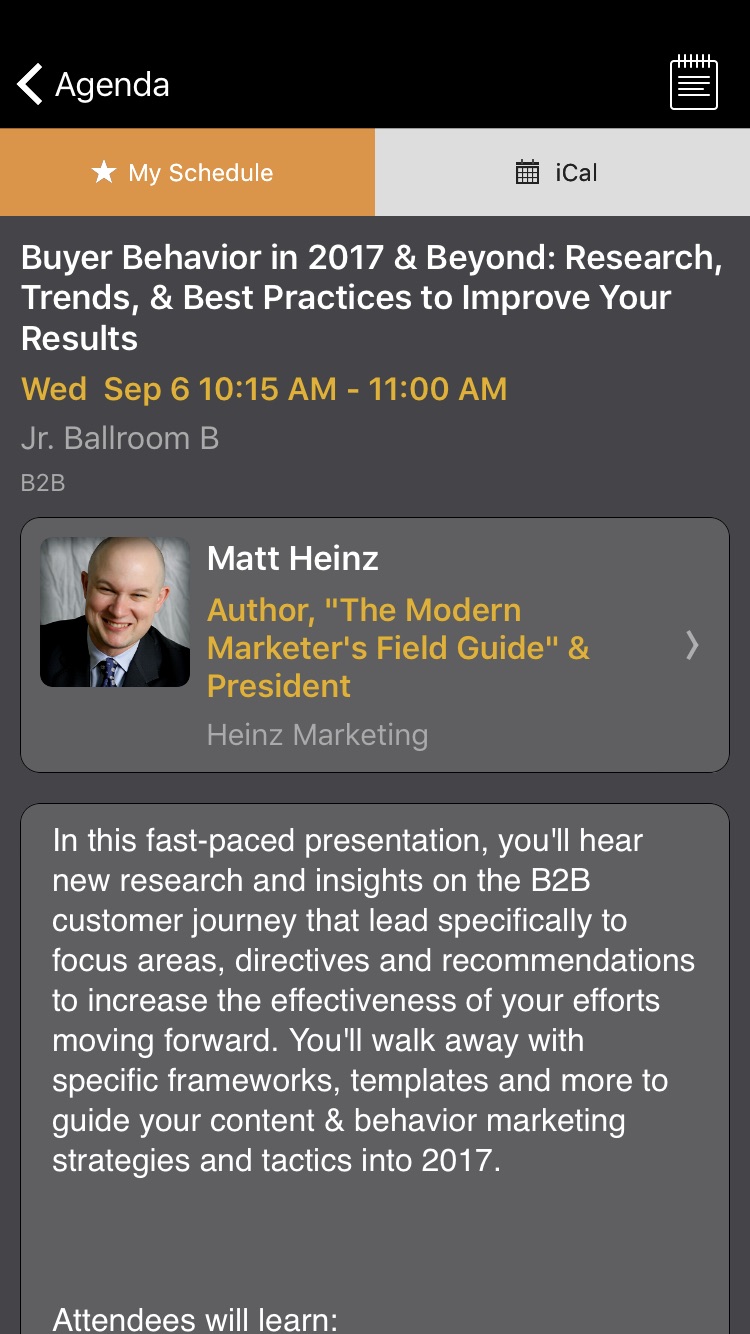 Select all your breakout sessions, and you're all set! If you receive a notification that a session is full, please select another one that interests you. Check back often in case a spot opens up! Don't forget, main event breakout sessions also are taking place on Friday morning this year, so you'll want to schedule those "Back By Popular Demand" sessions. Lastly, while you don't need to pre-select any general sessions or networking breaks, you can add them to "My Schedule" so your entire schedule will be available at a glance within the app. Lunch & Learns each day are first come, first served, so while you may want to schedule them, there are no guarantees on our lunchtime sessions.
Once you've finished scheduling your agenda, take a look around. You can begin to network with attendees to meet like-minded industry peers, check out the expo hall and the sponsors so you can plan who you would like to meet with to solve your biggest content marketing challenge, follow speakers to see what topics they'll be tackling at CMWorld, and so much more.
We'll dig in more as we get closer to Content Marketing World so we can explain some fun and games we have up our sleeve, as well as other details such as session surveys, hotel maps, and other items you may need to make your week the best ever.
And finally, once you've downloaded the app, connect with the #CMWorld community on Twitter. Conversations are already starting.
We can't wait to see you! Do you have technical questions about the app itself? Let our app team know at elyse.allen@gatherdigital.com. The app tech team will also be onsite at the registration area of Content Marketing World to answer any questions you may have about the app. If you have event-related questions, leave us a comment here and we'll get back to you.
Posted July 10, 2017 in: Event by Cathy McPhillips
---