Content Marketing World is part of the Informa Connect Division of Informa PLC
This site is operated by a business or businesses owned by Informa PLC and all copyright resides with them. Informa PLC's registered office is 5 Howick Place, London SW1P 1WG. Registered in England and Wales. Number 3099067.
Earned Media and its Role in Content Marketing: A #CMWorld Chat with Michelle Garrett
Content marketing versus earned media – we wanted to know what is the difference and how can both be used together. That's why we decided to invite Michelle Garrett to be a special guest on the #CMWorld chat. Michelle shared her tips, techniques, and advice that can help content marketers get more value from their earned media. Want to see all of the tweets from the chat? Check out our Twitter Moment.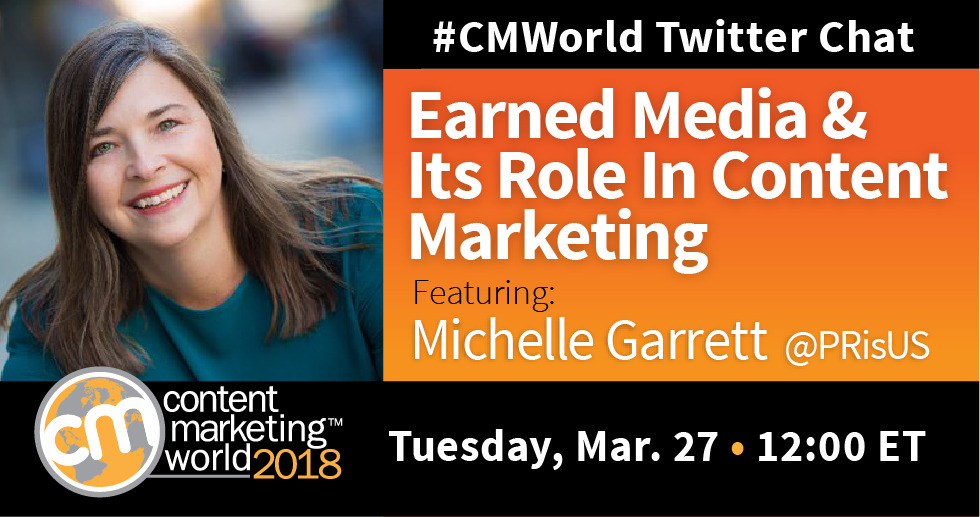 Has earned media become less effective? Where can content marketing fill the gap?
What is the biggest opportunity in earned media for content marketers?
Is earned media a part of your content marketing strategy? If so, what success have you found? Let us know in the comments below.
Keep up with the latest industry trends. Attend Content Marketing World in September. Register today and use code TW100 to save an additional $100 at checkout.
Posted March 30, 2018 in: Event by Monina Wagner
---
UP