Content Marketing World is part of the Informa Connect Division of Informa PLC
This site is operated by a business or businesses owned by Informa PLC and all copyright resides with them. Informa PLC's registered office is 5 Howick Place, London SW1P 1WG. Registered in England and Wales. Number 3099067.
Effective Content Curation: A #CMWorld Twitter Chat with Scott Monty
Scott Monty is one of the best dressed content marketers I know. He is also one of the smartest, having been recognized as a Fortune 10 leader. Scott publishes the wildly popular email, The Full Monty, in which he sifts through mountains of content to bring his readers the best of the best. Every week, I walk away from my inbox with a new appreciation for curated content.
But I wondered, is all the work worth the trouble? Scott says a resounding "yes."
I wanted to know more, so CMI invited Scott to be a guest on the #CMWorld Twitter chat. The discussion was robust and insightful. Scott shared why content curation is important and how marketers can put curation to work. What follows is a brief look at our conversation with him and the CMWorld community.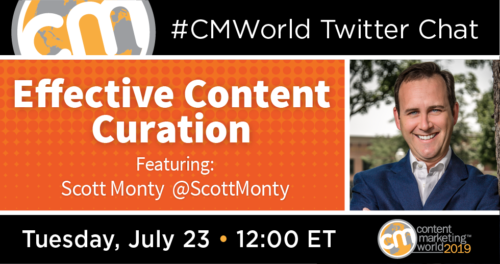 Why is it important for brands to curate content? How does it fit into the content marketing mix?
What ethical and legal guidelines should marketers consider when curating content?
When you decide to add curation to your strategy, where should you look for content? How do you organize it? We couldn't fit all of Scott's and our community's insights in this post. So we put together this Twitter Moment to answer some of the questions.
How are you using curation for your organization? Tell us about it in the comments below.
Want to curate tips and insights from the best in the industry? Attend Content Marketing World this September. While in Cleveland, be sure to stop by Scott Monty's session, Curate Your Way to More Subscribers. Get a $100 discount at checkout with code SM100.
Posted July 24, 2019 in: Event by Monina Wagner
---
UP