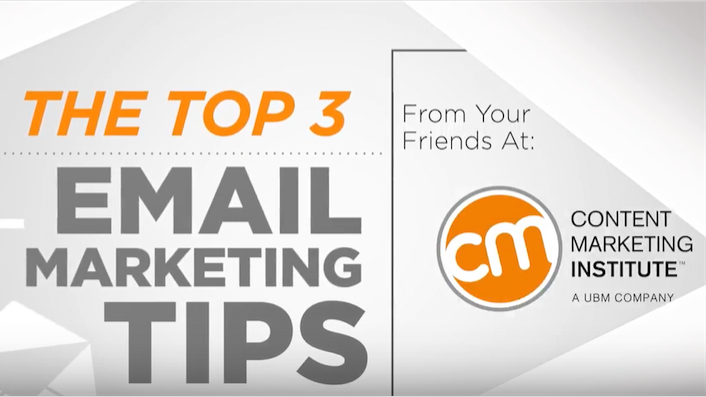 It's a great way to build followers and here's how:
Of course, everyone has an email address. But should marketers still be using email as a tool or is it just too old school?
Some marketers may think email is yesterday's news, but the reality is that it remains one of the best ways to reach a targeted audience quickly and efficiently with your message. However, there are some tips and tricks you should know to use it well.
Content Marketing World speaker Jessica Best thinks email can be a powerful tool – but only if it's used wisely. She recently created a video about her top three email marketing tips and you should check out right now!
Good tips, right? When it comes to email marketing, you might say Jessica is…well, the best. Let's take a closer look at the great tips Jessica has to offer:
Tip #1: Focus on subject line and pre-header text
Everyone knows about the importance of the subject line – but don't forget about the pre-header text, too. These key pieces of information should be working together to help more of your emails get opened. Jessica says:
Don't forget, pre-header text can appear in a person's inbox as a snippet
Make sure the subject line and pre-header work together to engage your reader
Changing these up is a great way to test what works for your target audience
Tip #2: How are you growing your list?
Do the people on your list expect to get an email from you? Make sure the folks getting an email from you aren't too surprised (or offended).
Jessica says:
Make sure you ask permission; surprises can result in complaints
Also make sure you're adding value with your message (anything else is spam)
Unsubscribe rates over 1% is a sign that something's not working
Tip #3: Beware of images
Images can be great in other marketing tactics, but they can cause problems in email. As much as 1/3 of your list may have images turned off by default! Jessica says:
Want to drive up open rates and reduce unsubscribe rates? Don't send a blank email
Even multiple smaller images can be a problem and still appear blank
Shoot for 500 characters (at minimum) that describe your offer and capture the value you add
It's clear that email marketing can still be a strong component of your brand's marketing mix, but there are things you need to keep in mind to make sure it's effective. It can also b a great way to build an audience.
For more great information, check out this post from the CMI blog where 19 experts – including Jessica – weigh in on how to grow your subscriber list.
If you want to learn more about the critical topics all marketers need to know when adding content marketing to the mix, like email marketing, learn from the experts like Jessica. Come to Content Marketing World 2017, September 5-8 in Cleveland. Code BLOG100 saves $100! Register today!
Posted April 7, 2017 in: Event by Cathy McPhillips
---