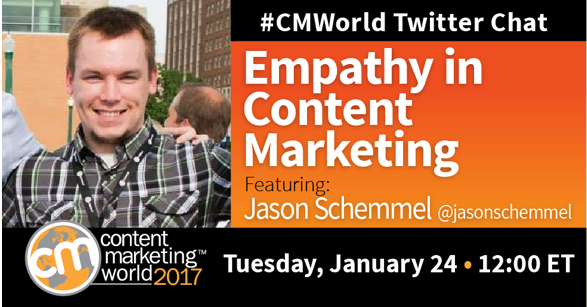 We all know content marketing is about creating and distributing valuable content. To do this, it's important we center our content around our customer. When brands relate with their community, they can connect on a more human level while demonstrating their knowledge in a subtle way. This is empathy, a genuine and simple understanding of our audience. If we, as marketers, can demonstrate a level of empathy towards our customers, we will inspire them to share our message and continue their loyalty for the brand.
Our #CMWorld community explored how empathy can create awareness, increase conversion, and retain customers on a recent Twitter chat. We were joined by special guest Jason Schemmel, Social Media Manager at HarperCollins Christian Publishing and regular on our weekly chat.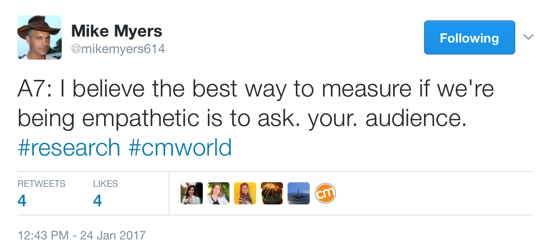 Place empathy at the center of your efforts
Humans have a fundamental need to connect. Take a trip in your customer's shoes, feel what they feel, and see what they see. Customers will connect with your content if it is driven by empathy. Putting the needs of your audience first will improve customer satisfaction and encourage their journey through the funnel.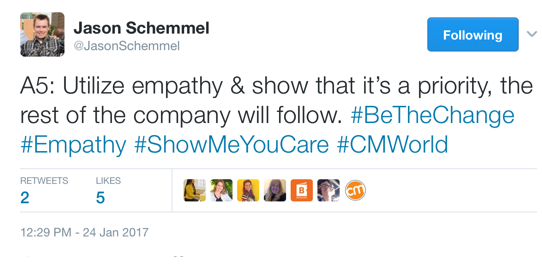 Empathy starts at "home"
Decision-makers may not appreciate content that isn't strictly focused on promoting your products. But they do understand empathy taps into the deep emotions of customers. So how can executives foster a supportive environment that practices an empathetic strategy? Our chat participants shared their opinions and agree:  You can't expect others to exercise empathy if you don't practice it yourself.
How are you using empathy in your work? Have you seen any brands excel in their human-to-human interactions? Let us know in the comments below.
Are you ready to connect with your audience on a deeper level with relevant and compelling content? Then Content Marketing World is the conference for you. Super Early Bird pricing ends soon – so register now. And use code SM100 to save an additional $100! 
Posted February 6, 2017 in: Event by Monina Wagner
---