Content Marketing World is part of the Informa Connect Division of Informa PLC
This site is operated by a business or businesses owned by Informa PLC and all copyright resides with them. Informa PLC's registered office is 5 Howick Place, London SW1P 1WG. Registered in England and Wales. Number 3099067.
Engaging the Visual Generation: A #CMWorld Twitter Chat with Amy Balliett
We communicate in non-verbal, visual ways now more than ever. Killer Visual Strategies' Founder Amy Balliett says the Visual Generation (audiences comprised of Millennials and Gen Z) aren't just digital natives. They're visual natives too.
The CMWorld community came together to discuss videos, infographics, gifs, and memes with Amy on a recent Twitter chat. If you're not leveraging visual design in your content marketing strategy, now is the time to catch up. What follows is a brief recap of our conversation.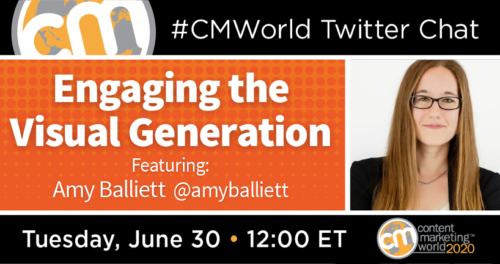 Is all visual content created equal? What make some types of visual communication content perform better than others?
Many marketers have experience creating traditional text-based articles. But Amy Balliett says we should be engaging the Visual Generation. Does a push towards visual storytelling mean consumers are becoming resistant to blog posts?
Is the Visual Generation an age group? If so, are generational concepts such as millennials and Gen Z useful audience segmentations when talking about visual storytelling?
Are there ways for companies to easily add more visuals to their content marketing efforts? How can you do this seamlessly, and should we go back and add/embed visuals in evergreen content?
When engaging with the Visual Generation, how can you build an emotional connection with your audience while staying on brand? And do you ever worry about visual content on rented land?
In addition to good design, you need to consider how well your visuals fit your audience's preferences on the platform. With new platforms being introduced regularly, is there a way to produce visuals so they can be repurposed on more than one platform?
What brands have you recently seen tell a compelling visual story?
Many thanks to Amy for sharing her insights. We're happy she could spend time with us on the day her new book launched. Check out Killer Visual Strategies if you're looking to develop better visual communication.
Want to dive into the Visual Generation more? Catch Amy's session at Content Marketing World. Can't wait until October? Amy is also speaking at ContentTECH Summit!
Posted July 1, 2020 in: Event by Monina Wagner
---
UP