Content Marketing World is part of the Informa Connect Division of Informa PLC
This site is operated by a business or businesses owned by Informa PLC and all copyright resides with them. Informa PLC's registered office is 5 Howick Place, London SW1P 1WG. Registered in England and Wales. Number 3099067.
The Evolution of Influencer Marketing: A #CMWorld Chat with Lee Odden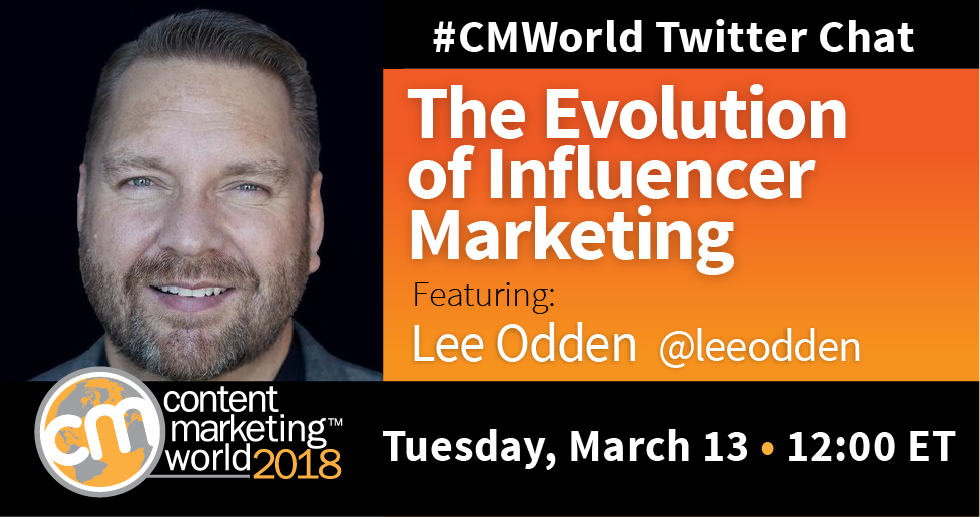 Influencer marketing is about elevating your brand and creating exposure by leveraging the voice of others. But how do you get the most value from your influencer relationships? TopRank Marketing CEO Lee Odden helped our community break down the risks and rewards of working with influencers during a recent #CMWorld Twitter chat.
What are the advantages of working with influencers and producing co-created content?
Beyond brand awareness and advocacy, how can influencers help improve leads and sales?
This #CMWorld chat provided great discussion! Want to see more tweets from this chat? Check out our Twitter Moment. If you're interested in learning more from Lee, he'll be at Content Marketing World 2018! Register with code SM100 to save $100 at checkout.
Posted March 15, 2018 in: Event by Monina Wagner
---
UP