Content Marketing World is part of the Informa Connect Division of Informa PLC
This site is operated by a business or businesses owned by Informa PLC and all copyright resides with them. Informa PLC's registered office is 5 Howick Place, London SW1P 1WG. Registered in England and Wales. Number 3099067.
Fact-Checking Your Content: A #CMWorld Twitter Chat with Lisa Dougherty and Kim Moutsos
In the wake of COVID-19, you're likely spending more time consuming content. You're probably finding yourself on social media more too. As the pandemic expands, the volume of content has exploded.
As marketers, we have a responsibility to our audiences to fact-check before hitting "publish." Misinformation can erode their confidence in your work. This is problematic because content marketing is built on trust.
According to our 2020 B2B Benchmarks, Budgets, and Trends report, 92% of content marketers surveyed said their organization "always" or "frequently" fact–checks their content. What about the other 8% of marketers?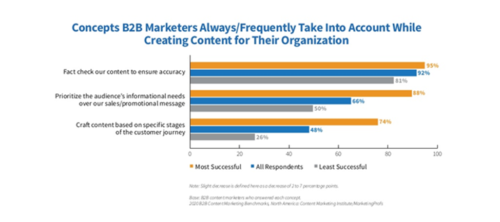 On this week's #CMWorld Twitter chat, CMI's VP of Editorial Kim Moutsos and Blog Operations and Community Director Lisa Dougherty explained why an investment in credibility is important. They also gave their recommendations for fact-checking. What follows is a brief look at our conversation.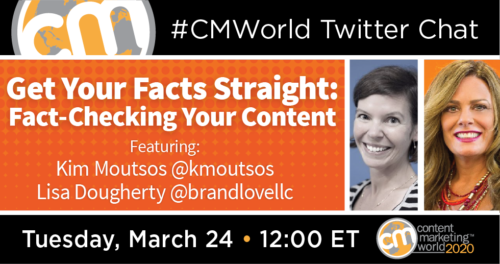 Content marketing is built on trust. Why is it so difficult for brands to maintain consumer trust in the digital age?
How does fact-checking fit into your editorial process? What protocols do you have in place?
What counts as confirmation of a fact? Is it enough that the fact was published on a reputable site?
Want to ensure your content is accurate? Check out these tools our community recommended to help you verify information. 
Everyone makes mistakes. Has an error ever been found in your content? How did you respond? Tell us in the comments below. Stop a misstep from happening again. Use our fact-checking content checklist. 
Do you trust that your team is the best in the business? Get them the recognition they deserve. Submit your projects to the Content Marketing Awards. The deadline for Early Bird entry is April 24.   
Posted March 25, 2020 in: Event by Monina Wagner
---
UP