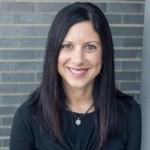 Over the summer, you'll have the opportunity to hear from some of the CMI/CMWorld team on what they love most about Cleveland, and offer you some thoughts on what you should visit while you are here.
Every time I travel to a new city, I always ask the question, "What should I see while I'm here that tourists don't usually see?" Though I travel much more for business than pleasure, I'm rarely a tourist. So when I do get out of Cleveland, I always try and take some time to take in the local sights, and at the very least go for a run or walk so I can explore and people watch.
I love Cleveland for many reasons, aside from my family and lifelong friends: the diversity, the arts, the culture, and the food. I hope you can take some time for yourself while at Content Marketing World and fall in love with the city too! Besides our world-class art museum, Rock & Roll Hall of Fame, Great Lakes Science Center and other tourist destinations, here are my favorite things about Cleveland.
Bac
I have no words for how fabulous this restaurant is. When I was in my 20s living in my hometown of Lakewood, my mom, sisters and other family members loved going to Chinese Village, a small, local, family-owned Chinese and Vietnamese restaurant owned by Van Nguyen. The food was fresh, inexpensive, and best of all delicious. For personal reasons, the restaurant closed years ago, leaving many devastated regulars. Fast forward 15 years, and Bac opened up in the Tremont neighborhood of Cleveland, named after the owner, Bac Nguyen. The best news of all? Bac's mother, Van, works in the kitchen. There are many members of my family and the Cleveland community happy to see this talented family back in business. The Vietnamese Noodle Salad, basil fried rice and their spring rolls are personal favorites, though I've never had anything that wasn't incredible on their menu.
How to get there from Content Marketing World: Short cab ride
Walkable alternative: Saigon, East 4th St.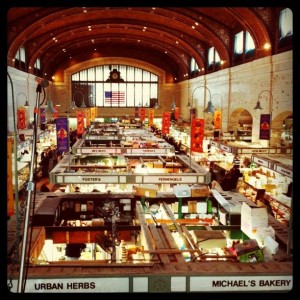 West Side Market
The West Side Market showcases the food, culture and diversity of this amazing city in which we live. Whether you are there doing your weekly grocery shopping for the freshest ingredients on a budget, or stopping in for a sausage sandwich or made-to-order crepes on your lunch break, this is one of the brightest gems in the city. The only thing that pales in comparison to the 100+ food stands comprised of fresh foods ranging from ethnic fare to fresh meats, cheeses, bakery, vegetables and fruits, is the beautiful architecture of the market. Coming off of the Centennial celebration, the building in itself is worth a visit. 
How to get there from Content Marketing World: Healthy walk or short cab ride
Walkable alternative: There really isn't one. There is nothing quite like the West Side Market!
Metroparks
Cleveland is known as an industrial town to many, but one of the best parts of Cleveland is our Metroparks system. With over 21,000 acres of land, the Metroparks (or "the valley" known to locals) is our incredible, and dare I say better, version of Central Park. From running/biking paths to boat launches into Lake Erie, softball fields to golf courses, creeks and fishing spots, hiking spots to open fields, the Metroparks are where Clevelanders go to take in the beauty. Personally, I've loved the paths for long bike rides, the creeks to skip rocks with the kids, or the grassy area to hang out and read a good book. If you have a couple hours, visiting the Metroparks will not disappoint!
How to get there: A bit of a drive, a rental car is your best bet.
Walkable alternative: Cleveland's Lakefront is really becoming an even more beautiful area. Walk down behind Browns Stadium or the Rock & Roll Hall of Fame for some great views of Lake Erie.
Psycle
If any of you are Facebook friends with me, you know my love affair with Psycle, the best indoor cycling studio in Cleveland. Psycle provides an unpretentious, welcoming environment with instructors who will smile at you and likely give you a welcoming hug, then subsequently work your little legs – and entire body – to the bone. It's where I love to spend really, really early mornings. If you're up for a super early wake up during the event, a field trip might be in order!
How to get there: 15-minute car ride from downtown to Westlake, Ohio
Walkable alternative: Get out and walk! The city streets around the hotels are pretty and safe in the mornings. No offense to hotel workout rooms, September is too nice in Cleveland to work out indoors. Find a conference buddy and enjoy the sights before the commuters start heading into the city. You may even see Joe Pulizzi out there catching an early morning run – look for the orange!
Great Lakes Brewery
Long before gastropubs became all the rage, the Conway brothers opened Great Lakes Brewery in Cleveland. Their small-batch processing was soon replaced by a larger system to accommodate the growing demand for the award-winning beers, but Great Lakes has maintained the integrity of their beers. Most of the hotel bars and local establishments should carry Great Lakes beers on tap or in bottles, but there is also a restaurant and store right off of West 25th near the West Side Market. The food is outstanding – make sure to try their beer cheese soup! Not sure which beer to try? Dortmunder Gold is their classic lager, but if you're lucky, their Octoberfest will be out by Content Marketing World (my favorite). Because many of the beers are seasonal, it's always exciting to see what the Conways will come up with next.
How to get there: Short cab ride, or visit after the West Side Market
Walkable alternative: There are so many great alternatives in downtown including Hodges, Greenhouse Tavern and Lola Bistro. Our East 4th and West 6th neighborhoods can't be missed. Be sure to look for the "Welcome #CMWorld" stickers on the doors – our local restaurant owners are excited you'll all be here.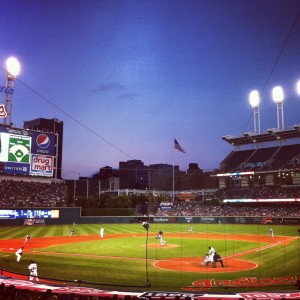 Progressive Field
I'm an unapologetic Cleveland sports fan and a big baseball fan, which means I love my Cleveland Indians. The Tribe is in town the week of CMWorld, so knock off another stadium off of your stadium bucket list (I can't be the only one who has one of these – let's compare notes to see which ones we've both visited). Experience enthusiastic Cleveland sports fans firsthand, have a hot dog with some Cleveland stadium mustard, kick back and enjoy a nice fall night at the ballpark.
How to get there: Straight up East 9th, follow the crowds! First pitch: 7:05.
Walkable alternative: The Cleveland Browns are in Pittsburgh on Sunday, September 7, before Content Marketing World starts. Find a local establishment with some big TVs and the game on, and spend time with some of the most passionate fans in the world!
While some of my favorite destinations may be prohibitive because of transportation or time, hopefully you'll consider coming back another time (CMWorld 2015, anyone?) or staying longer on your next visit. I'd love to hear your favorite Cleveland destinations – whether you're a lifelong Clevelander like myself, a first-time visitor, or somewhere in between.
Let's connect before the event! Find me on Twitter and LinkedIn. 
Posted June 11, 2014 in: Event by Cathy McPhillips
---