Over the summer, you'll have the opportunity to hear from some of the CMI/CMWorld team on what they love most about Cleveland, and offer you some thoughts on what you should visit while you are here.
This week's post is written by Pam Kozelka, CMI's Vice President of Operations.
Traveling to a new city can be so fun, but it can certainly be a little nerve-racking too.  In 2011, the first year for Content Marketing World, over half the attendees had never been to Cleveland before.  We knew it was important to help those attendees find fun things to do with any free time they had, and with so much happening in our beautiful city, it is important for us to share new ideas each year.
Like Cathy, I am born and raised in the Cleveland area and there are so many things I love.  It is exciting for me to share those things with the 2,500 friends coming to Cleveland this September! 
Part of my love for Cleveland is that we have big city stuff (3 major sports teams, a huge theatre district) without big city traffic.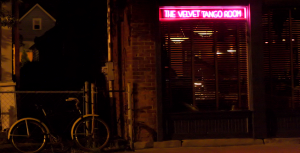 Velvet Tango Room
One of my favorite places to go to impress a friend or colleague is the Velvet Tango Room (known to the locals at VTR). This is no bar. This is a true old fashioned speakeasy where drinks are made from scratch and served the way they should be.  Now that drink will cost you (on average around $15) but the experience, the detail and the environment are worth every cent.
Pickwick & Frolic
If you are looking for dinner and a show be sure to check out Pickwick and Frolic.  You may even meet Nick Kostis the owner, also known as the Mayor of E. 4th, the area where the restaurant is located.  This is a very easy walk from any of the #CMWorld host hotels. It also has a beautiful Martini bar and a Champagne bar!
Music Box Supper Club
If comedy is not your thing you may want to try the brand new Music Box Supper Club.  It is located near the water, a nice walk from most of the host hotels for the event. The band X-4 Nights, 4 Albums will be playing the week of CMWorld! See the concert schedule here.
The Bike Rack
If you do want to rent a bike to check out the town The Bike Rack is only $5 per hour or $20 per day.  Great deal! 
Enjoy your visit and let me know how I can help make it the best experience ever!
Find out more about Content Marketing World on our website. Registration is now open! Use CMITEAM for $100 off your registration! 
Posted June 27, 2014 in: Event by Cathy McPhillips
---