Content Marketing World is part of the Informa Connect Division of Informa PLC
This site is operated by a business or businesses owned by Informa PLC and all copyright resides with them. Informa PLC's registered office is 5 Howick Place, London SW1P 1WG. Registered in England and Wales. Number 3099067.
How to Find Writers for Your Blog: A #CMWorld Chat with Marlene Oliveira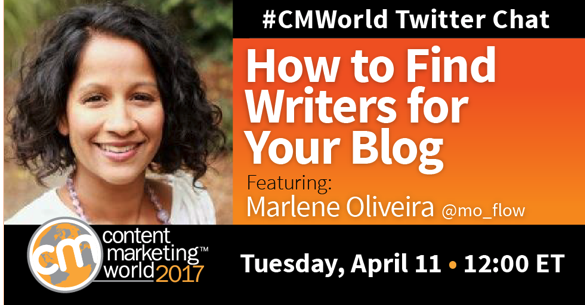 We need content, and a lot of it. This means marketers are challenged to find ways to support their content creation. That means we're always on the lookout for new writers. But where can you find writers that bring value to your audience? And how can you find them when you're on a budget? On a recent #CMWorld Twitter chat, our community shared their thoughts with special guest Marlene Oliveira. Oliveira is a copywriter and managing editor of the Nonprofit MarCommunity Blog.
You can read all their insights (and the many options they suggested) in our Storify. A brief recap can be found below.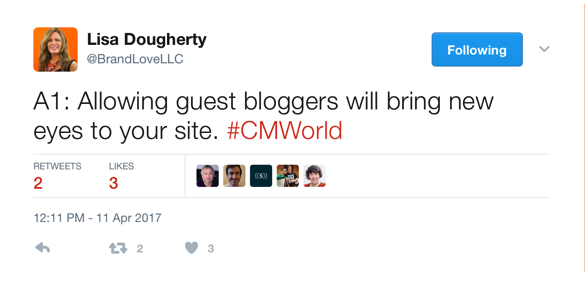 Identify the Right People
Working with guest bloggers can deliver many benefits. But these benefits are only possible when you create a true partnership with the right contributors.
Look to the Unconventional
There are many places where you can find writers. Some locations are less traditional and often overlooked. Some of the best writers may not "advertise" their services. To find them, we need to look in unconventional spots.
Do you invite others to write for your blog? Tell us about your experiences in the comments below.
Want to network with some of the best content creators on the planet? Attend Content Marketing World this September in Cleveland, OH.  Register before June 2, 2017, to secure Early Bird rates. Use code SM100 to save an extra $100.
Posted April 12, 2017 in: Event by Monina Wagner
---
UP