I still remember my first time at Content Marketing World. I walked through the doors, heard the buzz of friends chatting, and saw hugs of every kind going on around me: the one armed reserved for newly met acquaintances, the screeching run hugs of those who have waited a year to see each other again, and the tight group hugs of those who couldn't choose just one person to hug attack first.
I didn't realize it then but that was what set the tone for me for the entire event. It was in that singular, people-watching moment that I understood what I had walked into wasn't just a conference, but a family reunion.
Every year I return, I am overwhelmed with the same feeling. The feeling that I am with my people. The people who understand me, encourage me, and ultimately are rooting for my success (even if we're competitors). That's what #CMWorld is all about!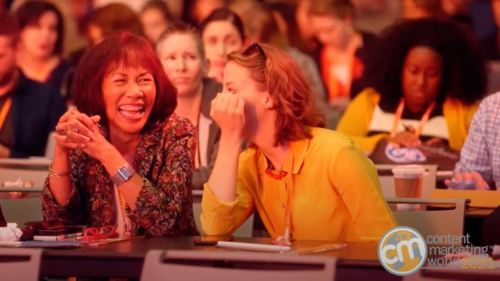 When you walk through those conference hall doors, whether that be for the first time or the eleventh, I encourage you to remember these few things:
We're all here to make connections – CMWorld isn't just a content marketing conference. It's a place where you can find life-long friends and network with like-minded individuals. When you sit down the first day, say hi to the person your seated next to. You never know what could come of it!
It's okay to try something new – I encourage you to attend one session that is outside your usual comfort bubble. I forget who told me to do this my first year but they were 100% correct. That one seemingly unrelated class gave me more ideas for my own craft than I could ever have imagined.
There are no such thing as dumb questions – Odds are, everyone else in the room has the same question as you. Raise your hand and ask. Guaranteed other people will thank you for it later!
Having fun isn't a crime – Meet new people, come out to the networking events, do all the things that interest you! (Side note: Check out the Expo Hall. Last year, a sponsor was giving out stuffed unicorns!)
We are all family here – This is the most important. When you walk through the convention center doors, you become part of our content marketing family. We accept you, root for your successes, and will pick you up during the disappointments. Whether we just met or you're a first-time attendee, you can count on each and every one of us. Welcome to the family!
Ready to make connections? Join us at this year's Content Marketing World in Cleveland! SM100 saves $100 on your ticket.