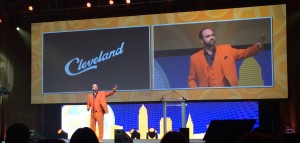 Today's guest author is Jeremy Bednarski, a senior consultant at PR 20/20. He joined the agency in December 2014 and earned his MBA from Cleveland State University with a focus in marketing.
When my boss (at the time) told me "no," I was disappointed but not surprised. She had just turned down my request to attend Content Marketing World (CMWorld) 2014. Although she approved it the prior year, my responsibilities had changed and she didn't see the value in sending me again.
CMWorld was too valuable of an opportunity to miss, so I decided to go anyway and pay for it myself. If you're interested in my recap of what I learned at the conference, you can read it here. This post is about why I made the decision to go, in case you're on the fence this year (regardless of who's paying for it).
How I Made an Easy Decision
Before hearing the final "no," I had already considered paying for it myself. There were many factors starting with the 2013 conference being incredible (read my recap here). Here were the other reasons:
Passion: Content Marketing is a passion of mine. I spend a lot of time — both at work and not — reading content marketing books (many written by CMWorld speakers); writing for my blog; building relationships on social media and in person; and listening to webinars, podcasts, you name it.  CMWorld brings all that together in one live event.
Learning: I love learning about the new trends in marketing. You simply can't duplicate the type of learning you get at these conferences. I always get incredibly inspired and look to implement at least two things that come out of the sessions.
Cleveland: Besides supporting a major event being put on in my hometown by a local company, it would drive me nuts to know this was going on in my city and I was missing out.
Friends: You can't beat the opportunity to connect with friends you've met through social media. It's also a great way to meet new friends and build a relationship online throughout the year.
Job search: This may not apply to everyone, but at the time, I was searching for a new job. Meeting new people and strengthening relationships was a major factor in my decision to attend CMWorld. Plus, staying updated on the latest trends and tools was only going to help me.
The final decision was easy. I looked at it as an investment in myself. My wife was on board too. She knew how important it was since I talk about the conference and the speakers all the time.
Immerse Yourself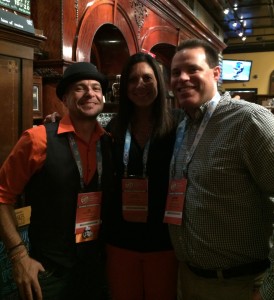 When you go, the best advice I can give is to immerse yourself in the conference. You've got an opportunity to hang out with the brightest minds in marketing. Get the most out of it. And don't forget to have fun. (The folks at Content Marketing Institute (CMI) know how to have a good time!)
Even though it's held in Cleveland, I got a hotel room (as I did in 2013). It allowed me to have more of the conference experience, instead of feeling like an extension of a workday. I had more opportunities to meet people at the hotel lobby or bar, on event shuttles or walking to the conference.
The speakers are accessible so you never know who you'll run into. One of my highlights was meeting Jason Miller (@JasonMillerCA) from LinkedIn in person. We're both big hard rock fans, so it was awesome to talk a little music. I was also lucky enough to meet Andy Crestodina (@crestodina) and Ian Cleary (@iancleary), who are two of the cleverest marketing influencers I've met. And, it's always great to get a chance to hangout with the CMI folks.
Like most of us, I like to tweet the things I'm learning. Besides helping others see what's going on in the sessions, it's a great way to have conversations online with other attendees. I tweeted enough to rank 85th on Onalytica's list of Top 100 Most Influential Marketers at CMWorld 2014 (based on the #CMWorld hashtag). While 85th may not sound high, based on who else was on the list, I was just proud to have been included.
Why Content Marketing World?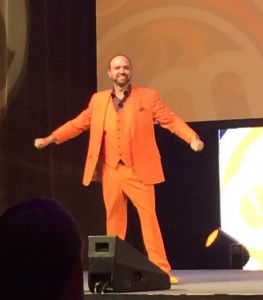 Out of all the marketing conferences, why Content Marketing World? The obvious reason is because it's in Cleveland. I'm lucky that it's here, but it's not the main reason.
The biggest reason is Content Marketing Institute (CMI). Because they're based in Cleveland, I get a chance to see Joe Pulizzi, and CMI folks at area events. I've gotten to know a few of them and truly believe in what they're doing. The quality of Content Marketing World is a reflection of their dedication to promoting the content marketing discipline they're built upon.
I've gone to other great conferences and there are others I plan on attending. But for my money (literally), there is none better than Content Marketing World. 
Join Jeremy, his PR 20/20 colleagues, and 3,500 other marketing and content marketing executives and practitioners. We'd love it if you had the same experience that Jeremy did. Use CMI100 to save $100 off your registration today! Early bird rates go away on 5/31.
Posted April 20, 2015 in: Event by Laura Kozak
---