This year's Content Marketing World focuses on how you can Amaze Your Audience. That's no small feat, particularly for those nurturing a community online. The person leading the charge can be a marketer, a strategist, a customer service rep, or a social media pro – sometimes all in one day. Amidst the chaos, many brands still tout the value of communities. They believe the groups allow members to collaborate, commiserate, and support each other.
CMI's online presence shaped our CMWorld community. We are grateful to its many members, including Erika Heald and Dennis Shiao. Both are two of the best community experts out there. Erika heads up the wildly popular #ContentChat, a Twitter chat aimed at providing marketers with actionable insights. Dennis is co-founder of the Bay Area Content Marketing Meetup, a group he grew from scratch and now boasts over 500 members.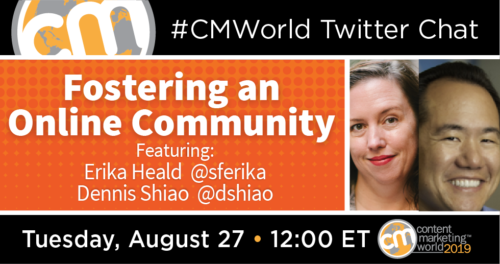 Through their work, Erika and Dennis prove a strong community can be relevant, interesting, and welcoming. They admit there are challenges, but they remind us that the rewards can be great.
What follow is a brief look at a recent discussion with Erika and Dennis. Like what you see? Be sure to join us for the #CMWorld Twitter chat, held every Tuesday at noon EDT.
How has the concept of "community" changed for you over the years?
What are some ways to evolve from a passive audience to a welcoming, engaging community?
What are some reasons people stay or leave a community, and what can community managers do to prevent the latter?
Can online communities successfully translate offline?
We are excited to introduce Content Marketing World's first-ever Community track. Back-to-back sessions will give attendees a deep dive into starting and fostering online communities. Don't miss Erika and Dennis. Their session begins Friday at 9am.
Will you be in Cleveland next week? You're invited to our Big Top Tweetup! Join fellow community members plus friends from #ContentChat and #TacoChat for light apps and conversation. Tweet @moninaw for details about our September 5 event!
Posted August 28, 2019 in: Event by Monina Wagner
---