Content Marketing World is part of the Informa Connect Division of Informa PLC
This site is operated by a business or businesses owned by Informa PLC and all copyright resides with them. Informa PLC's registered office is 5 Howick Place, London SW1P 1WG. Registered in England and Wales. Number 3099067.
Fostering Community with Social Advocates: A #CMWorld Chat with Megan Ingram
Before there was Facebook, there were Usenet, Internet Relay Chat, and bulletin boards. Yep, I was an early adopter. (But I'm not Usenet-early. I'm not that old.)
I've always been drawn to social media because of the relationships it nurtured. These platforms play a critical role in establishing of connections that might never have formed. Social media has always been a venue for interaction.
That's what drew me to Megan Ingram. We began talking about the importance of community and wanted to get others involved in the conversation. Who better to include in the discussion than the CMWorld community! We pulled some of the best tweets from our hour with Megan and included them here. If you'd like to see all of the tweets using the #CMWorld hashtag from that day, click here.
Want to learn more about Megan? Scroll down to watch her interview with CMI VP of Marketing Cathy McPhillips on Beyond the Chat.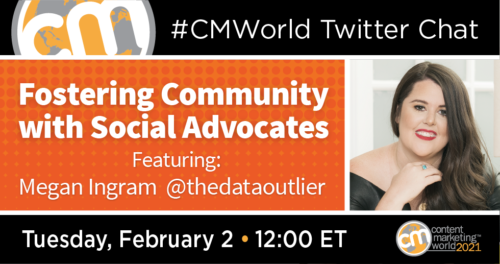 How has the term "community" changed over the years? For better or for worse?
While community managers add a human element to your brand, should they identify themselves? Why or why not?
Implicit bias and favoritism can hurt communities. What responsibility do brands have to make sure all members feel welcomed and valued?
How do you build and manage your community? I'd love to hear about your efforts in the comments below.
Did you know our community meets outside of our weekly Twitter chat? Join our exclusive Slack group. Connect with other marketers, get CMI announcements, take part in our Book Club, and more.
Posted February 3, 2021 in: Event by Monina Wagner
---
UP