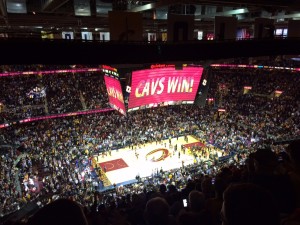 Andrea Duchon, a born-and-raised Clevelander, wrote a blog post this week about the 10 Best Reasons to Jump on the Cleveland Bandwagon Right Now. It's been spread far and wide among the Cleveland contingent, but what about our Content Marketing World attendees coming in from all over the country and all over the planet? Have you been to our great city? If so, have you really had a chance to explore?
Truth be told, ask any of the CMI team members who are Cleveland natives (including yours truly). We LOVE talking about our city and all of the great things we have to offer.
Andrea's list was fantastic. We're taking her list and adding a #CMWorld spin to it!
1. The CAVS 
In case you haven't been paying attention to NBA playoff news, our Cleveland Cavaliers will be in the NBA finals against the Golden State Warriors. LeBron is back for his second year after his return to Cleveland after his trip to South Beach. We welcomed LeBron back in 2014 with open arms, or maybe reluctant arms, but that's water under the bridge. We were guarded, but we're hard-core Cleveland sports fans who are just happy to be doing well. We're proud no matter what. As the city is on the rise, the Cavs are as well, and honestly, it's just plain fun to be a fan right now. For those of us that have been our whole lives, it's an incredible feeling not unlike the '95 and '97 Cleveland Indians. (Fingers crossed for a better outcome than those years!)
While you're in Cleveland for Content Marketing World, the Cavs season won't have started, but the Indians will be in town! Be sure to check out a game and enjoy people watching and seeing some of the most dedicated and crazy fans.
2. The Flats Renovation
Back in the 90s, I was fresh out of college, and in my early career in advertising. The Flats was a great place for us to go socializing, dancing, attend concerts and much more. Then it hit a bit of a hiccup. But The Flats excitement is back. Shooters on the Water, Music Box Supper Club, and Jacobs Pavilion at Nautica offer great evening destinations – and it's a great place to check out for an early morning walk or run on the Cuyahoga River waterfront.
3. The Battle of the Chefs
The Food Network and many publications are super fans of Cleveland's culinary scene. Aside from Michael Symon and his amazing staff (disclosure: my brother Matt Harlan has been with Michael since he opened Lola Bistro in 1997), Cleveland boasts talented chefs including Jonathon Sawyer, Zach Bruell, Jonathan Bennett, Eric Williams, Rocco Whalen, Doug Katz and SO many more. We have much more to come on the CMWorld blog on restaurants to visit in September, so stay tuned!
4. The Theater
Cleveland's Playhouse Square is an incredible space – even if just to walk through the district, admire the world's largest chandelier courtesy of GE Lighting, and see some of the architecture. Visit this amazing area during your trip to Cleveland. We're hoping to plan an event here one year for CMWorld!
5. The West Side Market
The West Side Market opened in 1912, and it's just an incredible place. One of my friends goes down here every Saturday morning to meet friends for breakfast, then shops for his family of six. Where else can you get fresh meats, cheeses, breads, vegetables and fruits, pick up some fresh flowers, some prepared foods, the most unique spices, and pick up a custom fruit-filled crepe – all for a steal? I love taking my kids here and feeling like a tourist in our own city. They'll grab sausage sandwiches and I'll grab some black bean empanadas or a hot tea and we'll head to the balcony and people watch. Google "West Side Market" and click on images. Chances are, you'll see the most incredible photos of delicious foods and amazing architecture. A short cab ride or healthy walk from downtown, this is a must see for those who have some extra time.
6. The Events
While most of the best events happen in the summertime, there's always something going on in Cleveland. We'll make sure you know about any extra events happening during your time in Cleveland! With all of our neighborhoods and culture, it's a guarantee there will be a fun event to be found.
7. The Guests
We'll admit it – we've been busy. Cleveland has been host to a myriad of events including The Gay Games, and we're also knee-deep in Republican National Convention planning. And of course, our CMWorld attendees are the absolute best! As I mentioned above, the culture here is amazing with Playhouse Square, but we also have many music venues, ethnic restaurants, and neighborhoods such as Little Italy, Slavic Village, West Park and many other pockets of town to make our guests feel right at home. The guests appreciate it and it's fun to watch.
8. The Flea 
Come see local businesses share their wares, art, food, and so much more in this monthly event. Are you tacking on a few days to the end of your CMWorld visit? There will be a Flea on September 12, the day after our industry labs. And, as luck would have it, Saturdays in September are some of the most gorgeous days of the year. If you're staying, let me know – we should get a group together!
9. The Metroparks
I grew up in Lakewood, Ohio, just west of Cleveland, and on the edge of town, there was this vast (and I mean vast) park system in a valley. Aptly nicknamed "The Valley," it was a place we went for 25+ mile bike rides on a paved path, softball games, soccer games, fishing, walking, picnicking, horseback riding, golfing, laying in the sun, skipping rocks and so much more…and it's something we still do today. One thing I ask when I go to a new town is this: "What is something in this town that tourists don't see…but should?" If you asked me that in Cleveland? I'd tell you to find a way to get to the Metroparks.
10. The People
We're an eclectic bunch, but we're friendly. And, as of late with all of the great happenings, we're all really happy and smiley too! We're really happy to welcome all of our visitors to Cleveland. And it's not just the CMI team, it's all of the people around town who are beyond grateful for the opportunity to serve visitors and share our own stories and show off the city. Seriously, ask any Clevelander why they love Cleveland. Then grab a Snickers, because you'll be there for a while.
I hope this gave you a little better idea of our great town, and all it has to offer.
Will we see you in September? Here's why now is the best time to register:
Early bird rates end on 5/31! That's THIS SUNDAY!
Use code CMI100 to save $100 MORE off of the published early bird rates!
If you register before 5/31, you're entered into a random drawing for a 3-night hotel stay during CMWorld!
We really want you there – for learning, networking, brainstorming and good times.
Posted May 29, 2015 in: Event by Cathy McPhillips
---