Maybe you've been reading all the national press and you're curious why travel writers and reporters around the world have fallen in love with Cleveland. So you've decided to come early or stay a few extra days after Content Marketing World 2015. If you need some ideas for what to do why you are here, consider visiting some of the city's best and brightest gems.
Cleveland Skyline and Lake Erie Credits: William Reiter for ThisisCleveland.com
Cleveland Museum of Art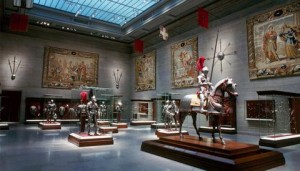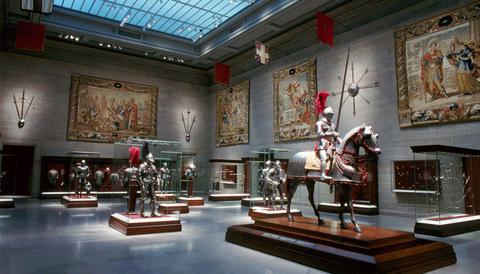 Credits: ThisisCleveland.com
The museum is internationally renowned for its diverse collection which includes almost 45,000 objects from around the world and spans 6,000 years. In January 2013, The Cleveland Museum of Art completed a $350 million renovation that included "Gallery One," a 12,000 square foot interactive learning center featuring the Collection Wall, the largest multi-touch screen in the U.S. (super cool!), and a new glass enclosed atrium. At 39,000 square feet it's the largest free public space in Cleveland.
The museum is free. (But closed on Mondays.) It's located in University Circle – where many of our other museums are located.There is also a great restaurant and cafe inside.
Rock and Roll Hall of Fame and Museum
While the CMWorld opening night reception is at the Rock Hall Tuesday, September 8, if you're a huge music buff you may want some extra time to explore the museum. The Rock Hall houses more than 30 exhibits that showcase the evolution of music from Elvis to the Beatles to Pink Floyd and much, much more. You'll be dazzled by the largest collection of rock and roll artifacts in the world, including Michael Jackson's sparkly glove, Janis Joplin's psychedelic Porsche, Joey Ramone's leather jacket, Les Paul's electric guitar, and other eclectic music memorabilia. For hours and admission prices, check out their website.
Great Lakes Science Center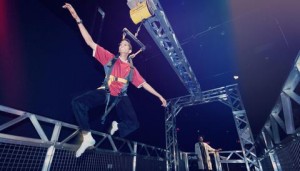 Credits: ThisisCleveland.com
If you're up for a little hands-on science fun, then check out the Great Lakes Science Center right on the shores of Lake Erie next to the Rock Hall. There are more than 100 hands-on exhibits, including The Indoor Tornado, The Bridge of Fire and The Shadow Room. The Science Center is also home to the NASA Glenn Visitors Center – where you can check out the 1973 Skylab 3 Apollo Command module or examine a moon rock from Apollo 15.
Other attractions include the historic Steamship William G. Mather, a floating maritime museum (a giant ship in the water behind the Science Center) and the six-story OMNIMAX Theater. The Science Center is open everyday – check out more on their website.
West Side Market
If you have time, taking a stroll through the West Side Market on West 25th Street in the Ohio City neighborhood is a must. The 100-year old market is an iconic Cleveland landmark, the city's oldest public market. With more than 100 vendors selling everything from produce, meat, seafood, cheese and baked goods, to prepared foods including pierogies, falafel, pad thai, crepes and pizza, it truly is a place to explore or just to people watch (though I dare you not to eat something!) The market is open four days a week. For more information check out their website. If you were at CMWorld 2014, the West Side Market is located across from the park area when we had our Pub Crawl.
A Christmas Story House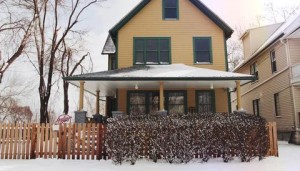 Credits: ThisisCleveland.com
If you were ever a fan of the cult holiday classic movie, A Christmas Story, (who wasn't?) then you'll want to check out the house where Ralphie and the Parker family experienced that memorable Christmas in the 1983 film. The house on West 11th Street in Cleveland was actually used to film the movie and has been completely renovated to match scenes from the film.
At A Christmas Story House you can admire the leg lamp in the window, crawl under the kitchen sink like Ralphie's brother Randy, check out Ralphie's Red Ryder BB Gun, or see if his obnoxious pink bunny suit fits. There is a gift shop and museum across the street that showcases original props, costumes and memorabilia from the film, as well as hundreds of rare behind the scenes photos. This is truly one-of-a -kind Cleveland experience. Check out their website for hours and tour times.
Little Italy
For a truly Italian experience, you can check out Cleveland's historic Little Italy neighborhood. With more than 15 restaurants to choose from, you can truly get your Italian on. Just be sure to save room for dessert and get a cannoli at Corbo's bakery (a personal favorite!). But that's not all. With more than 20 of the finest art galleries in the city, boutiques and speciality shops, you're sure to find some souvenir to take home with you. Little Italy is located next to Cleveland's cultural district in University Circle. For more information, check out the website for directions and more information on the neighborhood.
Cleveland Metroparks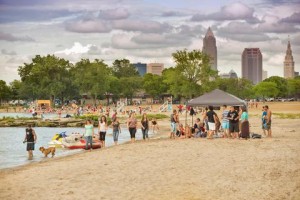 Cleveland Metroparks – Edgewater Beach Credits: Keith Berr for ThisisCleveland.com
If you're more of a nature lover then you might want to check out the Cleveland Metroparks, a collection of 18 parks that make a ring around the city. It's affectionately nicknamed the "Emerald Necklace" by locals. At one of the parks in or around Cleveland, you can do all kinds of exciting activities, including relaxing on the beach, kayaking, paddle boarding, surfing (yes you can surf Lake Erie – even in the winter!), hiking, bicycling, fishing, playing golf and much more.
Edgewater Beach is the closest beach to downtown Cleveland if you want to swim, relax on the beach or fish. Also close to downtown in the neighborhood known as the Flats, is the restaurant Merwin's Wharf owned by the Metroparks. It's located right on the Cuyahoga River with great views of the city skyline and the water. You can dine on fish tacos out on the patio or enjoy a game of cornhole while you wait. You can see all the locations and activities available on the Metroparks website.
BONUS: If you come over Labor Day weekend, the Cleveland Air Show will be in town. All the activities are located right on the lake at Burke Lakefront Airport – a short walk from any downtown hotel. (Just don't be surprised if your room gets buzzed by one of the Air Force Thunderbirds).
We hope your experience in Cleveland amazing. We want to make it exceptional for you, so please let us know if you have any questions or need advice on things to do. Do you know we have #CMWorld bloggers – all locals – who are here to help you? Aside from the CMI and CMWorld event staff, be sure to connect with Alana, Amanda, Allison and Charlene who are all willing (and happy) to share their favorite Cleveland hot spots!
Looking for even more to do? Visit Destination Cleveland for all your visitor needs!
Posted July 10, 2015 in: Event by Amanda Subler
---