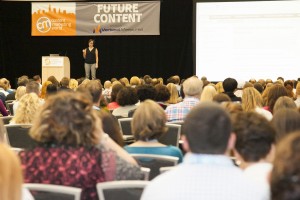 Did you know that Content Marketing World has secured the entire Cleveland Convention Center this year? This means more space, larger sessions, MORE concurrent sessions, more meeting space and so much more.
As the practice of content marketing evolves, so do the many niches and focal points within content marketing. This year, we'll have over 11 concurrent sessions running, covering the gamut of content marketing skills. Over our 2-day main event we'll cover the following tracks:
B2B
B2C
Demand Generation
Future Content
Social
Tools/Technology
Beginner
Advanced
Sales
Advanced Measurement
Global Strategy
Intensives
Process & Workflow
Creation & Distribution
Future Content
Performance ROI
Content Strategy
Multi-Channel
Visual Storytelling
B2B Executive
Intelligent Content
What's new and noteworthy?
Beginner and Advanced
We've had many sessions catering to both audiences over the years, but as the industry has evolved, we have many attendees that have attended previous CMWorlds and are ready for advanced levels. Conversely, we have many folks, even seasoned marketers, who are just venturing into the world of content marketing.
Intensives
These were some of my favorite sessions at CMWorld 2014, double features, if you will. Grab a water or fill up your coffee for these sessions that will dive deep into some of the most important topics including analytics and strategy, topics that really need more than 45 minutes. Don't forget a notebook and a pen, as you're bound to walk away with some great learnings you can put into play right away.
Process & Workflow and Tools/Technology
The good news? There are more tools, tech solutions and process ideas than you could ever imagine. The bad news? There are more tools, tech solutions and process ideas than you could ever imagine. These sessions will really help dig down into the nitty gritty on what tools are best for you, how to go about analyzing and selecting tools and tech, and how to maximize the onboarding process.
Global Strategy, Future Content and Intelligent Content
Many companies are coming to a critical point in their content marketing efforts. Do we expand globally with our content efforts, and how do we do this? Are we set up to scale for the future? Are we intelligently building our content and making it agile, adaptable and reusable? These tracks and sessions will help prepare you for not only the future, but for doing things the right way – now.
Stay tuned – in June, some of our more popular sessions will have preregistration opportunities to guarantee you a seat so you don't need to sneak out of another session early. Here's the kicker: the preregistration is first come, first served, so our current registrants will get first dibs on these sessions.
Our agenda is online, and is being updated daily. Visit it now, and check back often. Are you wondering what sessions to attend? Tweet us, email us, Facebook us – we're here to help.
TIP: You don't need to stay in the same track all day. Jump around and look at the session topics that interest you. And as Joe Pulizzi will tell you at the event, if you are in a session that isn't what you expected and not really what you wanted, you have the right to walk out and find another session. Our event is about giving you the best experience so you can advance the practice of your content marketing.
We're looking forward to September! Be sure to let us know how we can help!
Registered? Visit our reservations portal to book your hotel! Do it now for the best selection.
Not registered? Our early bird rates go away after 5/31. Also, use code CMI100 to save an additional $100 off the early bird rates. Register here.
Interested in a free hotel stay during #CMWorld? Watch promotions on Facebook and Twitter and visit this blog every Monday for weekly promotions through 5/31. We're selecting one person that registered between 12/1/14 – 5/31/15 for a 3-night hotel stay on us! Don't wait to register!
Check back next Friday for our next Friday Fun Day post!
Posted May 22, 2015 in: Event by Cathy McPhillips
---