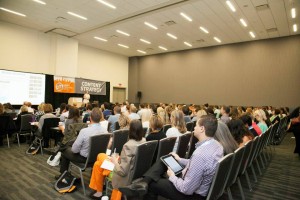 Every year after Content Marketing World, we ask our attendees for evaluations, both by session as well as overall. It's important to us to continue to improve, to know what our "hits" were so we can keep doing that, or our "misses" so we work to make things better. Very thankfully, we have some great feedback from some of our CMWorld 2014 attendees, including this one:
Kelsey McCoy
"CMW always inspires me and excites me about my career. I leave feeling like I'm ready to take on new challenges and opportunities. It is so great to spend a few days with people who have the same interests, face the same struggles, and have brilliant ideas that I can take with me."
Yes! We are thrilled to hear this and THIS speaks exactly to how our agenda is planned each year.
We LOVE hearing from our big content marketing thought leaders and their new presentations every year – Jay Baer, Ann Handley, Lee Odden, Scott Stratten, Mitch Joel and so many others. They bring important overarching messages that make our industry better and continue to push us forward. But how about those "brilliant ideas that I can take with me" that Kelsey alludes to? It's the brand practitioners, the ones in the trenches documenting their content marketing strategy, following a framework, measuring, analyzing, writing, distributing – the ones that can break down their stories to share with you – that will help you when you get back to work Monday morning after the event. Who are some of these brand leaders that you'll see at the big event this September? Here is just a sampling:
David Beebe – Marriott International
Kathy Button Bell – Emerson
Judd Bagley – Overstock
Lisa Bialecki – Rust-Oleum
Craig Coffey – Lincoln Electric
Katrina Craigwell – General Electric
Gina Czark – New York Presbyterian Hospital
Dusty DiMercurio – Autodesk
Amy Higgins – Zendesk

Morgan Hurley – Aon Fire Protection Engineering
Justin Levy – Citrix
Mickey Mencin – Hyland
James Moat – Avery Dennison
Erin Monday – Lenovo
Rick Neiman – Avery Dennison

Tom Quirke – Motorola Solutions

Jeannine Rossignol – Xerox
Nicole Sherrod – TD Ameritrade
Karianne Stinson – priceline.com
Amanda Todorovich – Cleveland Clinic
Christoph Trappe – MedTouch
Kristie Van Auken – Akron-Canton Airport
John von Brachel – Bank of America
Brad Walters – Lowes Home Improvement
Mark Wilson – Blackberry

Stephen Wright – IBM
Oh, and Monina Wagner and yours truly will be doing a CMI case study on how we've fully integrated social media into Content Marketing Institute's content marketing efforts.
We looked for epic content marketing examples, a broad range of B2C and B2B companies, various areas of expertise within the speakers' organizations, and so much more, so you can find the sessions that make the most sense for you.
Speaking of sessions, this year we're doing something different, and some sessions will be available for pre-registration. Our current registrants will get first dibs on these sessions, so if you haven't registered yet, do so before June 23 so you'll be on the list of attendees to receive the early session selection link on June 24. (Then spend some time looking at our updated agenda so you can plan your schedule in advance.)
Don't miss out! Register now – and don't forget that CMI100 saves $100!
Any other questions? Leave a comment below and we'll get back to you!
Posted June 19, 2015 in: Event by Cathy McPhillips
---