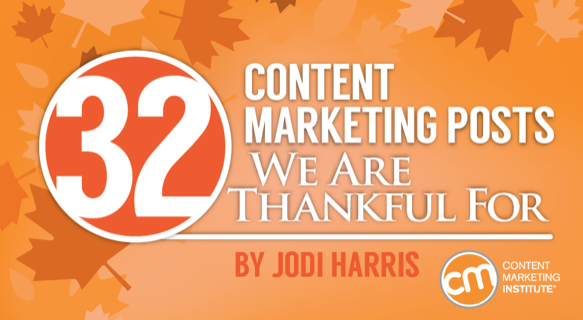 In the spirit of Thanksgiving celebrations here in the US, I wanted to resurface a great post from the CMI blog. Last year, Jodi Harris from the CMI team put together a compilation of the CMI team's favorite posts over the past twelve months.
Below are the choices that Mo and I had in 2015. But, based on your role within your company, your area of expertise, or where you want to head in 2017, we hope this look back on some top posts will be helpful to you in *your* content marketing world.

Mo's choices: 
Post: Content Strategists Can Follow Their Own Big Bang Theory
Author: Amy Higgins
Why I'm thankful I read it: As someone who is relatively new to the content industry, I struggled with the difference between content marketing strategy and content strategy. Amy's galaxy metaphor succinctly describes content strategy and easily explains how it focuses on content reuse and repurposing.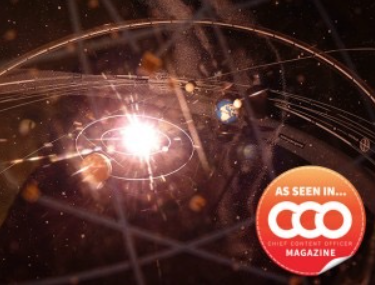 Post: Social Media Automation: A Little Less Conversation, a Little More Action
Author: Jonathan Crossfield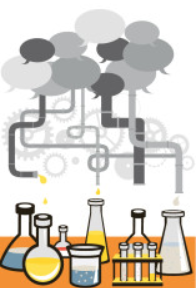 Why I'm thankful I read it: Until recently, I was a critic of social media automation. As a community manager, I believed automation was the antithesis of all things social. Slowly, I have come to appreciate the merits of automation, and this post by Jonathan brings more perspective to the table.

Cathy's choices: 
Post: Social Impact: How a Nonprofit Became a Content Phenom
Author: Erin Rodat-Savla
September Campaign 2014 – The Sahel Region from charity: water on Vimeo.
Why I'm thankful I read it: There are so many brands – nonprofits especially – that are so rich in user-generated content, internal communications, incredible histories, and so much more; but they are unsure of how to qualify it as "content marketing" and create a documented content marketing strategy from all of their assets. By highlighting the efforts that charity:water has taken in this regard, I hope this post can spark other nonprofits to do the same.
Post: Ultimate Guide: 11 Sign-Up Strategies for Building Your Email List
Author: Aaron Orendorff
Why I'm thankful I read it: CMI's email list makes my marketing world go 'round. By having smart strategies to increase our subscriber base the right way, we're giving our audience what they want while collecting both email addresses and good intel on our customers. The strategies we learned from this article really helped us fine-tune our efforts.
Not in marketing, email, social or community management? Don't worry, 17 other CMIers wrote about their favorite articles from last year. Read the full list!
This year, we posted about what posts we liked on other content marketing websites, so be sure to check out the CMI blog for yesterday's blog post on this topic.
As always, find us on Twitter on Tuesdays at 12pm Eastern for our Twitter chats and having great discussions in our LinkedIn group! Watch the Content Marketing World website in early December when we open up registration for CMWorld 2017!
Posted November 25, 2016 in: Event by Cathy McPhillips
---