Are you a Mac or a PC-person? Many marketers have a definite opinion on which operating system they prefer.
Take Dennis Shiao, director of content marketing at DNN Corp. He's a PC. Because of the open seating environment, his neighbor's Mac sits in plain view. That's ok though, because Shiao loves the office arrangement. Talk about breaking down silos. With an open floor plan, there are no walls between marketing, sales, and other departments. The teams can work seamlessly and integrate strategies more efficiently.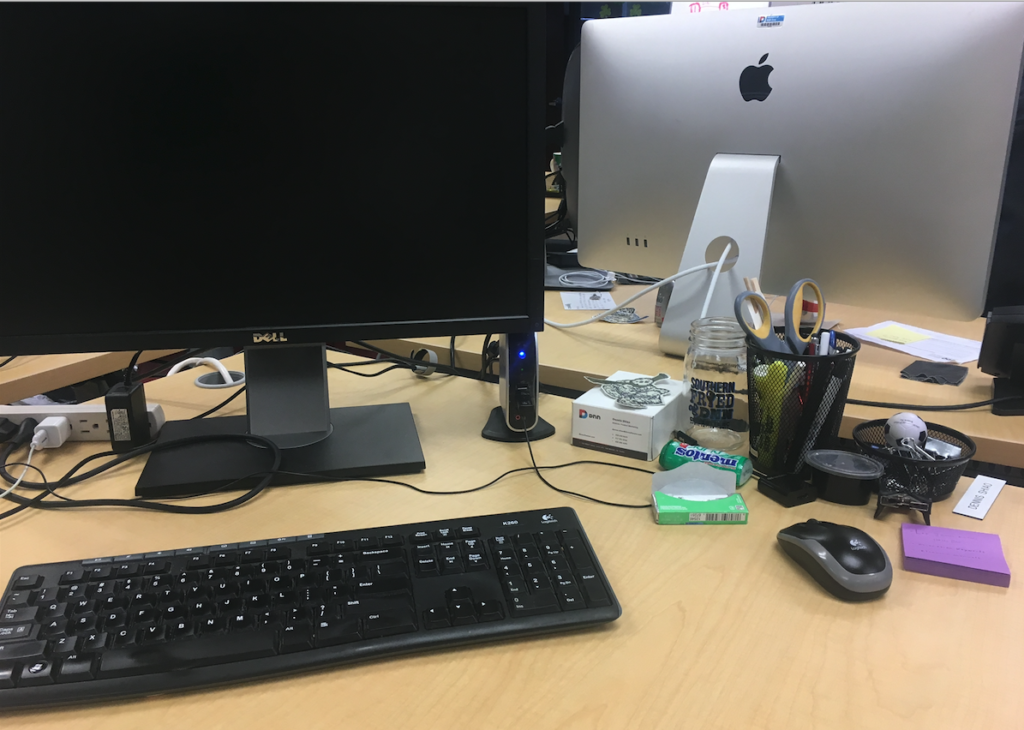 "A cluttered desk is a cluttered mind."
You'll notice the amount of clear space on Shiao's desk. You won't find disorganized file folders on his workspace. Shiao believes an orderly office makes him a conscientious marketer. His computer is front and center – Shiao says it provides him an outlet for "creating and consuming content."
Can you spot the hidden Yeti?
A pristine desk hardly means Shiao does not have a playful side. A quirky reminder of the DNN Summit, a yearly event put on by members of the DNN community, sits on Shiao's desk. It's a sticker of the conference mascot, the DNN Yeti. The Yeti was so popular that an attendee even wrote and performed a song about him.
Grit can be learned
Ask Shiao about the one thing that motivates him, and without hesitation, he will bring up the book "Grit" by Angela Duckworth. The book's premise is talent is not "born" but made. One must rely on grit to perform at a high level. Shiao says the book has helped him set ambitious goals. You can read more of Shiao's takeaways here.
How do you like to work? Twice a month, we're peeking into the professional life of a #CMWorld community member. Want to be featured? Let us know in the comments below.
Posted March 7, 2017 in: Event by Monina Wagner
---