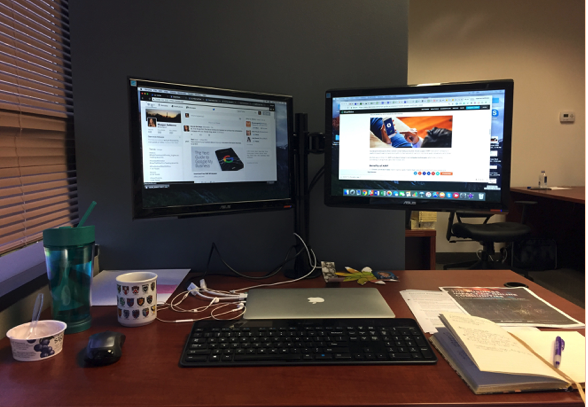 Ever have one of those days when you're jamming in your office to a favorite tune and then bam, you realize you've missed a deadline? That happened to me recently as I remembered I needed to draft this blog post.
Or maybe you're like Meagan DeMenna and find yourself on a busy day turning the wrong way and spilling water everywhere. DeMenna describes herself as a "huge clutz." To prevent accidents, she bought a blue water bottle that sits on her desk. This bottle is virtually impossible to knock over because it has a suction cup on its bottom!
Let the sun shine
DeMenna says she "LOVES" the view from her desk. She basks in the sun most days since her office is based in Phoenix. (Yes, she closed the blinds in the photo, but remember, it's difficult to capture a snapshot when there is sun glare.)
Picture perfect
Since many of us spend more waking hours at work than at home, personalizing the space makes sense. DeMenna surrounds herself with pictures of her husband and three-year-old son. The photos of her loved ones are small. But they lay nearby so she can view them all day long.
Music to her ears
Does music affect your productivity? DeMenna believes so. When she's feeling out of sorts or stressed out, she turns on the great American jazz artist Thelonious Monk. It is in his harmonies that she finds a sense of calm.
Remember how I mentioned earlier I missed a deadline? I'm so late in publishing this post that DeMenna has since moved offices. It's been one of those days. But thankfully, I haven't spilled any water.
Bi-monthly, we're peeking into the professional lives of our #CMWorld community members. Want to be featured? Let us know in the comments below.
Posted April 18, 2017 in: Event by Monina Wagner
---