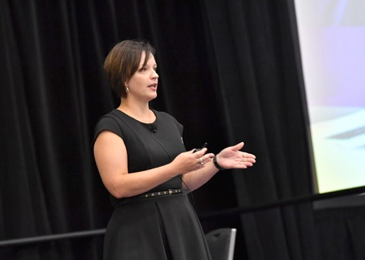 You understand the value of content marketing, right? You've been able to convince your leaders that it's the right thing to do and now you're ready to build your content marketing team. That's great!
Now what?
Wouldn't it be great if a leader would share how they have organized and built their content marketing team and how they operate it so you could leverage some of those ideas to build your dream team?
Lucky for you, Amanda Todorovich, Director of Content Marketing at the world-renowned Cleveland Clinic, has openly shared information about how she built an award-winning team when she has spoken at Content Marketing World. Want proof? Here's a video where Amanda tells you how she built her powerhouse content marketing team:
Those are terrific tips, right? Here a brief review:
Tip #1: Align groups and find efficiencies to build your team
Starting with just three people on her team, Amanda makes it clear that she didn't join the company and immediately hire 20 people. She grew organically, by aligning related tasks and teams, allowing her to bring together groups and create efficiencies at the same time. Smart. Amanda says:
No one will give you a mandate to hire dozens of people
Find separate teams where efficiencies can be gained by bringing them together
Be prepared to prove the efficiencies you can deliver
Tip #2: Use data to inform all you do
Whether it's the team's writers using Google Analytics (on a daily basis) to inform how they create messages or the email and social teams using information to repurpose content in every possible way, Amanda's team understands that everyone needs to be comfortable using data to make decisions. And, guess what, they're making better decisions as a result. Amanda says:
Use the information available to you, ask for more
Test ideas as you go with data
Use data to inform the investments you make, including what's digital vs printed
Tip #3: Create a culture of content
Amanda's team interacts with teams from across the organization, sometimes to help create content, sometimes to use the content others have created. Everyone understands the goal is to build a culture of content across the entire company, not just in their department. Amanda says:
Don't forget to collaborate with other areas inside and outside of your company
PR, advertising, corporate communications, ad agencies and others can all be resources
Efficient reviews from subject matter experts are critical to fuel your content distribution
Naturally, not all of what Amanda's team does or how they do it will make sense or work for you. But it just takes one good idea from a leader in the space to inspire something that can help make you the next leader as you pursue your dream.
If you want to learn more about the critical topics all marketers need to know when adding content marketing to the mix, like building a great content marketing team, learn from the experts like Amanda. Come to Content Marketing World 2017, September 5-8 in Cleveland. Code BLOG100 saves $100! Register today!
Posted June 14, 2017 in: Event by Mike Myers
---