Content Marketing World is part of the Informa Connect Division of Informa PLC
This site is operated by a business or businesses owned by Informa PLC and all copyright resides with them. Informa PLC's registered office is 5 Howick Place, London SW1P 1WG. Registered in England and Wales. Number 3099067.
Gaining Attention with Video: A #CMWorld Chat with Amy Schmittauer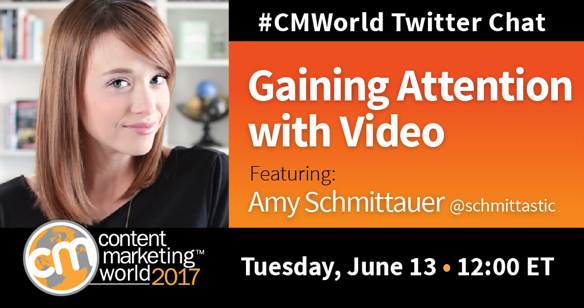 Video is a powerful storytelling medium. According to Content Marketing Institute's 2017 Benchmarks, Budgets, and Trends research, 60% of B2B marketers in North America are using some form of video. With such a noisy, competitive landscape, marketers need to be smart in how they plan and promote their video content. Amy Schmittauer joined us on a recent #CMWorld Twitter chat to share some tips for making sure your videos are relevant, purposeful, and strategic. Schmittauer is a best-selling author and creator of the popular YouTube series Savvy Sexy Social.
Post or Host?
Before you distribute your video, you need to know which video hosting platform is best for your brand. You could host the video on your site like Vimeo, or you can post it on a video-hosting site such as YouTube. There are benefits and limitations to both.
Rise Above and Get Found
The key to great content is 20% in its creation and 80% in its promotion. When it comes to marketing and promoting your videos, there are several strategies you can follow for success.
What tactics are you using to promote your videos? Let us know in the comments below. For more insights, check out our Storify recap.
Need more ideas on how to create great video content? Register for Content Marketing World and attend our special Video track. Code SM100 saves you $100 at checkout!
Posted June 15, 2017 in: Event by Monina Wagner
---
UP