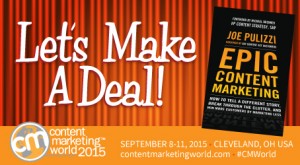 May is a big month for Content Marketing World. Our Early Bird rates end on May 31. Many of our international attendees register so they can plan their intercontinental travels. The buzz of speakers and keynotes and musical guests are announced. The team starts scouring closets and stores for the latest in orange garb.
But have we got more in store for you! In case you haven't heard, the theme of Content Marketing World is "Bright Lights, Big Content." This year's Hollywood-themed event will include an homage to Tinsel Town, star-studded décor, and a fun, live, huge game show set. Any guesses on which game show?
Each week in May we'll feature a different game show or Hollywood theme. All you need to do is register for Content Marketing World (if you already registered, you're eligible for prizes!) and participate in the fun. Each week we'll post rules and details on our Facebook page, and will also include a blog post about each week's promotion.
This week we're playing Let's Make a Deal!
How can you participate?
Each day this week, we'll pick one CMWorld 2015 registrant to play Let's Make a Deal! If selected, you'll have the choice of receiving Joe Pulizzi's book, Epic Content Marketing, or take your chance and see what is behind either Door #1, Door #2, or Door #3
What are the rules?
We've included them in a document for easy access for you.
Things to remember: You must be registered for Content Marketing World 2015 to participate. Follow us on Twitter! It will be easier for us to get a hold of you privately.
How do I register for Content Marketing World 2015, and are there any deals?
Well, you've come to the right place. Right now, our Early Bird rates save quite a bit off of our regular rates. But, we can help even more. Use code CMWSOCIAL to save an additional $100 off our Early Bird rates. Register now to be a part of all the giveaways this May!
Questions?
Visit our website for all event details, but if you have any questions, please let us know. We want to help!
Follow us on Facebook and Twitter all May for a chance at great Content Marketing World prizes!
Posted May 5, 2015 in: Event by Cathy McPhillips
---