Content Marketing World is part of the Informa Connect Division of Informa PLC
This site is operated by a business or businesses owned by Informa PLC and all copyright resides with them. Informa PLC's registered office is 5 Howick Place, London SW1P 1WG. Registered in England and Wales. Number 3099067.
Generating Endless Story Ideas: A #CMWorld Twitter Chat with Melanie Deziel
We've all been there. There's pressure from your audience (and your boss) to come up with standout content. That's a challenge Melanie Deziel says can be quickly and easily fixed. Melanie is Chief Content Officer at Storyfuel and author of "The Content Fuel Framework: How to Generate Unlimited Story Ideas." In her book, she shares how you can brainstorm content ideas quickly and easily. Melanie was a recent guest on the #CMWorld Twitter chat and discussed how you can differentiate your content by identifying your focus and embracing different formats.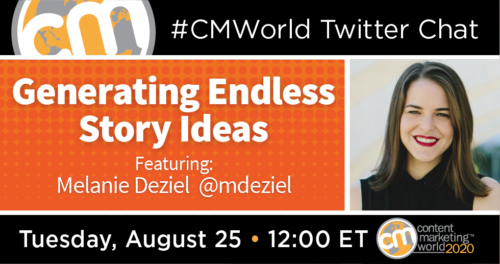 Here's a look at our conversation with the CMWorld community. Gain more insights when you check out our chat's Twitter Moment or pick up a copy of Melanie's book.
How do you define what makes a good, quality content idea?
When it comes to content marketing, there's a focus on people, brand, and tech. Marketers also concentrate on format. At what point do they intersect?
In Menlanie's book, she shares 10 different focuses for our stories. These include people, details, process, and data. What's one focus content marketers are likely not using now, but should be?
Let us know how you come up with content ideas. I'd love to hear about them in the comments.
Want to know more about the power of the creative process? Then plan to attend Melanie's keynote at Content Marketing World!
Posted August 26, 2020 in: Event by Monina Wagner
---
UP