Content Marketing World is part of the Informa Connect Division of Informa PLC
This site is operated by a business or businesses owned by Informa PLC and all copyright resides with them. Informa PLC's registered office is 5 Howick Place, London SW1P 1WG. Registered in England and Wales. Number 3099067.
Generating Leads with Visual Content: A #CMWorld Twitter Chat with Amy Balliett
Marketers want eyes on their content. Yet we know the importance of collecting qualified leads to build relationships. So, what can we do to attract new prospects while engaging our audience?
Amy Balliett believes the answer is visual content. As CEO and Cofounder of Killer Infographics, she says visual content generates more leads and converts more customers. Consider these stats she shared during a recent #CMWorld Twitter chat:
Websites with infographics earn 30x more engagement
Motion graphics increase conversions by an average of 80%
Visual interactive content boasts a 70% conversion rate.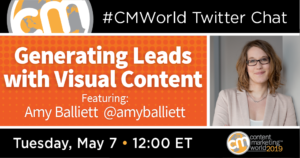 How can you be sure you're producing the best visual content for generating leads? What follows is a brief look at the lively conversation Amy had with the CMWorld community. We couldn't fit all the great nuggets of information into this one blog post, so be sure to check out our Twitter Moment for the Q&A.
When implementing a multi-channel content marketing strategy, where does visual content fit in?
What are some tactics marketers can use to distribute and promote their visuals to capture more leads?
Are you using visual content for lead generation? Share your tips and success stories with us in the comments below.
Some of our favorite visual content includes graphic recordings created by Kingman Ink. You can see her work when you attend Content Marketing World. Sign up now with code SM100 for $100 off Early Bird rates. But hurry – this discount ends May 31, 2019.
Posted May 8, 2019 in: Event by Monina Wagner
---
UP