Have you ever seen checklists of the "top [insert number] ways to get the most from an in-person event"? Of course you have, and maybe you've read them for new ideas, and it's very likely you've even read one here on the Content Marketing World blog! Have you ever met someone who took one of those articles, blog posts, or lists to heart and did virtually every single thing suggested?
Jason Schemmel epitomized how to make the absolute most from an event during Content Marketing World 2016. We hope we made his experience here in Cleveland absolutely epic, because he sure made it a wonderful event for all of us.
Please be sure to find Jason online via LinkedIn, and of course you can always find him on Twitter!
Name: Jason Schemmel
Title: Social Media Manager
Company: HarperCollins Christian Publishing
What brought you to CMWorld 2016? How many years does this make for you?
I attended CMWorld for the first time last year in 2015 and had an amazing experience. Even though I had been working in social media for a few years, the concept of "content marketing" was new to me. Attending my first CMWorld conference was an eye-opening, educational experience where I was able to learn from some the greats (some of whom I already followed such as Jay Baer) and find out what I've been missing out on. For my return to CMWorld 2016, my intention was to gain deeper insights through more advanced sessions to optimize what I learned and put into practice last year. Needless to say, I accomplished that goal.
Badge Progression: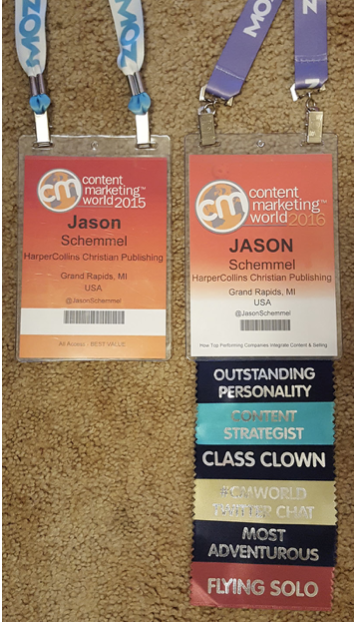 How did your career lead you to content marketing? 
I've been working in social media for the better part of 5 years. My primary focus had been Facebook and Twitter. I got my start in the industry by helping local businesses, startups, and aspiring entrepreneurs gain a social presence online, using my 7 years of retail experience and empathic way of viewing challenges to my advantage. Since then, and thanks to learning about content marketing, my current role with my company has expanded exponentially since attending CMWorld 2015.
If you switched careers today, what would you be doing?
Hmm…if money weren't a factor, I'd be a travel blogger. My fiancée and I love traveling (more on that soon). Between the two of us, we have collectively visited: Canada (if that counts), Costa Rica, Ireland, Scotland, Germany, Austria, Spain, France, & Amsterdam with a plethora of stories from each country. I guess the idea of traveling more, documenting our experiences, and sharing them to the masses as a way of "work" just sounds wonderful. I mean…we all should enjoy "work," right?
What is your biggest content marketing challenge?
Currently, my biggest content marketing challenge is finding fresh, diverse content to give our audiences. I say "audiences" because I manage 7 different brands under HarperCollins. Working for a company, and in a department, that is responsible for publishing Christian Bibles, people have told me numerous times that I have all the content I could need with the Bible! Which is true to an extent, but after a while it all seems to just blur together and I like ensuring my brands have a separate identity from each other. Even though the Bible is big, it's the most stolen book in the world, and it's filled with stories & content-a-plenty, my biggest challenge is that it's content that never changes! Thanks to my experiences at both CMWorld conferences with listening to speakers/keynotes share wins they've had with clients and how they diversified their content, I have a plethora of ideas to bring to the table and hope I can convince upper management to approve it!
Where is one place in the world you'd like to visit? Why? 
Italy. I've been very lucky in that my girlfriend (now fiancée) spent all of last year in Ireland. (Wait, how does that sound "lucky"??? Long distance sucks!). LDR's are definitely challenging, but it afforded me the opportunity to visit her three times throughout 2015. I visited her in Ireland over St. Patrick's Day (yes, it was just as fun as it sounds); my second visit saw us head to Edinburgh, Scotland (AMAZING scenery & history!); and my last visit brought us to Munich, Germany during Oktoberfest (practically St. Patrick's day on steroids, but with less green). Having visited those European countries, Italy is next on my list. Besides Italian food being my favorite non-American food, I've seen too many gorgeous countryside pictures to want to go to any other country first.
Who was one person you met this year at CMWorld 2016 that impacted you – be it a speaker or attendee or CMWorld staff member? 
I honestly believe this isn't a fair question…because there are far too many people (speakers, attendees, and staff members) that I could apply to this question. So I'm going to touch on all of them! Aside from keynote speakers (they were all amazing, especially Andy Crestodina), my favorite speakers were Kristina Halvorson & Denise Kadilak. The reason is, Kristina reaffirmed what I had been doing & implementing since CMWorld 2015 as I push myself to become a better content marketer. She shared great tips and things to consider when keeping your audience in mind as you create content. Denise's presentation (the session right after Kristina's) was like a supplement to Kristina's as she took a "UX team" approach to how content is implemented online. I hadn't considered that point of view before. Not only are we as marketers responsible for creating good content, but we need to work hand-in-hand with our UX/Design team to make sure we can appropriately display it on our websites & social media so everything flows smoothly while being easy to find.
Attendees – Hoo boy. The camaraderie among my peers at this event was mind-blowing (no joke). Being able to meet a number of amazing people of all backgrounds, industries, & experiences is what made CMWorld such a special event. I met a bunch of hooligans at this event through post-conference networking events, as well as through use of the CMWorld app, and I had the most enjoyable time with them! Many professional and personal stories were shared, we discussed world issues, we talked about the conference, but best of all, we laughed and joked like we had been friends for years. Seriously, this group that consisted of: Monina, Maureen, Jeff, Ben, Leah, Elaine, Melanie, Bill, Mike & Jeremy made one night almost too much fun (if such a thing exists).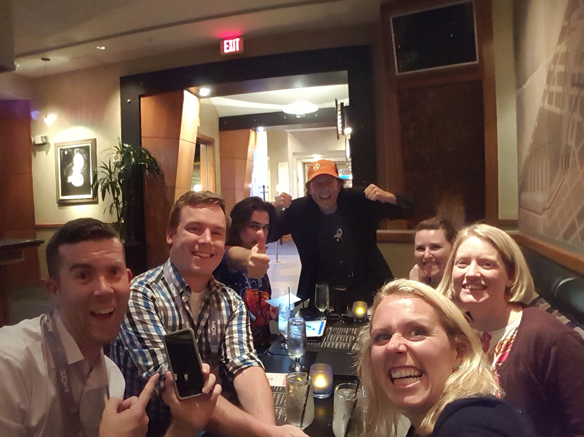 Shenanigans Photo #1
(from left to right: @Renoe, @JasonSchemmel (me), @BHRome, @BillCush, @MarueenOnPoint, @MelEdits, & @EBallBall. Sadly missing: @theLeahIngram, @MoninaW, @CMcPhillips, @BerrakBiz, @JeremyBednarski, & @MikeMyers614)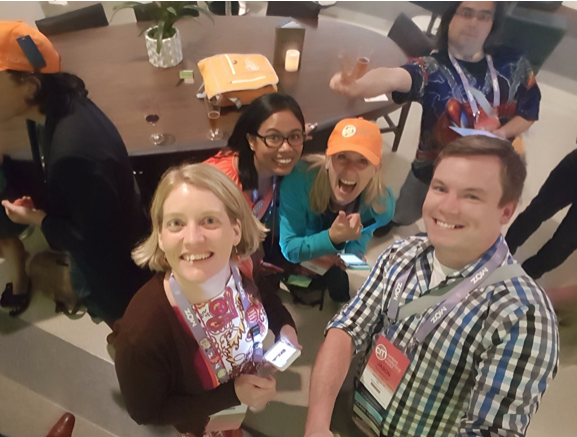 Shenanigans Photo #2
Staff – First off, let me say that the CMWorld staff, as a whole, did an AMAZING job keeping everything flowing smoothly. The app was also vastly improved compared to last year's. During my first CMWorld visit, I didn't meet many staff members; although I did meet Joe and when I introduced myself to him this year, he remembered me which I thought was pretty cool (just sayin'). But I made it a point this year to meet more of the team as I am hoping to get more involved with CMI and, ultimately, earn that "speaker" ribbon at CMWorld! I made sure I arrived in Cleveland  on Monday in time to attend the evening networking with the CMI team. There, I first met Pam who, let's be honest, is a wonderful person. We had lovely conversations about work and life before she pulled over Monina and introduced her to me. Mo was a blast to chat with. We discussed the #CMWorld chat and laughed about how us social media peeps are always on our phones (there are picture to prove it). Lastly, although time wasn't on our side to have a conversation in person (which was completely understandable, the conference whizzed by like a blur), Cathy was very open to chatting and made me genuinely feel like she wanted to make time for me. That alone meant a lot to me. Not to mention that a few weeks before the event, Cathy took time out of her day to offer assistance in my selection of sessions to ensure I would get the most out of CMWorld. Overall, it shouldn't come as a surprise, but I was blown away at how open, friendly, and down to earth the entire CMWorld team was despite them working the whole time. I tip my proverbial hat to all of you!
What is one orange item in your life you can't live without?
A couple Halloweens ago, I bought a bright orange faux-tux that emulated Jim Carrey's in "Dumb and Dumber." Yes it was BRIGHT ORANGE; yes I had a top hat and cane that were equally bright orange;  and yes, I had a heated debate with myself if I should bring it and wear it during CMWorld. Looking back, I really wish I had! Maybe next year…
Yes, I was REALLY orange at a Halloween party, it was pretty easy to find me in the crowd: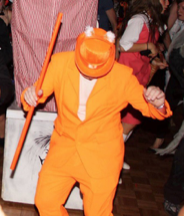 Who is someone you'd encourage to come to CMWorld 2017?
My good Twitter friend, Samantha Kerstetter (@SamKerstetter). I met her through a Twitter chat that she hosted during her time at Ragan Social. She is a fantastic marketer and has a wonderful personality. We've shared goofy conversations about butchering Benedict Cumberbatch's name (Butterscotch Cabbagepatch is still my favorite) and conversing purely through use of GIFs and I think that's the kind of personality people need to bring to CMWorld. In all honesty, she's fluent in "internet speak" like most of us and, really, I just want to introduce her to the group shenanigans that happen here!
Anything else you'd like to add?
The past two conferences, I have left CMWorld excited, inspired, and reinvigorated to do a better job at social & digital marketing, but with an expanded knowledge of content marketing to really amplify the content I'm publishing. Listening to the good mix of speakers who discuss wins they've experienced; tips and tools of the trade to consider; and stories of failures turned into successes help me think of numerous ideas to use back at my company. I hope to see everyone next year!
Thank you, Jason! This was incredible, and we're so grateful for your insights and energy at our event. Call for Speakers opens soon…expect a reminder from us!
Stay tuned to the Content Marketing World blog each Monday to meet even more of our attendees. In the meantime, find us on Twitter on Tuesdays at 12pm Eastern for our Twitter chats (and you'll see Jason there), or check out the awesome discussions in our LinkedIn group, and watch the Content Marketing World website around November 1 when we open our call for speakers for CMWorld 2017!
Posted October 10, 2016 in: Event by Cathy McPhillips
---