When you mention content marketing practitioners and Cleveland, Jeremy Bednarski's name will most likely come up as one of the early adopters and biggest advocates. For many years, Jeremy has been part of the growing content marketing community in Cleveland, he has taken his talents to a few great companies (brands and agencies alike), and has spread the word of content marketing to anyone that will listen. This makes Joe Pulizzi very happy! Jeremy has been a great community member and ambassador for CMI and Content Marketing World, including making it a priority to come to CMWorld each year (read his first interview question – rather impressive!)
While many of you do know Jeremy, I did learn a few things about him in our interview – I hope you do too!
You can find Jeremy online via LinkedIn or Twitter. Read more about Jeremy below:
Name: Jeremy Bednarski
Title: Content Marketer
Company: In Transition
What brought you to CMWorld 2016? How many years does this make for you?
CMWorld 2016 was my fourth event…two of which I paid for on my own. I say that to highlight the value that the conference delivers for me. The speakers' expertise and connecting with new and old friends are the biggest benefits. Content Marketing World is an experience unlike any other conference I've attended. CMI does it all right.
How did your career lead you to content marketing? 
Living in Cleveland has its advantages! Content marketing has surrounded me since the beginning of CMI. It's the way that I want companies to market to me, so that's how I need to market. Michael Brenner explains content marketing in a way that just makes sense to me. He says (paraphrasing) that instead of interrupting things that interest people, BE the things that interest people.
If you switched careers today, what would you be doing? 
Other than being a huge rock star, I don't think I'd switch careers. I love what I do.
What is your biggest content marketing challenge? 
We all have similar challenges, but trying to get companies to understand what it is and how to do it the right way. This includes explaining that it's a long-term play and results take time. And, shifting their mindset to look beyond product features and focus on solving customers' needs.
Where is one place in the world you'd like to visit? Why? 
I'd love to visit the Cabo Wabo Cantina in Cabo San Lucas during Sammy Hagar's birthday bash. Besides being a huge fan, I think he is one of the most motivating business people in rock music. Besides his music, he has alcohol (first tequila, now rum), restaurants, two books (a best-selling autobiography and his cookbook) and more. And, he is an inspirational philanthropist. As much as I love his music, I'd love to hear more about how he markets and brands his businesses. He would be an excellent keynote speaker and entertainment for an upcoming Content Marketing World (hint, hint).
Who was one person you met this year at CMWorld 2016 that impacted you – be it a speaker or attendee or CMWorld staff member? 
I've had so many people impact me at from all the Content Marketing Worlds. This year is a group. I can't just name one. I got to meet a handful of people from the weekly #CMWorld Twitter chats: Mike Myers, Erika Heald, Maureen Jann, Ben Rome, Jeff Renoe, Jason Schemmel, Elaine Ball, Barrak Sarikaya, Liza Chalaidopoulos-Isaacs, Mike Turner, Roger Parker, and more. Meeting them in person adds a whole new dimension to our relationships. Everyone is so smart and I love being able to learn from them every week.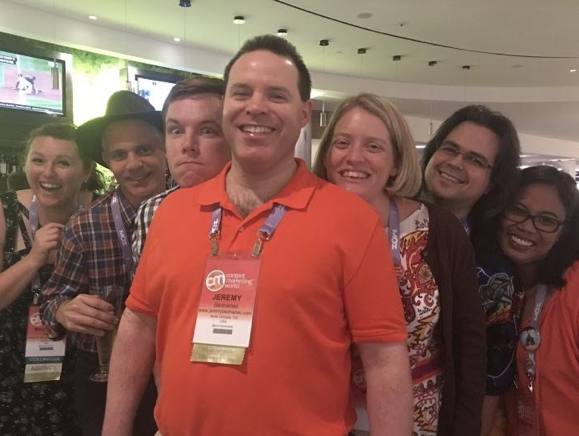 What is one orange item in your life you can't live without?
I actually don't have a ton of orange stuff. I'd have to say some of my Browns shirts that have a bunch of orange in them. Even though the season didn't start off the way we wanted it, I'm a diehard Browns fan forever.
Who is someone you'd encourage to come to CMWorld 2017? 
Besides anyone and everyone that works in marketing…my next boss and marketing team!
Anything else you'd like to add?
If Sammy Hagar doesn't work out as a keynote, Adam Carolla would be great too! But seriously, I can't wait for everyone to be back in Cleveland next year. I'll be keeping in touch with many of the folks I met. And if anyone wants to reach out to me to talk content marketing, has a job lead or debate their favorite rock bands, just hit me up on Twitter (@jeremybednarski)!
Thank you, Jeremy! You've been a part of the CMI community longer than many on our team – and we thank you for your constant support and friendship! Here's to many more years!
Stay tuned to the Content Marketing World blog each Monday to meet even more of our attendees. In the meantime, find us on Twitter on Tuesdays at 12pm Eastern for our Twitter chats, or check out the awesome discussions in our LinkedIn group, and watch the Content Marketing World website around early December when CMWorld 2017 registration opens!
Posted November 21, 2016 in: Event by Cathy McPhillips
---