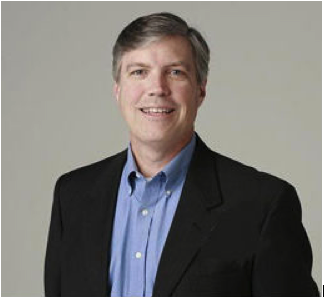 We love when brand marketers join us at #CMWorld, especially with so many in sessions learning from each other or in the expo hall or a networking event spending time together. When Mike Stiles attended Content Marketing World 2016, he was Manager Enterprise Content Strategy with InterContinental Hotels Group.
Returning for a second year, we're thrilled that Mike was able to join us. And as we've mentioned previously, our caliber of marketers at CMWorld goes well beyond our speakers; our attendees have great backgrounds, amazing current roles, and bring much talent and perspective to the event. Mike is a great example of this, and we look forward to you learning more about him.
You can find Mike online via LinkedIn or Twitter.
Name: Mike Stiles
Title: Partner
Company: Valverde & Stiles
What brought you to CMWorld 2016? How many years does this make for you?
This is my second year and I always love coming to CMWorld to "take the temperature" for the level of acceptance of content marketing by senior leadership.  This year was especially compelling because of Joe's honesty that we've been at this for years now, but C-suites remain slow to see the value. Without that, it's hard to get to the level of commitment Joe called for and truly prove the case once and for all that it's a necessary shift away from push advertising.
How did your career lead you to content marketing?
I was a TV news anchor and reporter, then hosted radio morning shows in several great markets like Atlanta, Austin, Raleigh and Cincinnati. I saw very early on that everything we instinctively knew how to do and learned how to do as traditional media entertainers and informers now applied in the brand marketing world. That's where the entertainers and journalists should be getting recruited most right now.
If you switched careers today, what would you be doing?
Something as far away from technology as possible…if that's possible. It's funny, after you really immerse yourself in everything technology can do and comprehend where it's taking us, the human part of you starts increasingly yearning for things more human. Nature, deeper personal relationships, paper books, etc. Guess I'll be a blueberry farmer.
What is your biggest content marketing challenge?
The difficulty of getting marketers to "get" the value of giving people a steady, reliable cadence of entertainment and information they want and love over time. It takes time to win people over, win their trust, and influence them to take an action. Lasting relationships come after a courtship. Marketers still want to walk into a bar and get somebody in bed with them within 3 minutes.
Where is one place in the world you'd like to visit?  Why?
If I were invincible, the Middle East.  Not just because of the spiritual events and movements that sprang from there, but also to be in a place that has such a phenomenal global impact and that will no doubt play the starring role in civilization's biggest changes.
Who was one person you met this year at CMWorld 2016 that impacted you – be it a speaker, attendee or CMWorld staff member?
Andrew Davis. Gave a great gut-check hospitality industry deep dive reminding us that you don't sell, you inspire demand. If you sell, you're skipping major parts of the funnel. And you inspire demand by creating moments of inspiration.
What is one orange item in your life you can't live without?
Halos. What's not to like? They're just the right size, sweet, good for you, and so easy to peel that it's almost fun. Not like their infuriating full-size orange brothers.
Who is someone you'd encourage to come to CMWorld 2017?
I would say that people who are currently tasked with bringing content marketing into their organizations are faithful and regular attendees of CMWorld, but I'd like to see the decision makers who are keeping content marketing at arm's length attend. Then we would no longer be preaching just to the choir. And, if we had sessions and panels with them, they could present their side and their challenges, helping us learn what must be done to present a slam dunk case for the funding of brand content.
Anything else you'd like to add?
I think we're skipping something. I think there's a focus, because it's familiar and comfortable, on the tools and software and technology stack. All vitally important (and improving). But a LOT of companies are making huge financial commitments to these platforms, but then fail to get the maximum benefit out of them because they just don't understand how to put on a great show that attracts, holds, grows, and leverages an audience of raving fans. This is what we did in radio; we made people love us and trust us even though they never personally saw or met us. Brands can't keep getting by without showpeople.
Thank you, Mike! We're so thrilled you answered the call to be interviewed when we asked on Twitter. We'd love to see you and your partner at CMWorld 2017! Best of luck on your latest venture!
Stay tuned to the Content Marketing World blog each Monday to meet even more of our attendees. In the meantime, find us on Twitter on Tuesdays at 12pm Eastern for our Twitter chats, or check out the awesome discussions in our LinkedIn group, and be one of the first to register for Content Marketing World 2017!
Posted January 9, 2017 in: Event by Cathy McPhillips
---