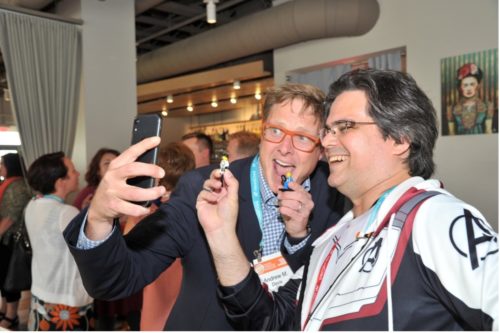 I saw an Instagram Reel the other day that made me chuckle. It said, "starting your work day and realizing how long your to-do list is because of all the things you to-didn't do last week." If we're being honest, I can relate. I feel caught in a perpetual loop of cross one item off, add three more, repeat.
Can you relate? We recently asked a few of our CMWorld speakers to share their favorite tunes to get into the creative mindset. The playlist is a blend of classics and new music and gives some great insight into who our speakers are on and off stage.
Added bonus? They were kind enough to share their advice for how best to get into the creative mood and turn those "to-didn'ts" into to-done's.
Here's a glimpse of the musical selections they recommend and their tips and tricks for getting things done:
Vacation | Dirty Heads
I'm on vacation every single day because I love my occupation helping companies measurably grow their traffic and leads with content marketing. – Michael Brenner, CEO, Marketing Insider Group
Tips for getting into the creative groove: My advice for anyone struggling with getting into that creative groove is to process the negativity: pet peeves, big frustrations, annoying challenges can all serve as inspiration. I start by stewing in whatever it is that makes me mad or annoyed. Then I marinate in ideas about what a solution could look like. Once you tap into those emotions, I found that the content just flows! Examples? Sure! Here's a rant I did on banner ads and another one on poorly designed personas.
Party In The U.S.A | Miley Cyrus
Truth be told, I don't like to listen to music or watch TV when I'm trying to get creative. Instead, I prefer to get into a zone with no distractions or noise. If I'm in a noisy area, I'll seek out a quiet area. When I'm doing repeatable tasks that don't require much concentration, I like to listen to Party in the U.S.A. by Miley Cyrus. I know, a selection that seems to indicate a demographic mismatch 🙂 The bounce and the beat of the song match up well when I'm doing certain tasks. The typing of the keys and the movement of my mouse seem to flow naturally to the beat of the song. Next, I like the lyrics — Miley Cyrus has impostor's syndrome when she lands in L.A., but hops into a cab and hears a JAY-Z song playing. "So I put my hands up, they're playing my song and the butterflies fly away." When you're in unfamiliar territory, sometimes it's the simplest things that can make you feel at home. – Dennis Shiao, founder, Attention Retention LLC
Tips for generating new creative ideas: When I'm struggling on a creative task, I'll do one of two things. The first is to go for a long jog or walk. I won't obsess on the idea(s) the entire time, but will bring my mind to it here and there. A lot of blog posts and articles have surfaced on the jogging trail. The second thing is to take a warm shower. There's something about the soothing warm water that relaxes the body and lets great ideas surface. These tactics can be combined, of course — a long walk followed by a warm shower 🙂
Dhoom Again | Dominique Cerejo and Vishal Dadlani
When I turn that song on, I just want to stand up and move my feet and PUMP myself UP!! Go listen and you know exactly what I am talking about. – Pam Didner, b2b and tech marketing consultant, author, and speaker
Tips for getting over that mental block: Get up, leave your desk, go for a walk, don't think about it for a while. Let your ideas simmer unconsciously. Another thing is to brainstorm with others. If you encounter a block, sometimes, it's good to walk away for a bit, then come back again when you ready. Creative journey is a process. It takes time. Be patient.
Enjoy The Silence | Depeche Mode
This is the one song that gets me into the zone for a productive working session. It's one of those songs I know by heart and have seen performed live that just puts a smile on my face and joy in my heart. It doesn't hurt that I also envision Dave Gahan, in the video, trekking through the snowy wilderness alone, without any distractions (thank you for that visualization, Anton Corbijn!) – Erika Heald, consultant, Erika Heald Consulting
Tips for getting into the creative zone: I find that having creative work rituals helps me focus on my creative work and set aside the many enticing distractions that abound in my home office (including the world's cutest bulldog coworkers). My writing fuel playlist is a core part of that ritual, along with a great pair of headphones, and a place to sit with my laptop where no one will interrupt me such as a local coffee shop, my local library branch, or my favorite coworking space. I shuffle my writing fuel playlist and start writing. It works like a charm.
Good As Hell | Lizzo
No matter how many times I hear that song, it always makes me feel good. Positive vibes help get me into creative mode. I love Lizzo's music because it's all about helping women feel empowered. – Michelle Garrett, pr consultant, Garrett Public Relations
Tips for getting the creative juices flowing: 1) Take a break: Step away from the computer. Stretch. Take a walk. Go outside. Talk to a friend or colleague. 2) Change your environment: A change of scenery can be very beneficial for me when I get stuck and don't feel those creative juices flowing. 3) Read: Sometimes reading some articles or a book about a topic I'm interested in can help spark some creative ideas. 4) Just do it anyway: Sometimes you have to push yourself a little bit — even if you're not in the mood to create. If you just start, it can be easier to help the ideas flow. Maybe the first go-round won't be a masterpiece — and that's OK. As a writer, if I start writing down some ideas, it usually helps me come up with more ideas.
My pick?
Girl Who Didn't Care | Tenille Townes
I'm a lyrics type of person. The beat gets me dancing but the lyrics are what I always come back to. This song reminds me to not take myself so seriously and that I got into this field because I love what I do. It should always be fun. – Ashley Baker
Tips for getting out of your own way: Write it all down. Ditch the keyboard and doodle and write. Write everything that comes to you. There are no dumb ideas, too big ideas, or crazy ideas. Let go of the limitations and be creative! It's in this chaotic dump of ideas that I can start to see a clear direction or idea to roll with.
You got to know a few of our speakers here through their musical choices but getting to know them in person is far better! Come make connections with us at Content Marketing World! SM100 saves you $100 on your ticket.
What song helps you get in the creative mindset? Let us know in the comments below.
Posted August 24, 2021 in: Event by Ashley Baker
---