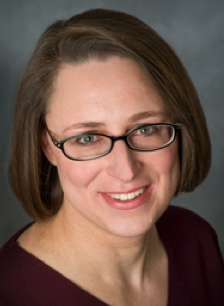 Time and time again, we hear that regulated industries, client confidentiality and legal constraints – HIPAA and others – prohibit marketers from diving into client stories, user-generated content, and other ways to use content that is right at their fingertips. And these struggles aren't just with new marketers, but with industry veterans, as content marketing moves to the forefront for many marketers. Jennifer Mizak is in this position for many of her clients, and we're thrilled she'll be attending Content Marketing World. There will be many presenters from industries such as hers, including our Cleveland Clinic Health Summit on Friday, September 8. Amanda Todorovich from the Clinic will also be speaking during our main event.
Enjoy this week's attendee spotlight and look for Jen at Content Marketing World 2017!
Name: Jen Mizak
Title: Digital Marketing Strategist and Social Media Manager
Company: LM Group
Find Jen on LinkedIn and Twitter and learn more about her below.
What is your main reason for attending, and how many years will this make for you? 
I'm a first-time attendee to CMWorld 2017. My main reason for attending is education. CMWorld 2017 will provide exposure to a number of presenters I haven't had the chance to hear speak. I'm quite excited about the learning opportunities.
How has your career path led you to content marketing? 
I've always been involved in sales and marketing communications. I left a Fortune 500 company to become the marketing director at a life science start-up and subsequently started my own content strategy and copywriting firm (www.LMwrite.com) working with B2B clients in the medical device, life sciences and manufacturing industries.
If you had the opportunity for a do-over, what career would you be in today? 
A film/TV location scout!
What is your biggest content marketing challenge? 
The biggest challenge I face is being able to tell success stories for my life sciences/pharmaceutical services clients – most of whom operate under strong confidentiality agreements with their clients. We attempt to work around the identification of the client's customer but many times what they are working on or the end products are identifiable and therefore breech confidentiality.
What is your favorite book and why?   
Today, my favorite business book is A Curious Mind by Brian Grazer and Charles Fishman. Curiosity is probably the most important quality to maintain throughout life. It keeps us open to new ideas and experiences. By always questioning, we keep learning, we stay fresh and able to make new and interesting connections between the most unlikely topics. We're able to tell better stories and create better content.
If you could meet one person at CMWorld 2017, who would it be? 
Just one? Ardath Albee, Wil Reynolds and Doug Kessler
Who is someone you'd encourage to come to CMWorld 2017? 
I'm not yet sure as this will be my first time!
Are you working on any fun projects you'd like to share with our community?
I'm bound by client confidentiality. I'd tell you, but I'd have to….
Thank you for taking the time, Jen! We understand your challenges and hope that CMWorld 2017 will help you get past some roadblocks, find new ways to create, use and repurpose content. I'm guessing you'll find value from the networking breaks and other smart attendees as much as you will during our sessions.
Meet Jen and 4,000 other marketers at Content Marketing World 2017, happening September 5-8, 2017 in Cleveland. If you haven't registered, there is still time. Even better, early bird rates are in effect until June 2, 2017. And as an added bonus, code BLOG100 saves $100 off of main event and all–access pricing, so register today! See you in September!
Posted June 6, 2017 in: Event by Cathy McPhillips
---