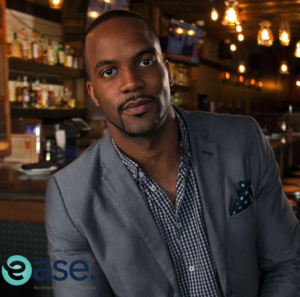 This interview was a fun one – learning much about Nathan Harris, a "serial entrepreneur" as his Twitter profile boasts, and a serial volunteer as I gathered from his LinkedIn profile. A common thread? Helping others. Nathan's personal mission along with the company he founded all works toward helping others, which is a great thing for a content marketer who is trying to focus on creating and distributing valuable, relevant, and consistent content for his/her audience. We think you'll like this one, and we also think Nathan is one you'll want to add to your "meet in person" wishlist for Content Marketing World 2017!
Enjoy this week's attendee spotlight!
Name: Nathan Harris
Title: Founder & President
Company: Ease
Find Nathan on LinkedIn or Twitter and learn more about him below.
What is your main reason for attending, and how many years will this make for you?
This will be my first year attending CMWorld and I am extremely excited. I am coming with one of my best friends and mentors Kevin Kowalke. He got me a ticket as a Christmas present and I am very thankful. This is an event that I have been talking about attending for years so it's great to finally be able to. We are in the process of developing a new startup called Ease and know that we will learn new ways to grow through CMWorld. With the consortium of talent at the event the possibilities for growth and new relationships is limitless.
How has your career path led you to content marketing?
I started my career focusing on creating solutions that would help businesses grow. Focusing on helping to develop brands with purpose and establishing a relationship with their guests or consumers. Content marketing holds the key to being able to establish that relationship. Allowing everything from companies, people and even dogs to bring millions of people from all over the world together. Something that we like to call CIC marketing. Which stands for Captivate, Inspire and Connect. Something that any great piece of content should do. This is one of the most rewarding and engaging industries in the world. It was inevitable that I would fall down the rabbit whole once I found it.
If you had the opportunity for a do–over, what career would you be in today?
I can honestly say that I would never take the opportunity for a do-over. I have been so happy with being able to wake up every day and create things that help people to grow. I was blessed to be able to discover what my true purpose was at a very young age. Now I just want to focus on connecting with more people who also want to do this. Discovering how we can help each other to achieve a common goal.
What is your biggest content marketing challenge? 
My biggest content marketing challenge is finding one centralized tool that will both curate and automate content management. It can be very challenging juggling 6 to 10 different software tools at a time to achieve your results. It would be nice to have one centralized dashboard that offers an API for each tool. Bringing them all into one interface for you to manage both at home and on the go. If this does not already exist, we might have a new startup on our hands.
What is your favorite book and why? 
My favorite book is hands down Steven Pressfield's, The War of Art. This is a book that truly inspired me to take a leap of faith. To let go of all my fears and to become what I was destined to be. A helper to others and inspiration to help people realize that through collaboration we can achieve anything.
If you could meet one person at CMWorld 2017, who would it be?
I would be honored to meet Linda Boff. Taking the time to learn more about how she helped make GE a pioneer digital industrial company – something that many companies in my hometown of Milwaukee struggle with. Wisconsin is a very heavy manufacturing/industrial area. If we can provide them with digital industrial solutions we can help them to grow. Providing greater stability and jobs where they are desperately in need. Once we have the solution I am confident that we can leverage the power of freelancers to offer valuable and cost effective solutions.
Who is someone you'd encourage to come to CMWorld 2017?
I would encourage anyone that is looking to grow their company through developing a lasting relationship, which every entrepreneur knows is the key to success. No matter what event or speaker you see I believe that you will learn something. Increasing your potential and value of your network.
Are you working on any fun projects you'd like to share with our community? 
I am growing a company called Ease. We focus on giving companies access to the best remote freelancers in America regardless of your geographic location via our Freelance Management System. I realized, living in Milwaukee, that many areas struggle to find the software development or digital freelance talent they are looking for, largely because the areas that many reside in have a greater focus on manufacturing or agriculture and are suffering from a level of Digital Darwinism. We solve that problem for companies by pre-screening talent and matching them with companies that need their services, providing people with the best talent for up to 30 percent less than if they hired them full time. This gives companies the visibility, variability and velocity they need to scale, as well as giving freelancers the autonomy to live the life they want by working remotely from wherever they choose
Thank you for taking the time, Nathan! We've never heard of anyone receiving Content Marketing World as a Christmas gift, but what a brilliant idea. We hope that all you learn in the sessions and all the people you meet make it the best gift ever, and one you can pay forward. We admire your spirit and desire to help others. Our attendees will learn a lot from you in September!
Meet Nathan and 4,000 other marketers at Content Marketing World 2017, happening September 5-8, 2017 in Cleveland. If you haven't registered, there is still time. Even better, early bird rates are in effect until June 2, 2017. And as an added bonus, code BLOG100 saves $100 off of main event and all–access pricing, so register today! See you in September!
Posted May 23, 2017 in: Event by Cathy McPhillips
---