Content Marketing World is part of the Informa Connect Division of Informa PLC
This site is operated by a business or businesses owned by Informa PLC and all copyright resides with them. Informa PLC's registered office is 5 Howick Place, London SW1P 1WG. Registered in England and Wales. Number 3099067.
Getting More from Your Original Research: A #CMWorld Chat with Michele Linn
When I see a new research report, I tend to devour it immediately after it's released. Seems I'm not alone, and content marketers are taking note.
Consider these two statistics:
37% of surveyed B2B content marketers say their organization uses research reports for content marketing purposes. [CMI 2018]
Nine out of 10 marketers who published original research plan to do so again. Only 3% who did research said expectations were not met. [BuzzSumo/Mantis Research, 2018]
It's clear. Original research works.
As CMI's Vice President of Content, Michele Linn was intimately involved with the creation of our annual Benchmarks, Budgets, and Trends report. Now, as co-founder and head of strategy of Mantis Research, Michele advocates the use of original research that combines compelling story, data, and strategy. To explore this concept further, Michele joined us for a recent #CMWorld Twitter chat. What follows is a brief recap.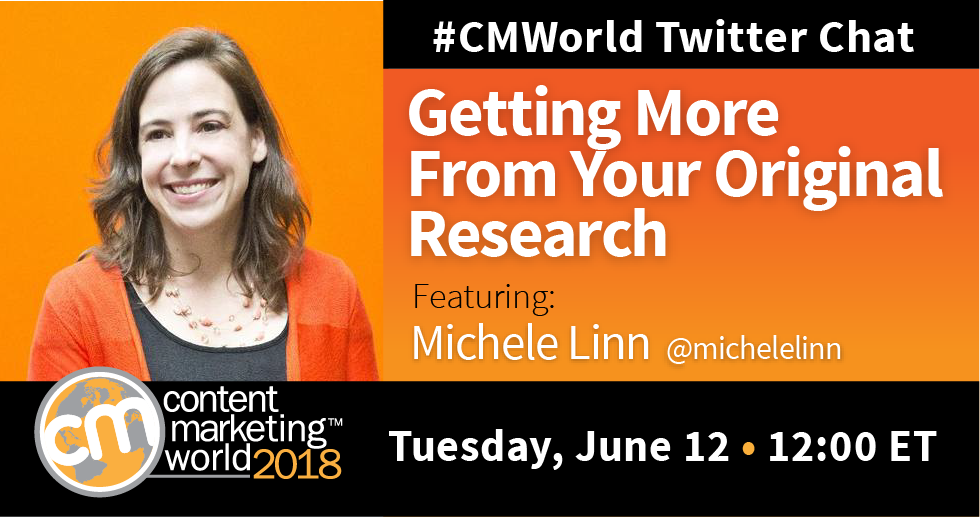 Why should content marketers consider publishing original research?
What type of content can you create from your research findings?
Want to see more tweets from our chat? View our Twitter Moment.
Have you conducted original research? How did it go? Let us know in the comments below.
Michele will take you step-by-step through the process involved in executing original research during her session at Content Marketing World. Sign up today with promo code SM100 to save $100 on your registration.
Posted June 14, 2018 in: Event by Monina Wagner
---
UP