Content Marketing World is part of the Informa Connect Division of Informa PLC
This site is operated by a business or businesses owned by Informa PLC and all copyright resides with them. Informa PLC's registered office is 5 Howick Place, London SW1P 1WG. Registered in England and Wales. Number 3099067.
Getting More From Your (Small) Team: A #CMWorld Chat with Vishal Khanna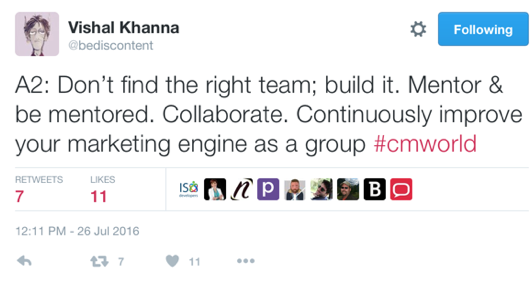 Do you have a small yet mighty content marketing team? Are you looking to do even more? This week's #CMWorld Twitter chat with Vishal Khanna (incidentally, our 2015 Content Marketer of the Year) tackled this very issue: how can you get the most from your team?
A few highlights of the chat are below. Visit this week's Storify for even more great conversations on this topic.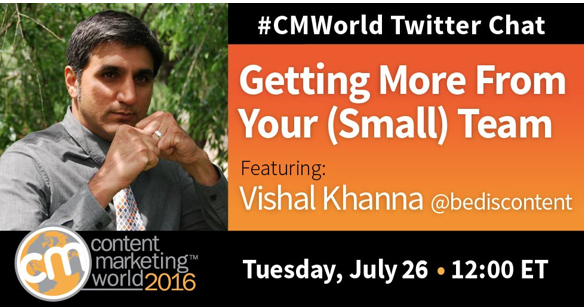 Among small teams (and big ones for that matter!) we're in agreeement: communication among the team is key:
And a documented and clear plan is critically important:
Read more from Vishal on the Content Marketing Institute blog, and join us at Content Marketing World where we'll announce the 2016 Content Marketer of the Year. Of course, you'll also get ideas on how to work with your team of any size, so we hope to see you at CMWorld in just a few weeks.
Register now to be part of Content Marketing World, September 6-9, 2016 in Cleveland, Ohio. Code BLOG100 saves $100. Be part of it! 
Posted July 27, 2016 in: Event by Cathy McPhillips
---
UP