Content Marketing World is part of the Informa Connect Division of Informa PLC
This site is operated by a business or businesses owned by Informa PLC and all copyright resides with them. Informa PLC's registered office is 5 Howick Place, London SW1P 1WG. Registered in England and Wales. Number 3099067.
Getting Organizations to Accept Your Great Ideas: A #CMWorld Chat with Carla Johnson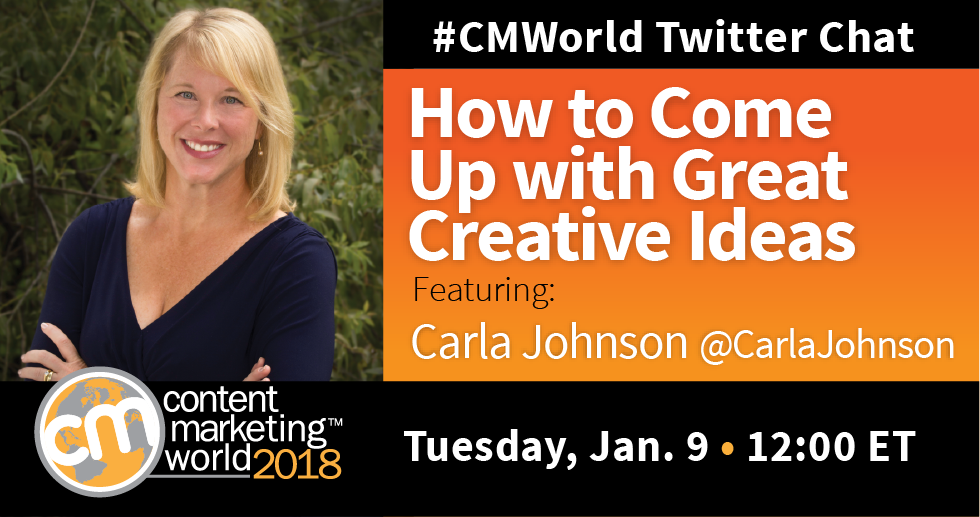 Any content marketer can attest: The demand for great ideas is rising. But as #CMWorld Twitter chat guest Carla Johnson explains, hearing "no" too many times beats down our creativity. In fact, Carla's latest CMI blog post explains how not to get discouraged.
So how can we marketers pitch a creative idea? How much detail should we invest? Our community had mixed responses.
What exactly are we pitching? Our #CMWorld family have a wide variety of ideas they'd like to see come to fruition this year.
What's one big idea you'd like to see come to life in 2018? Let us know in the comments below. Here's to dreaming big!
Spur your creativity by learning from industry pros at Content Marketing world 2018. Register this month to secure Super Early Bird pricing!   
Posted January 11, 2018 in: Event by Monina Wagner
---
UP