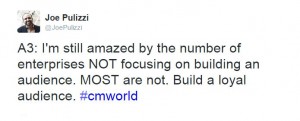 This week we had the pleasure of taking a small break from our traditional content marketing topics so we could focus on our favorite thing: you. Best. community. ever. A huge thanks to everyone who participated!
Were there tweets you wanted to retweet, respond to or favorite from this week's chat? Visit this Storify link.
If you want to meet your #CMWorld peeps in person, there is no better place than at Content Marketing World. We hope to see you there!
Q1: Did you have a 2015 #contentmarketing prediction, published or not? What was it, and is it coming true? #CMWorld
A1: Yes! Mine was on mobile becoming do or die. Yes, coming true. Right, @Google? See this from @orbiteers: http://www.orbitmedia.com/blog/googles-mobile-friendly-algorithm-update/ #CMWorld
@cmcphillips
A1: Here are the complete #contentmarketing predictions that @CMIContent published last Dec: http://cmi.media/2015predictions #CMWorld
@cmcphillips
A1: Mine was #content management would become more important. Think we're starting to see that with #intelligentcontent, etc. #CMWorld
@mikemyers614
@eccushing here's my contribution — good morning from one of mine 🙂 #catchat #CMWorld http://t.co/HwJ7qsE52q
@dwheeler11
@lttlewys @Mr_McFly GIF buddies are the best buddies #CMWorld http://t.co/GTcB2M2Wn3
@eccushing
A1) The good, the bad and the ugly truth about content marketing in 2015…our predictions: http://bit.ly/1FuG3r6 #cmworld
@MissSarahQ
@mikemyers614 Absolutely! Management, processes, #intelcontent – all super important. #CMWorld
@cmcphillips
A1) To expand on that point, visual communication is the future. We're seeing more videos and images than ever before! #cmworld
@MissSarahQ
A1- Mine was: tools to better understand how content moves across the web. So I was excited about Buzzfeed's announcement #CMWorld
@MaelRoth
A1b: Asking about 2015 predictions in April…you guys mean business! #CMWorld
@mikemyers614
My prediction would be that a #contentmarketing program would win an Oscar. LEGO Movie almost made it come true. #cmworld
@JoePulizzi
A1: The reliance on curated content will separate the creator from the followers. #cmworld
@BrandedCartoons
Almost! #CMworld https://twitter.com/JoePulizzi/status/593083667238420481
@cmcphillips
@JoePulizzi Should have won. #CMWorld
@mikemyers614
A1 I did think that video would take off… Didn't write a blog about it though #cmworld
@lifeofaworkgirl
A1) it was: Content marketing will be embraced even more by B2B marketers and it seems like is happening. #CMWorld
@Liliholl
@lifeofaworkgirl Are you seeing more of it? More? Better? Any trends? #CMWorld
@cmcphillips
A1: Besides it existing, or being the year of video, or it being renamed the year of video content, no predictions from me :-)#CMWorld
@Mr_McFly
Cool or creepy? MT @JoePulizzi: My prediction: that a #contentmarketing program would win an Oscar. LEGO almost made it come true. #cmworld
@JoppaThoughts
@Mr_McFly are you using more videos in your strategy? #cmworld
@CMIContent
@JoppaThoughts @JoePulizzi Cool for sure. #CMWorld
@cmcphillips
A1: Did anyone predict the rise of Meerkat and Periscope? I didn't, but I've seen some interesting uses, and can see future issues #cmworld
@JeremyBednarski
A1: Not official; I figured social media platforms/profiles/engagement would become MUCH more important (SEO, marketing, etc) #CMWorld
@ThinkSEM
A1. My prediction was that I wouldn't be as far along on my content marketing plan as I wanted to be….self-fulfilling prophecy! #cmworld
@dwheeler11
A1: The content has to be more specific to your audience than ever before. No more generalizations. #cmworld
@AnnaMariaSocial
@JeremyBednarski Definitely! @moninaw is the CMI resident expert on that! #CMWorld
@cmcphillips
@dwheeler11 The amount of side-eye sass is incredible. Here's Neville moonlighting as an NFL player #catchat #CMWorld http://t.co/XdW7qQV3yz
@eccushing
@CMIContent In my company strategy, not yet. In some client strategies, yes. It all depends on needs & goals. #CMWorld
@Mr_McFly
@dwheeler11 Ha! I can relate to that one! #CMWorld
@DaveWebb
@AnnaMariaSocial Very true. If it's speaking to everyone, it's speaking to no one. #CMWorld
@cmcphillips
@dwheeler11 Ha! I can relate! I gave myself huge leeway to start exploring new content platforms because I knew I'd need the time. #cmworld
@lindadessau
@JeremyBednarski no, but haven't seen many using it well yet.. interested to see what happens #CMWorld
@AmandaSubler
@cmcphillips @JeremyBednarski I'm a huge huge fan of live streaming video! #obsessed #CMWorld
@MoninaW
@dwheeler11 Ha! But at least you're moving forward. Is your strategy documented? #CMWorld
@cmcphillips
@ThinkSEM And they are! #CMWorld
@cmcphillips
@Mr_McFly Doing well, thanks! And looking forward to getting to know more about our #CMworld peeps this morning 🙂
@SFerika
Q2: What is your biggest #contentmarketing goal for 2015? How are you working toward achieving it? #CMWorld
A1. I feel that most predictions about #content or #marketing are all the same year over year #cmworld
@eccushing
A1: A lone, brave chicken with a pronounced limp will mobilize the great feathery horde & march upon Tulsa. Remains to be seen. #cmworld
@BrandedCartoons
@cmcphillips *sigh* Shoulda written a blog post about it… #CMWorld
@ThinkSEM
@cmcphillips @JoePulizzi I don't know. For me it's a fine line between cool and creepy. #CMWorld
@JoppaThoughts
Predicted the phrase #contentmarketing would be more popular than #socialmediamarketing on Google. Close? https://www.google.com/trends/explore#q=%22content%20marketing%22%2C%20%22social%20media%20marketing%22&cmpt=q&tz= #cmworld
@JoePulizzi
@cmcphillips live streaming has really become a huge success! Loads of real time video – I love it! #cmworld
@lifeofaworkgirl
A2: We're really working on tools/processes this year. As @CMIContent offerings increase and our team grows, process is critical. #CMWorld
@cmcphillips
A1: I mean content has always been important in communication, right? #CMWorld
@Mr_McFly
@ThinkSEM I've been thinking the same thing. #CMWorld
@My_Binesta
@AmandaSubler @JeremyBednarski Same – interested to follow the rise of both tools & transformation of how brands take advantage… #CMWorld
@alison_pruett
A1: I though content marketing initiatives would become the sole focus for a lot of marketers. #cmworld http://t.co/fm9WXUELXP
@AJutah
A2: @michelelinn and I have spent a lot of time streamlining and improving forms of communication. #CMWorld
@cmcphillips
Our audience is constantly getting more savvy, more discerning…we have to deliver #contentmarketing solutions to meet their needs #cmworld
@ActualKats
Creating awareness of #contentmarketing inside our org and building out a team to leverage content as an asset. #workinprogress #CMWorld
@mikemyers614
@cmcphillips @AnnaMariaSocial Agree and viral is not a strategy! #cmworld
@thedavepepper
A2: Honestly? Hiring someone to help me out so I don't have to do all the #contentmarketing by myself! 😉 #CMWorld
@ThinkSEM
A2 Creating awareness of #contentmarketing inside our org and building out a team to leverage content as an asset. #workinprogress #CMWorld
@mikemyers614
@mikemyers614 That's an awesome goal. Would love to hear how it's working and what is resonating. #CMWorld
@cmcphillips
@AmandaSubler I've seen some local news do some interesting behind the scenes stuff. Overall, not well organized yet though. #cmworld
@JeremyBednarski
A2: Outsourcing writing has been a big help for me as well. As much as I love it, just not time to do everything. #CMWorld
@cmcphillips
A1: Looking Ahead #contentmarketing Trends in 2015 http://bit.ly/1CaWTpA #CMWorld
@ImpressTweets
A2: My biggest content goal is to get better at it & with it. Better quality, better attribution, etc. #CMWorld
@Mr_McFly
@cmcphillips Me too. 🙂 #CMWorld Slower than I would like, but there's progress. #CMWorld
@mikemyers614
A2: Exploring more tools, ones that will allow curation easier across platforms, a cleaner process #CMWorld
@lttlewys
@ThinkSEM I pretty much just tweeted the exact same thing! #CMWorld
@cmcphillips
A2. Building out multiple #personas based upon the multiple communities I'm targeting w/ #content – no one size fits all! #cmworld
@eccushing
A1) I can predict that by 2016 a lot of businesses will actually have more content marketing implementation, once they get it! #CMWorld
@Liliholl
A1: We "predicted" the shift to Intelligent Content Marketing. So far. So good. #CMWorld
@TrafficPRM
@AnnaMariaSocial @cmcphillips #relationships = engagement = conversions = social success #cmworld
@thedavepepper
@cmcphillips Haha — great minds and all that 😉 #CMWorld
@ThinkSEM
@ActualKats I love this. So, so true. #CMWorld
@cmcphillips
A2: My goal is to expand on the different types of content we produce. Video, images, podcasts, Twitter chats are all in the mix. #cmworld
@AJutah
A2. My content marketing goal for this year is to find/make more time to plan for, vs. being reactive with, content repurposing #cmworld
@dwheeler11
A2: Constant improvement and new ways to communicate content are perpetual goals for me and those with whom I roll. #CMWorld
@Mr_McFly
@CMIContent A2 growing my #contentmarketing team was a big goal for this year; just onboarded writer #1 of 3 towards that goal! #CMworld
@SFerika
#contentmarketing is on the rise. Get on board! #cmworld https://twitter.com/JoePulizzi/status/593084619479752704
@CrowdContent
@Mr_McFly Attribution is so challenging, authors don't make easy nor do tools #CMWorld
@lttlewys
A2: My #contentmarketing goal is to convince SEO colleagues to get out of old methods & into the real world. Hit or miss. #CMWorld
@DaveWebb
A2: Honestly, my one goal is to keep up. #cmworld
@BrandedCartoons
To drive circulation & get current cardholders to be more active thru lots of collection-based marketing. #CMWorld https://twitter.com/CMIContent/status/593084514517159936
@webmastergirl
@dwheeler11 Yes. I agree with you completely on that. #CMWorld
@cmcphillips
A1: I predicted more personalization (sort of coming true) and better content for mobile (not even close)- you win some lose some #CMWorld
@Yaelkochman
@AJutah how's that coming along so far? #cmworld
@CMIContent
@MoninaW @cmcphillips I like the potential uses, but they both need to find a way to weed through the crap. #cmworld
@JeremyBednarski
@cmcphillips Thanks! And content marketers are getting quite good, too. Bottom line = we have to bring it! #cmworld
@ActualKats
A2: Using more UGC to create a community aspect and have the consumers engage with each other. #cmworld
@AnnaMariaSocial
@DaveWebb Good luck! #SEO is awful about clinging to tradition in my experience #cmworld
@eccushing
@cmcphillips @CMIContent That's the fun stuff (for me at least!) #CMworld
@SFerika
@ActualKats And both of our companies should be bringing it! Right? #CMWorld
@cmcphillips
A2) Have a TON of great content-just not effectively getting it to the right audiences – biggest goal is to do better! #CMWorld
@alison_pruett
True, but there is some sort of secret sauce to it. So, if @McDonalds could figure one out, so can I. #CMWorld https://twitter.com/lttlewys/status/593085208284495872
@Mr_McFly
A2) We found that half of marketers don't have a content strategy. Our goal is to help them create one! http://bit.ly/1M4LNsy #cmworld
@MissSarahQ
@eccushing I hear ya'. Difficult task, for sure. #CMWorld
@DaveWebb
@alison_pruett Great goal! Have you developed personas? #CMWorld
@cmcphillips
A1: Nothing published. I did see video becoming more common. I think it was rather obvious given the advances from @Apple. #CMWorld
@SpencerHudonII
@lindadessau @BrandedCartoons Good goal! #CMWorld
@mikemyers614
A2. Finding unique content that is shareable, compelling & helps my audience… and actually taking the time to write it! #CMWorld
@KylaK
A2- Getting an article of mine shared by @CMIContent. I can retire now. #CMWorld
@MaelRoth
A2: Use branded cartoons to sell branded cartoons. The cobbler's son…. #cmworld
@BrandedCartoons
@cmcphillips That's step #1 among many! #contentmarketing #CMWorld
@alison_pruett
A2: Definitely publishing more content…creating repositories of content even…all different types. #CMWorld
@TrafficPRM
@MaelRoth @CMIContent Love it! Are you working with the editorial team to make that happen? #CMWorld
@cmcphillips
@lttlewys I like that tip. Hey @cmcphillips can you please send over some chocolate? 🙂 #CMWorld
@MoninaW
Different types of videos is what I've noticed. We are creating teaser videos 15 seconds to promote the 90 second video #cmworld
@chrisyates11
@CMIContent We're in the final stages of developing a weekly Twitter chat about Salt Lake. Launching soon! #CMWorld
@AJutah
A2) Biggest goal? Making sure that content stands out from the already cluttered marketing environment. #CMWorld
@Liliholl
A2) content goals: Create awesome visual content, everyday, on repeat. #cmworld
@MissSarahQ
A2: Another obvious goal is to be at #CMWorld2015 this year. Yeah I said it!#CMWorld
@Mr_McFly
@alison_pruett Secret to success- engagement first implementation strategy. #cmworld
@thedavepepper
@SFerika @CMIContent God I'm jealous; support sounds amazing! #CMWorld http://t.co/LfEzXNtZzC
@eccushing
A2 My content marketing goal for 2015, other than starting a new program at a new job, is trying new formats. #cmworld
@martinlieberman
@eccushing I agree. Even looking through different guides, it's just different words with the same meanings #CMWorld
@sararuth
@chrisyates11 interesting! Love to see some examples of this! #CMWorld
@AmandaSubler
@Liliholl Good goal. How are you going about that? #CMWorld
@DaveWebb
@BrandedCartoons good point. Staying ahead of all the changes… eeep! #CMWorld
@KylaK
@alison_pruett We just published this yesterday: http://t.co/qSlIYINkdl. Bottom line: Think it, don't overthink it. #CMWorld
@cmcphillips
A2 My goal is to lean as much as I can & connect with people who know more than I do! #cmworld
@lifeofaworkgirl
Nice tip! #CMWorld https://twitter.com/chrisyates11/status/593085715774246912
@alison_pruett
@cmcphillips @CMIContent no I didn't! No outreach on my part! Just saw it when I woke up this morning ^^ #CMWorld
@MaelRoth
A2: Biggest #contentmarketing goal for 2015 is producing more and improving the quality. #CMWorld
@SpencerHudonII
Q3: What is your favorite #contentmarketing tool or tip that has proved most useful to you? #CMWorld
Q2 Biggest #contentmarketing goal is to differentiate our content from other stuff out there. Currently building team to accomplish #CMWorld
@Yaelkochman
@lifeofaworkgirl one of the reasons why we love this community so much! #cmworld
@CMIContent
@MaelRoth Well let's make that happen. 🙂 #CMWorld
@cmcphillips
@TrafficPRM great content solves many problems don't it? #cmworld
@thedavepepper
A2: Our biggest #contentmarketing goal is to generate high quality original content #CMWorld
@ImpressTweets
If the goal is to create a viral video you are toast! Create great storytelling 1st if it goes viral that's a bonus #cmworld
@chrisyates11
Great plan! #CMWorld https://twitter.com/AJutah/status/593085097961730049
@SpencerHudonII
@martinlieberman Love that! I was going to check before the chat started. Did you announce your new gig yet? #CMWorld
@cmcphillips
A3: Twitter chats. #cmworld
@BrandedCartoons
@ImpressTweets seems legit! #cmworld
@CMIContent
A3 @Jaybaer's Youtility changed my life. Seriously. #CMWorld
@mikemyers614
A3: It's an oldie but a goodie: a shared #editorialcalendar to coordinate campaigns & formats #cmworld
@eccushing
@CMIContent A2 To focus on conversion lift, quality content over quantity and native video across new channels. #CMWorld #contentmarketing
@blackshoestring
A3b I'm convinced that #contentmarketing is all about helping people solve a problem in their lives. #CMWorld
@mikemyers614
@BrandedCartoons Yay! #CMWorld
@cmcphillips
@MoninaW @cmcphillips I don't get that at all…lol. #cmworld
@JeremyBednarski
@cmcphillips Working towards a documented strategy. My organization is adopting agile marketing practices, which is a start. #CMWorld
@dwheeler11
@DaveWebb making sure that we write tailored pieces for our customers & embracing behavioural marketing. #CMWorld
@Liliholl
Create video content that actually makes a consumer buy. Viral doesn't always mean you sell something #cmworld
@chrisyates11
@DaveWebb a tall order. Good luck! #cmworld
@KimVallee
That's the big hurdle! Getting it noticed by the right audience. #CMWorld https://twitter.com/alison_pruett/status/593085411934670848
@SpencerHudonII
@lifeofaworkgirl Seen you in lots of chats! Congrats on staying true to your goal! #cmworld
@CrowdContent
@ImpressTweets is high quality content higher priority than implementations strategy? #cmworld
@thedavepepper
@mikemyers614 @Jaybaer Agree! Such a great book – and awesome reminders. #CMWorld
@cmcphillips
A3: I am totally in love with @sniply!! Amazing tracking, simple to use and FANTABULOUS cust serv! #CMWorld
@lttlewys
Yep @thedavepepper – There's not a single problem content can't fix. 😉 #CMWorld
@TrafficPRM
@mikemyers614 there you go, thinking about the audience again 🙂 #cmworld
@CMIContent
A3: Fav #contentmarketing tool is @wunderlist to keep me organized and on track – also Google Docs for shared editorial calendars #cmworld
@lindadessau
A2: creating more visual/video content is a goal that I really want to push for this year #CMWorld
@sararuthw
@lttlewys @sniply Fun! Never heard of it but will check out later. #CMWorld
@cmcphillips
Setting goals with content is important, but also set your KPIs and measure them regularly. #cmworld
@AJutah
@MoninaW @lttlewys @cmcphillips Here too, please. Not sure this guy will be enough. 😉 #CMWorld http://t.co/nUe0oNYNBE
@martinlieberman
@cmcphillips it already did! #CMWorld http://t.co/r5KAs8lhec
@MaelRoth
To be perfectly fair, I enjoy a number of 'em. @CMIContent, @percolate, @NewsCred, @Econsultancy, @contently #CMWorld
@Mr_McFly
+bi also like when it gets people thinking in ways they maybe haven't before… #CMWorld https://twitter.com/mikemyers614/status/593086288955363328
@LUCYrk78
A3) It's gotta be checking out forums to find out what pain points your audience has, so you can create effective content #cmworld
@MissSarahQ
A3) Get back to the basics and start w/ a good PLAN! Can't just buy tools & "do" #contentmarketing w/out a good strategy #CMWorld
@alison_pruett
A3) Write plain & simple content to answer to your customers' questions & needs. #cmworld
@Liliholl
Writing (typing) it down is key! @dwheeler11 #CMWorld
@TrafficPRM
A3: I'm still amazed by the number of enterprises NOT focusing on building an audience. MOST are not. Build a loyal audience. #cmworld
@JoePulizzi
@chrisyates11 Absolutely. And sometimes viral means not even remembering the product. #CMWorld
@cmcphillips
@KimVallee I know it, but a guy's gotta try, right? 😉 #CMWorld
@DaveWebb
@CMIContent A3 hands-down my favorite #contentmarketing tool is @TrackMaven. Has given us some serious insight into what works. #CMworld
@SFerika
A3. @MarciaRJohnston and I are really loving @trello lately. It's great for knowing who is doing what #cmworld
@michelelinn
@SpencerHudonII content is king but what about implementation and engagement? #CMWorld
@thedavepepper
A3: Less is more. Make sure the content you're putting out there is worthwhile to your audience. #cmworld
@JeremyBednarski
@JoePulizzi True. Don't want to leave anyone out. (Guilty). #CMWorld
@mikemyers614
A3: Favorite #contentmarketing tip: Cross-promote. IF it's content that can work on multiple platforms, share it on all of them! #CMWorld
@SpencerHudonII
@SFerika @CMIContent @TrackMaven I love Trackmaven! We're big fans. Can't wait for you to share your experiences with our team. #CMWorld
@cmcphillips
A3- @Buffer is just amazing and Evernote for using every minute available for blog post ideas. From a strategic perspective… (1/2) #CMWorld
@MaelRoth
@chrisyates11 @chrisyates11 I had a tech client tell me he wanted his product demo videos to "go viral." #CMWorld http://t.co/3Z94kLcOf7
@eccushing
A3: Always communicate to your audience as regular people because remember, they're humans too. #cmworld
@AnnaMariaSocial
@SpencerHudonII Agree – but do so in different ways. Speak to the audience on that channel. #CMWorld
@cmcphillips
THIS #CMWorld https://twitter.com/MaelRoth/status/593086899989913600
@connieurway
A3) I think also always keeping in mind what your audience cares about, rather than what YOU care about, when creating content #CMWorld
@alison_pruett
@lttlewys @sniply do tell! Never heard of it but now I have to check it out #CMWorld
@sararuthw
CMIContent A2 To focus on conversion lift, quality content over quantity and native video across new channels. #CMWorld #contentmarketing
@ashishkhera
A3b I'm convinced that #contentmarketing is all about helping people solve a problem in their lives. #CMWorld
@ashishkhera
A3: Fav #contentmarketing tool is wunderlist to keep me organized and on track – also Google Docs for shared editorial calendars #cmworld
@ashishkhera
CMIContent A3 hands-down my favorite #contentmarketing tool is TrackMaven. Has given us some serious insight into what works. #CMworld
@ashishkhera
A3: Love using Google Trends. Great for spotting variations in keywords around your core content niche. #cmworld
@JoePulizzi
A3) Get back to the basics and start w/ a good PLAN! Can't just buy tools & "do" #contentmarketing w/out a good strategy #CMWorld
@ashishkhera
A3: Favorite #contentmarketing tip: Cross-promote. IF it's content that can work on multiple platforms, share it on all of them! #CMWorld
@ashishkhera
A3- there's an amazing tool from a friend of mine for strategic content marketing called "Scompler" (2/2) #CMWorld
@MaelRoth
A3 The use of keyword planner for idea generation, as described here: http://www.advancedwebranking.com/blog/google-didnt-want-us-to-use-the-keyword-planner-this-way/ #CMWorld
@gcharlton
@JeremyBednarski Agree – but be consistent. If you're going to do less, make sure that's good for your audience. #CMWorld
@cmcphillips
@MaelRoth I couldn't live without @Evernote! Not anymore! #CMWorld
@lttlewys
@eccushing @chrisyates11 Bahahaha! In Texas we would say "Bless their heart!" #CMWorld
@alison_pruett
A3) Less is more & you don't compromise quality, if you don't have a big team of industry related bloggers/writers. #CMWorld
@Liliholl
@eccushing @chrisyates11 this is my general reaction to that statement… #CMWorld http://t.co/J3AqMYug6V
@Mr_McFly
A3: Using a content calendar to help you be consistent and cover all of your target audience #CMWorld
@MikeHale
@cmcphillips I did. I'm now on week four at @Meteorix and all is going well, thanks. #CMWorld
@martinlieberman
Sniply is the best thing ever… @cmcphillips #CMWorld
@TrafficPRM
@cmcphillips Yes! Definitely important to understand the nuances of each channel. #CMWorld
@SpencerHudonII
@martinlieberman @Meteorix Very cool! Will look into it after the chat. #CMWorld
@cmcphillips
@MaelRoth I am a big fan of @Evernote as well. Great for collecting ideas around topics #cmworld
@michelelinn
A3- there's an amazing tool from a friend of mine for strategic content marketing called "Scompler" (2/2) #CMWorld … http://t.co/IjRSXuzQLc
@DreamDomains_
@MaelRoth What does it do exactly? #CMWorld
@Yaelkochman
@MaelRoth Oh thank you so much for the shoutout! 🙂 #CMWorld -Nicole
@buffer
Old, but relevant http://twitter.com/MVSp7pRlEC @eccushing @chrisyates11 @chrisyates11 he wanted his product demo videos to "go viral." #cmworld
@BrandedCartoons
@michelelinn @lindadessau Linda actually writes mine and sends them to me in advance. But thanks. #CMWorld
@mikemyers614
@alison_pruett automation doesn't build relationships, not authentic #CMWorld
@thedavepepper
@MikeHale Yes! That has really helped us a ton. @moninaw manages that for us and it's so useful. #CMWorld
@cmcphillips
A3: Huge @Evernote fan for planting ideas #CMWorld my digital scratchpad
@connieurway
Q4: What do you think the future of #contentmarketing will bring? #CMWorld
@Yaelkochman it's like Hubspot but for strategic content marketing! Kinda like kapost but it better ! #CMWorld
@MaelRoth
@lindadessau @michelelinn Oh, right. #CMWorld
@mikemyers614
@gcharlton That's really interesting – will check this out after! Thanks! #CMWorld
@cmcphillips
A3: Begin with the end in mind. Cliché, but true… #CMWorld
@TrafficPRM
A3. Plan content / content repurposing to match your conversion path. It's proactive + helps reach the right ppl at the right time. #cmworld
@dwheeler11
@MaelRoth Awesome – will check it out! #CMWorld
@cmcphillips
Hi all! Great chat going on with host @cmcphillips now – get to know our community! #CMWorld
@LisaBeets
A3. I have an "editorial lens" (goals + mission) that I think about all. the. time to make sure content is a fit #cmworld
@michelelinn
THIS > "@JoePulizzi: A3: Love using Google Trends. Great for spotting variations in keywords around your core content niche. #cmworld"
@Liliholl
@TrafficPRM Good tip #CMWorld
@connieurway
When does this #cmworld chat take place? Is it every Tuesday at this time?
@JakeWengroff
@thedavepepper Yes, that's next. Currently, I produce content for clients & my company. I hope to produce some for my own blog too. #CMWorld
@SpencerHudonII
@dwheeler11 Preach it, sister. We talked about this a ton already today. Goals/paths/etc. #CMWorld
@cmcphillips
@MaelRoth Interesting. Will check it out 🙂 #CMWorld
@Yaelkochman
@alison_pruett @chrisyates11 It was all I could do to not pull an Inigo Montoya in the meeting #CMWorld http://t.co/FdQ32tjar4
@eccushing
One of our favorite tools for #ContentMarketing is #topsy to see sentiment about different trends. #CMWorld
@ImpressTweets
A4: #contentmarketing promises a marketing department with the customer vertically integrated throughout @CMIContent #CMWorld
@gregarious
@MaelRoth @buffer scheduling tools = productivity = increased digital presence #CMWorld
@thedavepepper
@SFerika HI! I am looking forward to TrackMaven call tomorrow! @jodimeda and I are trying out Redbooth thanks to you #cmworld
@michelelinn
@CMIContent A4 I think personalized content, reflecting specific interests+interactions is finally going to be within reach. #CMworld
@SFerika
@thedavepepper There's only so many hours…LOL. #CMWorld
@SpencerHudonII
A4: Okay, this is me getting mushy…If brands truly adopt #contentmarketing, I can imagine a time where life is easier (really). #CMWorld
@mikemyers614
@LisaBeets Thanks, Lisa! I haven't talked to you in SO long! #CMWorld
@cmcphillips
A4: I feel that the future of content marketing will rely heavily on brand new channels that provide opportunity. #CMWorld
@Mr_McFly
@michelelinn Like this perspective #CMWorld
@connieurway
If you haven't done so already, say hi to some CMI team members on today's #CMWorld chat: @JoePulizzi @michelelinn @LisaBeets @amandasubler
@CMIContent
@cmcphillips it's only in German for now but @talkabout might want to go international some day… 😉 #CMWorld
@MaelRoth
A4: Higher expectations, as the amount of content increases. We need to break though with outstanding content. #CMWorld
@cmcphillips
A4) More "Adaptive Content" tools to personalize to actual customers and better marketing automation. #CMWorld
@MikeHale
@chrisyates11 That was definitely the death knell of my digital agency career #neverlookedback #CMWorld
@eccushing
A4) Alas, people are lazy and love to consume images ahead of text. Quick content such as videos and infographics! #cmworld
@MissSarahQ
A4: It's been said over and over but the focus still needs to be on great content that serves a purpose, not regurgitated crap. #cmworld
@AnnaMariaSocial
A4: More niche content marketing, and more brand and publisher partnerships or acquisitions. #CMWorld
@cmcphillips
HELLO #CMWorld https://twitter.com/CMIContent/status/593087964055478274
@connieurway
A4 More of it. Less reliance on ads and push marketing. Hopefully also better uses of content and not so much redundancy. #cmworld
@martinlieberman
A4: I believe in 10 years, we won't be able to tell the difference between media companies and non-media companies. #cmworld
@JoePulizzi
A4) it will bring new challenges as the digital space keeps moving, but we all love daily challenges. Don't we? #cmworld
@Liliholl
And definitely means huge audiences for brands @JoePulizzi @CMIContent #CMWorld
@gregarious
@CrowdContent aw! Thanks guys – appreciate that 🙂 #CMWorld
@lifeofaworkgirl
@JXB1Social @lindadessau @AnnaMariaSocial people are humans too 🙂 #H2H #CMWorld
@thedavepepper
A4: Atomization. Content will broken down in to smaller and smaller blocks. #cmworld
@BrandedCartoons
I love @Trello! It's great for project management. #CMWorld #ContentMarketing https://twitter.com/michelelinn/status/593086778631946240
@SpencerHudonII
A4) I think the future will bring things we can't even imagine right now – & that's what's so exciting & great ab #marketing! #CMWorld
@alison_pruett
A3: Provide something valuable for your readers, and they'll want to link/share your content. #cmworld
@AJutah
This is an interesting point. The other question is will we care. Just something to think about…#CMWorld https://twitter.com/JoePulizzi/status/593088105806172162
@Mr_McFly
@BrandedCartoons Yes – we spend SO much time on a good piece of content. Don't use it just once. #CMWorld
@cmcphillips
A4: Are think there are some game-changing tools out there just waiting to be discovered. They are the future of #contentmarketing. #CMWorld
@Yaelkochman
A4: Consumers that expect personalization, for consumers to be seamlessly integrated from sales to cust serv #CMWorld
@lttlewys
A4. I think content marketers will be more focused more the overall customer — and how content can help #cmworld
@michelelinn
A4 Put simply, #contentmarketing will become #marketing #CMWorld
@mikemyers614
@JakeWengroff yes, every Tuesday at 12p ET. Here's a list of our upcoming topics: http://cmi.media/twitterchats #CMWorld
@CMIContent
A4) An explosion in the use of QR codes to drive traffic to your content. #butnotreally #CMWorld
@MikeHale
From brands: transparency & interactive content. From audiences: better educated craving helpful content. #cmworld https://twitter.com/CMIContent/status/593087544562061312
@CrowdContent
Hi to you all @JoePulizzi @michelelinn @LisaBeets @AmandaSubler #CMWorld
@ideakid88
Yes! #CMWorld https://twitter.com/mikemyers614/status/593088413659766784
@AmandaSubler
@alison_pruett For sure! My marketing career 20 years ago was so different than today. I love the evolution. #CMWorld
@cmcphillips
@MikeHale Noooooooooo! #CMWorld
@ThinkSEM
@Mr_McFly @chrisyates11 I held it together until I got into the elevator after the meeting #CMWorld http://t.co/gfQJUTwc6S
@eccushing
@cmcphillips reaching the right audience is the most valuable #CMWorld
@thedavepepper
@Liliholl We sure do! We're in marketing – it's how we roll. #CMWorld
@cmcphillips
Our chicken emperor will require all content be "clucked" #cmworld
@BrandedCartoons
I'm with you @JeremyBednarski. My take was different but published a post today on the value of adopting a Less is More strategy #cmworld"
@KimVallee
Wait… it isn't already? :-)#CMWorld https://twitter.com/lttlewys/status/593088498804064257
@Mr_McFly
@connieurway It really does help make go and no-go decisions on content. Even if I personally love something, it may not be right #cmworld
@michelelinn
@mikemyers614 What he said! #CMWorld
@ThinkSEM
@SFerika Interesting. Do you see technology helping to deliver personalized content to individuals in your community? #CMworld
@Topicurious
A4: More sophistication as more trained journalists leave journalism & enter PR, marketing, etc… #CMWorld
@DaveWebb
@MikeHale HA! You almost got me with this one – my fingers were poised to go off… #CMWorld
@alison_pruett
#CMWorld appears to be the battle of the gif's today!
@webmastergirl
@ringo66 All we need now is @wallykoval to keep this party going! #CMWorld
@cmcphillips
@BrandedCartoons Oooh, wasn't sure where that one was going to land. 🙂 #CMWorld
@mikemyers614
@Topicurious It's on our list to investigate for our next website overhaul. #CMworld
@SFerika
@cmcphillips @ringo66 @wallykoval Well I feel left out. #cmworld
@pamkozelka
A4: Interesting question. I see #contentmarketing replacing traditional mktg by storytelling, real ppl as brand advocates #cmworld
@connieurway
A4: The future of #contentmarketing will bring instant information that is user specific. #CMWorld
@ImpressTweets
@michelelinn Right. I find @Trello super easy to use and well designed for collaborative planning. #cmworld
@MarciaRJohnston
@AJutah some topics are not that link- and shareworthy… #CMWorld
@MaelRoth
@DaveWebb Yes – the bar has been raised for exceptional writing. #CMWorld
@cmcphillips
A4 niche audience that reach highly engaged communities starving for content and eager to engage is the future @CrowdContent #CMWorld
@thedavepepper
@alison_pruett Couldn't help myself! #CMWorld
@MikeHale
"@DaveWebb: A4: More sophistication as more trained journalists leave journalism & enter PR, marketing, etc… #CMWorld" Indeed!
@Liliholl
Q5: If you could tell (or ask!) @joepulizzi and @CMIContent one thing, what would it be? #CMWorld
@pamkozelka @cmcphillips @ringo66 Aahhhh!! Better late than never! #CMWorld
@wallykoval
This should be fun! #CMWorld https://twitter.com/CMIContent/status/593089049402822657
@cmcphillips
A4: The future will bring more change, more tools (some that make it and some that won't), more personalized content. #cmworld
@JeremyBednarski
A5: Please keep up the good work! #CMWorld
@mikemyers614
I'd say @eccushing wins the award for most awesome animated gifs for this #CMWorld chat today!
@DaveWebb
Very relevant to today's #CMWorld conversation! https://twitter.com/ArnieK/status/593083653997068288
@ThinkSEM
Obviously, Erin is a woman after my own heart… #CMWorld https://twitter.com/eccushing/status/593088587630940160 http://t.co/u6vv7f7SCX
@Mr_McFly
@CMIContent @joepulizzi @CMIContent Which Avenger would be the best at content marketing? #geekquestion #cmworld
@MissSarahQ
A5: This is the quiet portion of the twitter chat… 😉 #cmworld
@JoePulizzi
@Mr_McFly LOL #CMWorld
@connieurway
@CMIContent Fantastic! I'll be sure to be in attendance. Thanks! #CMWorld
@JakeWengroff
A5: Thank You. #CMWorld
@MikeHale
More #CMWorld team members are joining the fun today! Say hi to @wallykoval @pamkozelka @ringo66!
@CMIContent
@CMIContent A5 When he will come in Romania, Europe ? #CMWorld cc @JoePulizzi
@katairobi
@thedavepepper @CrowdContent If you've got all that, you're in great shape! A dream! #CMWorld
@cmcphillips
A4- Its high time marketers think more strategically about content rather than in campaigns (at least here in GER) #CMWorld
@MaelRoth
A5: "If you built an amusement park called CMWorld, what rides would you include?" #CMWorld @cmcphillips
@MusicAdamT
@MikeHale awww shucks #CMWorld
@CMIContent
[email protected] nothing beats a good story well told w/ third party endorsement > brand advocates #CMWorld
@thedavepepper
Wow @cmcphillips, everyone's coming out to chat today! No pressure…lol. #cmworld
@JeremyBednarski
A5 I would ask @JoePulizzi and @CMIContent what their biggest pain point is. #cmworld
@pamkozelka
@MarciaRJohnston @michelelinn @Trello I need to give it another shot! You've inspired me. #CMWorld
@cmcphillips
A3: Also, create content that can be repurposed with minimal effort. You'll thank yourself later. #CMWorld
@TrafficPRM
@JakeWengroff hope to see you soon! #CMWorld
@CMIContent
@CMIContent @lindadessau @JoePulizzi I'd say "dude, thanks for making content marketing so cool" #CMWorld
@sararuthw
A5) Do you like going out for a run in the morning @JoePulizzi? #CMWorld
@Liliholl
@JeremyBednarski 🙂 My work here is done! #CMWorld
@cmcphillips
@cmcphillips Yep. And I'd also say the lines between the two will become more blurred. #CMWorld.
@DaveWebb
A5. Thank you @joepulizzi and @CMIContent for all that you do for the marketing industry! #cmworld
@dwheeler11
I'd tell them that I got a fever! And the only cure for it is more ORANGE!#CMWorld https://twitter.com/CMIContent/status/593089049402822657
@Mr_McFly
@JeremyBednarski @cmcphillips Actually an interesting question… #CMWorld
@mikemyers614
Don't let @JoePulizzi get off that easy! 🙂 #CMWorld https://twitter.com/JoePulizzi/status/593089254194024448
@CMIContent
A5: @CMIContent I want to know @JoePulizzi's favorite BGSU memory. He's a fellow grad. Go Falcons! #CMWorld
@webmastergirl
@MissSarahQ @CMIContent @joepulizzi Tony Stark/Iron Man all the way!! #CMWorld
@ringo66
@vegecomgirl I'm great! Gearing up for a busy spring and summer before #CMWorld! But fun and exciting as always.
@cmcphillips
A5 @CMIContent @JoePulizzi A5 Kudos on getting BNL for #CMWorld this year! Can you get them to play a lot from "Gordon?"
@martinlieberman
@CMIContent @JoePulizzi do I get a free ticket to #CMWorld in September? (Kidding)
@MaelRoth
Are there any plans to make #cmworld more like Tinder?
@BrandedCartoons
@eccushing @Mr_McFly @chrisyates11 Hilairz, but seriously – viral happens. It cannot necessarily be manufactured. #CMWorld
@MusicAdamT
@BrandedCartoons OMG. No. #CMWorld
@cmcphillips
A4. I'm betting on storytelling. Develop a story arc. Deploy in a series. Goal: make content more compelling + build an audience #CMWorld
@KimVallee
@CMIContent @JoePulizzi A5 What piece of content you+team created over the past 12 months are you most proud of? And why? #CMworld
@SFerika
@ringo66 @CMIContent @joepulizzi/ Yep, he would create comical content surely! #cmworld
@MissSarahQ
@dwheeler11 we're all in this together, right? #CMWorld
@CMIContent
Bummer. @cmcphillips @BrandedCartoons OMG. No. #CMWorld
@BrandedCartoons
A5. @JoePulizzi @CMIContent Does Cleveland really rock? 😉 #CMWorld https://twitter.com/CMIContent/status/593089049402822657
@vegecomgirl
@Liliholl Actually, I do like to run in the morning, especially when traveling. Nothing like starting the day with a run. #cmworld
@JoePulizzi
@martinlieberman @CMIContent @JoePulizzi I second this! I can't wait – this will be so much fun! #CMWorld
@cmcphillips
@cmcphillips Oh, I can a @trello board with your name on it (quite literally). I can share it with you anytime 🙂 #cmworld
@michelelinn
@MusicAdamT viral absolutely happens, but asking for it makes me sick… #SWIDT cc: @eccushing @chrisyates11 #CMWorld
@Mr_McFly
@webmastergirl Nicely played! 🙂 #CMWorld
@cmcphillips
A5: Who in the #CMWorld chat is your F/M/K?
@MusicAdamT
@JeremyBednarski ha ha ha that's what happens when you're on the hot seat! 🙂 #CMWorld
@CMIContent
@Mr_McFly Ha! #CMWorld
@cmcphillips
@pamkozelka @JoePulizzi @CMIContent This is actually a good question… #CMWorld
@mikemyers614
@BrandedCartoons Ha! I'd swipe right on that. 🙂 #cmworld
@martinlieberman
@MaelRoth agree. if engagement and conversion is the goal why is it the last step in CM? engage then produce then convert #CMWorld
@thedavepepper
#CMWorld https://twitter.com/BobWest2/status/593089822127853569
@AmandaSubler
@SFerika It would be the consistency of the blog. I believe we've published over 1000 days straight. #cmworld
@JoePulizzi
@dwheeler11 @joepulizzi @CMIContent Aw! So nice! It's because of people like you. Cheesy, but true. #CMWorld
@cmcphillips
@cmcphillips Sounds great! #cmworld
@vegecomgirl
@webmastergirl we love this question! #CMWorld
@CMIContent
A5: @CMIContent @JoePulizzi how do you guys get so much done?? #CMWorld
@Yaelkochman
A5: @JoePulizzi What are the best blog structures i.e. bold sub-topics, body, subtitles, hypertext links for SEO? #CMWorld
@connieurway
A5) @JoePulizzi & also can I get a ticket to attend #CMWorld in Sept?
@Liliholl
Check out our new Salesperson's Hierarchy of Lead Data Needs on @Salesforce's blog: https://www.salesforce.com/blog/2015/04/sales-hierarchy-lead-data-needs-gp.html #cmworld #b2bchat
@idioplatform
@DaveWebb Hahaha thank you! I'm honored, and hope I can handle this power #CMWorld http://t.co/7lWfYxYRQD
@eccushing
@Yaelkochman @CMIContent @JoePulizzi Haha! Great question! #CMWorld
@cmcphillips
The future of #contentmarketing is unfolding as we speak. Great content will focus on asking the right Q's & foreseeing needs. #cmworld
@ZenYinger
@martinlieberman you just made @moninaw's heart smile #CMWorld
@CMIContent
And think about post purchase content! (@heidicohen had a great piece about this one!) #CMWorld https://twitter.com/thedavepepper/status/593090001702887424
@MaelRoth
@thedavepepper @MaelRoth My take: You need to build loyalty and trust over a period of time before you can monetize it. #cmworld
@JoePulizzi
@BrandedCartoons I hope you'll still attend. 🙂 #CMWorld
@cmcphillips
A5: @CMIContent @JoePulizzi How do you see the future of content marketing with the FOMO craze going on? How will content change? #cmworld
@AnnaMariaSocial
@BrandedCartoons looking to swipe right sometime soon? #CMWorld
@CMIContent
@cmcphillips @CMIContent With John Cleese/Monty Python and BNL, #cmworld will be the REAL #nerdprom this year! 😉
@martinlieberman
A5: what are you each looking forward to most at this year's #cmworld? And I won't ask how you think you'll top it next year…yet 🙂
@JeremyBednarski
@MusicAdamT @Mr_McFly @chrisyates11 And not with a 8 minute video on troubleshooting your tech product #facepalm #CMworld
@eccushing
This! #CMWorld https://twitter.com/martinlieberman/status/593090314895826945
@CMIContent
If @vegecomgirl-lalalalalalalalalalalalauw! Doesn't quite have the same ring to it, does it Carmella?#CMWorld
@Mr_McFly
@JeremyBednarski Oh…don't think I haven't already asked myself that! #CMWorld
@cmcphillips
@CMIContent @BrandedCartoons I stopped swiping right ever since…left shark. #CMWorld
@mikemyers614
[email protected]: Why orange? We love it! #cmworld
@CrowdContent
@webmastergirl I went to BGSU as well! #cmworld
@michelelinn
@CMIContent @MoninaW We were chatting about this yesterday. Both big, longtime BNL fans. 🙂 #cmworld
@martinlieberman
@JoePulizzi I knew we had something else in common! #CMWorld
@Liliholl
Q6: How have you integrated a personal passion of yours with your career? #CMWorld
@vegecomgirl you know it does! Can't wait to show off CLE in September at #CMWorld!
@CMIContent
@JoePulizzi @thedavepepper exactly. In my experience it takes several visits before subscription (1st step) most of the time. #CMWorld
@MaelRoth
@Mr_McFly Nope, but maybe if Billy Corgan put some chords behind it…still nope! How are you, Gary? #cmworld
@vegecomgirl
@eccushing @Mr_McFly @chrisyates11 "Hey, did you see that troubleshooting video?" – said no @BuzzFeed editor ever. #CMWorld @Walldo
@MusicAdamT
@eccushing unless this is happening in the background… @MusicAdamT @chrisyates11 #CMWorld http://t.co/s4axzQCtyQ
@Mr_McFly
@JeremyBednarski So many things! Seeing old friends and making new ones. @barenakedladies is awesome too! #CMWorld
@ringo66
Best question! @CMIContent Q6: How have you integrated a personal passion of yours with your career? #CMWorld
@BrandedCartoons
@Liliholl @JoePulizzi Looks like I need to work on some great discounts for our #CMWorld twitter chat group, don't I?
@cmcphillips
A6 I love to write, so the growth of #contentmarketing and #SoMe have been great timing. Always need to work on the visuals… #CMWorld
@mikemyers614
@CMIContent I really want to make it out there this year for #CMWorld
@vegecomgirl
@Mr_McFly @MusicAdamT @chrisyates11 I'd watch that. #CMWorld
@eccushing
@BrandedCartoons Well thank you so much. 🙂 #CMWorld
@cmcphillips
@michelelinn @webmastergirl You forgot the "CKS" at the end of that. #CMWorld @JoePulizzi
@MusicAdamT
@vegecomgirl we hope you can! Love to have this chat IRL! #CMWorld
@CMIContent
A6: I left nonprofit work when I came to work for @CMIContent; but am now involved with The Orange Effect: http://www.theorangeeffect.com #CMWorld
@cmcphillips
A6: This one's easy… My career IS personal. I really love what I'm doing. #CMWorld
@Yaelkochman
@Mr_McFly @MusicAdamT @eccushing @chrisyates11 but would you rather reach 1 million randoms or 100K actual customers? #CMWorld
@thedavepepper
So…Today is a great day for #twitterchat #CMWorld (content marketing) #AgencySM (social media agency) #VCBuzz This is why i love Twitter:)
@katairobi
A6: Beisded the fact that I generally do what I want anyway, I figured out what I wanted to do in college & then went after it. #CMWorld
@Mr_McFly
A6: I am still involved with a social council/influencer program I helped build. Giving back is important to me and my family. #CMWorld
@cmcphillips
A6: Working on passion of building community and cooking (my 2 fav's) now #CMWorld
@connieurway
Yes pls "@cmcphillips @Liliholl @JoePulizzi Looks like I need to work on some great discounts for our #CMWorld twitter chat group, don't I?"
@Liliholl
@cmcphillips I KNOW you have…lol. You're probably on 2018 already. #cmworld
@JeremyBednarski
@CMIContent @BrandedCartoons Talk about interactive! #cmworld
@CrowdContent
My personal passion is doing really cool, creative stuff! It fits nicely with my career and everyday work 🙂 #cmworld
@ActualKats
A6: I owned a big agency: hated it. Now I run a small agency around the one thing I did everyday: love it. #cmworld
@BrandedCartoons
The future of #contentmarketing is unfolding as we speak. Great content will focus on asking the right Q's & foreseeing needs. #cmworld
@ashishkhera
A6. I'm working on that!! Writing on my blog and guest posts on others. I did have an opportunity to be on a radio show last week! #cmworld
@vegecomgirl
A6 I love to write, so the growth of #contentmarketing and #SoMe have been great timing. Always need to work on the visuals… #CMWorld
@ashishkhera
@vegecomgirl I'm good. Preparing stuff for clients and such…#CMWorld
@Mr_McFly
A6: I love helping young Cleveland marketers. I had 2 great mentors who helped me & I want to live their legacy. #CMWorld
@cmcphillips
@CMIContent Totally! It needs to happen #CMWorld
@vegecomgirl
Writing with a zing. Getting my humorous writing out there to make marketing less frightening #cmworld https://twitter.com/cmicontent/status/593090556105883649
@sararuthw
@Yaelkochman @CMIContent @JoePulizzi A great team! Collaboration and trust! #CMWorld
@cmcphillips
Q6 Love to help others by providing helpful info! I'm sure that all of us here do #CMWorld
@LisaBeets
A6 I love writing & getting to know new people. So writing a blog & connecting with a range of online communities really fuels me! #cmworld
@lifeofaworkgirl
@Liliholl @JoePulizzi After the chat! I'll figure it out before next week's chat – OK? Then @moninaw can let you all know. #CMWorld
@cmcphillips
@Mr_McFly Exciting times ahead? #cmworld
@vegecomgirl
A6: I love making connections, weaving things together, it seemed natural to make my work my passion! #HappyGirl #Connector #CMWorld
@lttlewys
@JoePulizzi @MaelRoth can't agree more! relationships are the foundation of CM #CMWorld
@thedavepepper
[email protected] Awesome! And far less selfish than just doing cool stuff… mentorship is so important and can be so hard to come by! #cmworld
@ActualKats
@lifeofaworkgirl Awesome! #CMWorld
@cmcphillips
@Mr_McFly @eccushing @chrisyates11 That would be a huge success. #CMWorld http://t.co/HqhXdqhB1K
@MusicAdamT
A6: Passion for design and creativity. Working with the cool kids also helps. ; ) #CMWorld
@ringo66
@cmcphillips @CMIContent @JoePulizzi Good answer. You guys are true inspiration, especially now when I'm building my own team. #CMWorld
@Yaelkochman
@katairobi Tuesdays are the best! #CMWorld
@CMIContent
A6) my first love is producing video content- excited to be working on the CMI documentary coming out at CMW 2015! #CMWorld
@AmandaSubler
A6) Mom, GMom & many in the fam were educators, so #edu has always been close to my heart. Helps me as a #marketer to educators #CMWorld
@alison_pruett
A6. I am a big fan of creating a life you love. And I love my job with @cmicontent so I couldn't be happier #cmworld
@michelelinn
@LisaBeets That's living content marketing! #CMWorld
@cmcphillips
If @vegecomgirl & I are at #CMWorld2015 I will do the "if Carmellalalala…" in person @CMIContent #CMWorld http://t.co/QYdUDewk12
@Mr_McFly
@JoePulizzi I feel like there should be a OITNB type of response but I got nothing right now! Hi Joe! Hope all is well. #CMWorld
@vegecomgirl
A6. I love reading, writing, and editing – useful for a marketing career, although I prefer YA fantasy + mystery to cloud computing #cmworld
@dwheeler11
@sararuthw I love it! And I'm sure people respond to it. #CMWorld
@cmcphillips
I'd rather get 100 customers the right way. And that's through sweat equity. @thedavepepper @Mr_McFly @eccushing @chrisyates11 #CMWorld
@MusicAdamT
@Mr_McFly @vegecomgirl we're counting on that now! #CMWorld
@CMIContent
@vegecomgirl keeping the fingers crossed :-)#CMWorld
@Mr_McFly
Guilty! #CMWorld https://twitter.com/LisaBeets/status/593091150329860096
@alison_pruett
@Mr_McFly @CMIContent Okay. So, I definitely need to go just for that! #cmworld
@vegecomgirl
@ashishkhera That's fantastic. #CMWorld
@cmcphillips
A6: I love that I get to think like a crazy person all day and get to call it work! #cmworld
@AnnaMariaSocial
@MusicAdamT @thedavepepper @Mr_McFly @eccushing @chrisyates11 Right on! #CMWorld
@cmcphillips
A documentary? All the more reason to show up this year! #cmworld https://twitter.com/amandasubler/status/593091366592319489
@sararuthw
A6: A side thing, but I love helping parents navigate the online world & teach digital literacy & citizenship to their kids. #CMWorld
@DaveWebb
THIS #cmworld next topic, SWOT? https://twitter.com/MusicAdamT/status/593091504916291584
@connieurway
@AmandaSubler tell me more please. #CMWorld
@thedavepepper
A6: That's easy! Learning (aka: nerding out) about new technologies & all things digital content esp. w/ #IntelContent – Loving it! #CMWorld
@wallykoval
@dwheeler11 I love reading the books my kids are reading. 🙂 #CMWorld
@cmcphillips
A5) My passion: learning from others & sharing what I know. #CMWorld
@Liliholl
@AnnaMariaSocial So can I hang out at your office? I like working with crazy thinkers! #cmworld
@vegecomgirl
A6. My career has been abt "how can I use my love of writing?" #contentmarketing was the best thing to happen to English majors #cmworld
@eccushing
Our goal: More consistent content. That can be a struggle. #CMWorld https://twitter.com/CMIContent/status/593084514517159936
@tulipstrategies
@vegecomgirl that's so cool! How was that experience? #CMWorld
@CMIContent
@michelelinn I so agree!! And everyone I've met with @CMIContent seems so happy!! #CmWorld
@lttlewys
@vegecomgirl That's how the good ideas happen! #cmworld
@AnnaMariaSocial
@alison_pruett Yes – I have said that CMI is a for-profit running like a non-profit – just wanting to help people. #CMWorld
@cmcphillips
@thedavepepper we're in post-production of a film on the rise of cm.. with thought leaders & great case studies! #CMWorld
@AmandaSubler
@AmandaSubler Me too! I can't wait to see your work! #CMworld
@cmcphillips
A6: Marketing is one of my passions, so it's pretty easy. Writing my personal blog lets me combine that with my passion for music. #cmworld
@JeremyBednarski
#CMWorld Have to bow out early (silly work getting in the way) – thanks to all for the thoughtful discussion! Look forward to more!
@alison_pruett
Q7: What brings you back to the #CMWorld Twitter chats each week? Friends, education or something else? #CMWorld
@cmcphillips Yeah! #CMWorld = #CathyMcPhillipsWorld @thedavepepper @Mr_McFly @eccushing @chrisyates11
@MusicAdamT
A5 Who are your top 3 #contentmktg peer #influencers? What quality do they share? @JoePulizzi @CMIContent #cmworld https://twitter.com/CMIContent/status/593089049402822657
@ZenYinger
That is so awesome! MT @cmcphillips CMI is a for-profit running like a non-profit – just wanting to help people. #CMWorld
@lindadessau
@CMWorld. A6: Baking is a personal passion. I use baked goods to reward my staff and butter up my superiors. #CMWorld
@webmastergirl
Yes! Working on our #contentmarketing documentary that will be premiering at this year's #CMWorld https://twitter.com/sararuthw/status/593091687678869504
@CMIContent
@alison_pruett the generosity collaboration and sharing of the community is contagious #passion #CMWorld
@thedavepepper
@AmandaSubler And I am so excited to see the documentary! #cmworld
@michelelinn
@eccushing I've had several people telling me they do not want to be "sold" to brands after an interview got published in France… #CMWorld
@MaelRoth
@ZenYinger great question! Bet too many to list! #CMWorld
@CMIContent
@CMIContent ooo yeah:) I am totally agree with you guys. And I love what you are doing with this #twitterchat #CMWorld
@katairobi
@CMIContent It was great! Such a great discussion for about 10-15 minutes on veganism, social media, culture and food! #cmworld
@vegecomgirl
The word passion has become a marketing term. It's more about discovering that 1 thread that pulls you instead of you pulling it. #cmworld
@BrandedCartoons
@chrisyates11 Quality will always beat quantity over the long haul. #CMWorld
@MusicAdamT
@JeremyBednarski I love how you've shown your true self in your blog. The human side is so important. #CMWorld
@cmcphillips
A7: I keep coming to #CMWorld because I learn so much AND I LOL at least three times during the hour – guaranteed 🙂
@lindadessau
Yes. All of it. #cmworld https://twitter.com/CMIContent/status/593092068001484800
@martinlieberman
A7: The people, the insights and the frantic pace. I love to clear everything off my desk, crank up the music and let it happen! #CMWorld
@mikemyers614
@vegecomgirl that sounds like "passion" wrapped in a perfect little gift for you! #CMWorld
@CMIContent
A7: Education, this tweetchat is especially helpful. Also, the opportunity to talk about bacon and cats. #cmworld
@tulipstrategies
@AnnaMariaSocial Totally agree. I like to say I thrive in a bit of chaos, as long as it's the good, fun kind #cmworld
@vegecomgirl
A7: I've met amazing people on these chats, and even in person at #CMWorld in 2014 and soon again in 2015!
@lindadessau
To learn something new cause nowadays you need to learn something new everyday. #cmworld https://twitter.com/CMIContent/status/593092068001484800
@visualanteMiami
A7: For us, the chats have given us a chance to know you all and provide content that you want/need. #CMWorld
@cmcphillips
A7) It's a quality chat & love the community. #CMWorld
@Liliholl
@mikemyers614 speaking of frantic pace…today's chat is crazy! #CMWorld
@CMIContent
@CMIContent 🙂 #cmworld
@ZenYinger
A7: Well, at first, the promise of finding dates. But now it's the conversation. #cmworld
@BrandedCartoons
@lindadessau I know! You're all so smart! #CMWorld
@cmcphillips
@CMIContent It was! So appreciative of the opportunity to do it, even as nervous as I was. #cmworld
@vegecomgirl
A7: #cmworld is the place to brainstorm with peers. My must-haves apply to all the above
@connieurway
A7. Great people w/ awesome insights and a shared love of sassy gifs. My kind of people #cmworld
@eccushing
A4: Content will become more bite-sized. It will be more essential than ever to deliver impact w/ shorter content #CMWorld #ContentMarketing
@SpencerHudonII
[email protected] @CMIContent Looking forward to it. We'll look for it after this #cmworld chat
@CrowdContent
@CMIContent You handle it well! #CMWorld
@mikemyers614
A7 What's not to like…great people here and I've certainly received a few pointers and ideas. #cmworld
@tracibrowne
I've learned a lot by attending the #cmworld chats! Looking forward to meeting some of you folks in real life in Cleveland this year!
@ActualKats
@mikemyers614 Sounds like a real par-TAY! 🙂 #cmworld
@martinlieberman
@lindadessau I know…this year, more time at #CMWorld with our twitter chat community!
@cmcphillips
@CMIContent A7 the great conversations and learning's I gain each week from my #CMworld peeps!
@SFerika
@lttlewys Yeah, I'm lucky. I want everyone to find that job they love. #cmworld
@michelelinn
A7: I'd say it's the friendutainment that keeps me coming back to #CMWorld#IfEdutainmentIsAWordMineCanBeToo#LookItUpOnDictionaryDotCom
@Mr_McFly
A7 #CMWorld is full of the best and brightest content marketing has to offer. I can't decide between the people and the education!! #CMWorld
@Jake_BlanksUSA
Another reason to join us IRL at #CMWorld! 🙂 https://twitter.com/lindadessau/status/593092424286806016
@CMIContent
A7: Developing relationships and expanding knowledge base. And sharing knowledge with a side of humor. #CMWorld https://twitter.com/CMIContent/status/593092068001484800
@MusicAdamT
@CMIContent best news today! Looking forward to hopefully seeing it at #cmworld 2015!
@sararuthw
A7: All the smart, engaging people that have become friends! I value and respect the #CMWorld community, it's best way to learn!!
@lttlewys
@martinlieberman Yep. Every week! #CMWorld
@mikemyers614
@thedavepepper @JoePulizzi … and experiences the next evolution! @Robert_Rose & @CarlaJohnson's book is EPIC (recommendation!) #CMWorld
@MaelRoth
A6-I try to make people smile and loosen the grip of traditional #business. Humor and willingness to communicate. #CMWorld
@SheldonAYS
A7: I've learned to become a speed-reader! LOL #CMWorld
@ringo66
@Mr_McFly Wow – that's impressive writing right there! #CMWorld
@cmcphillips
A6: as a marketing academic, teaching marketing is my passion! #CMWorld
@WilsoJS
@cmcphillips Thanks! That's awesome to hear. Not always sure that it comes across like I hear it in my head…lol. #cmworld
@JeremyBednarski
@lindadessau Yes! #CMWorld
@cmcphillips
A7) I always get at least ONE new idea to try out or look into… often times more #CMWorld
@AmandaSubler
@AnnaMariaSocial I can relate to thinking like a crazy person. It's so fun to connect the dots and create #cmworld
@michelelinn
@martinlieberman @CMIContent great info, tips in welcoming environment #CMWorld
@thedavepepper
A7 Three things: awesome people, endless learning & some good LOLs – great mix! #cmworld
@lifeofaworkgirl
@cmcphillips I've been known to add to the lexicon frequently…At least in my mind…#CMWorld
@Mr_McFly
Ohh, I love this word!! #UsingitForever #CMWorld https://twitter.com/Mr_McFly/status/593092670307901440
@lttlewys
A7 The community the conversation & dedication @CMIContent has to caring for its people! Great Topics + Great people = Great Fun! #CMworld
@iSocialFanz
[email protected] A7: Meeting & learning from all the awesome #contentmarketing peeps! #CMWorld
@DaveWebb
We truly love our #CMWorld community! https://twitter.com/iSocialFanz/status/593092876176723968
@CMIContent
A7. All of the above. Great people, great ideas, great content. And sometimes cats (thank you @eccushing). #cmworld
@dwheeler11
OMG! Did I just see that #CMWorld is going to have John Cleese as a speaker?!?!?! How did I miss that?!?! OK! It's on now!
@vegecomgirl
@mikemyers614 @lindadessau We're having a @CMIContent booth this year in the exhibit hall so we'll be out roaming/mingling more! #CMWorld
@cmcphillips
@ActualKats *happydance* #CMWorld
@CMIContent
@ringo66 I wish i could say the same 🙂 #CMWorld
@thedavepepper
@CMIContent A6: Having my own cm biz allows me to be home with my kids more than agency life did. Writing/strategy aren't 9-5! #CMWorld
@EmilyCretella
I never noticed that if you quote a tweet, the hashtag is inactive. #CMWorld
@SheldonAYS
@thedavepepper @CMIContent @lisabeets SO welcoming. One of the nicest, most encouraging communities around. #cmworld
@martinlieberman
A6: I love #socialmedia & digital marketing. Now I work for a company that lets me grow, explore & use my passion. #CMWorld
@SpencerHudonII
@vegecomgirl Stop working so hard! 🙂 #CMWorld
@cmcphillips
@cmcphillips @lindadessau @CMIContent Fun! #CMWorld
@mikemyers614
A7: The friends, the insights and the challenge to keep up! #cmworld
@JeremyBednarski
The dialogue with fellow content marketers is priceless and quite frankly richer than with the "inbound community" (sorry) #CMWorld
@MaelRoth
A7) The learning, the diverse perspectives and the people! #CMWorld
@ideakid88
@Mr_McFly the hashtags are flying in that tweet lol #CMWorld
@CMIContent
A7: I love meeting new people who work in the industry. Sometimes it's hard to keep up though! #cmworld
@AJutah
@CMIContent Well, if you want to take a listen, here's the link: http://www.unity.fm/episode/MainStreetVegan_042215 #cmworld
@vegecomgirl
@dwheeler11 Anytime. I've got cat photos for dayssss #CMworld http://t.co/v11zF6ncT8
@eccushing
@cmcphillips @mikemyers614 @CMIContent Excellent! #cmworld
@lindadessau
A7: To learn something new, while immersing myself further into the awesome #CMWorld community…but mostly for the responses of @ringo66
@wallykoval
I'm curious. How many people actually attend this chat? #cmworld
@BrandedCartoons
@chrisyates11 Well, yes, that's the dream. But … quality should be Job 1. #CMWorld
@MusicAdamT
@CMIContent as the Hashtag Whisperer I have certain obligations… :-)#CMWorld
@Mr_McFly
@ideakid88 we love the different perspectives too. Never know what we'll learn with each chat! #CMWorld
@CMIContent
The drive to continue learning! #CMWorld https://twitter.com/cmicontent/status/593092068001484800
@SheldonAYS
@ZenYinger Oooo. That's a great question! @JoePulizzi @CMIContent #CMWorld
@DaveWebb
A7(a) Hope to meet everyone or someone in person at #cmworld one day. That would be cool #cmiparty !
@connieurway
@BrandedCartoons I do. Oh… #CMWorld
@mikemyers614
A7) We come back for the community! Fun AND educated. It's refreshing. The topics are interesting too! #cmworld
@CrowdContent
@wallykoval @CMIContent I knew it! #cmworld
@ringo66
@CMIContent Amen and Awomen to that! #CMWorld
@ideakid88
@AJutah It is, but I love the challenge and the "healthy" competitiveness. It's nice to have people willing to share ideas. #CMWorld
@cmcphillips
A7) Seeing some familiar people, meeting new ones and picking up some great tips along the way #CMWorld
@MikeHale
Q8: What is one topic you wish we would delve into more? Do you have a special guest in mind? #CMWorld
@Mr_McFly if you attend #CMWorld, can we print that as your name on your nametag? 🙂
@CMIContent
@BrandedCartoons a lot. 😉 #CMWorld
@sararuthw
A7. I love how much the #cmworld community truly shares ideas and wants to learn from each other
@michelelinn
@MaelRoth Boom! things are getting real in here (and I agree with you) #realtalk #cmworld
@eccushing
@CMIContent The passion in the community and this great energy @CMIContent you need to make it more often #CMWorld
@katairobi
Indeed #CMWorld https://twitter.com/musicadamt/status/593093431594975232
@chrisyates11
@ringo66 Yeah, speed reading today. What a great chat community! #cmworld
@LisaBeets
@wallykoval @ringo66 Haha! Yes – sheer brilliance every time. #CMWorld
@cmcphillips
@CMIContent I might be a bit upset if you didn't ;-)#CMWorld
@Mr_McFly
A8 #branding is interesting to me. How should brand standards work with #contentmarketing? What can Content Marketers do to help? #CMWorld
@mikemyers614
There's no better bunch than the content marketing one 😉 #CMWorld https://twitter.com/crowdcontent/status/593093520417689602
@sararuthw
@sararuthw amen to that! #CMWorld
@CMIContent
Sorry guys, have to leave early! Catch you all next week – was great getting to know you all better 🙂 #cmworld
@lifeofaworkgirl
@CMIContent new fab. marketing methods, curiosity to learn and interactions with minded people. #CMWorld #marketing
@saranshgarg
@sararuthw Aw thanks! It's an amazing group. #CMWorld
@cmcphillips
A8. I think discussions on measurement are always useful & fascinating #cmworld
@eccushing
@EmilyCretella I agree with you. I know so many people in this field who work non-traditional hours. Perfect for life with family #cmworld
@michelelinn
A7: Knowledge. The opportunity to interact with experts (& hopefully friends!) in the fields of #SocialMedia, #ContentMarketing & #CMWorld
@SpencerHudonII
A7: Super simple answer-the sharing of ideas of others working in the space. We are not alone! #CMWorld
@webmastergirl
Q7 I come back to #CMWorld as often as I can to stay up-to-date with trends and meet new content marketers.
@Yaelkochman
My pleasure #CMWorld https://twitter.com/alison_pruett/status/593086000584200193
@chrisyates11
@cmcphillips it really is! makes me proud to be a content marketer #cmworld
@sararuthw
Yep! #CMWorld https://twitter.com/lindadessau/status/593092283903377408
@SpencerHudonII
A7-And of course the Food for thought! #CMWorld
@SheldonAYS
@webmastergirl Most definitely! We have so many of the same challenges and hurdles. Nice to have each other! #CMWorld
@cmcphillips
Discussion on employees can contribute to content creation would be helpful #cmworld
@raj1094
Agree!! #CMWorld https://twitter.com/martinlieberman/status/593093181274730496
@ChristinKardos
@SpencerHudonII Yes – come to the #CMWorld chat once, and you've got friends!
@cmcphillips
@LisaBeets @ringo66 Truth. NOT the chat to "pop in and out of" !!! #CMWorld
@ThinkSEM
A8) Video content maybe? #CMWorld
@Liliholl
@AJutah Oh – haha! That too! #CMWorld
@cmcphillips
@eccushing I do too! I'll see if we can squeeze one in our spring/summer chat schedule. #CMWorld
@cmcphillips
A8: Humor content. Tom Treanor Tom Treanor @RtMixMktg from Wrike conducted a similar chat a couple weeks ago. Great discussion. #cmworld
@BrandedCartoons
A8 Content guidelines and governance is our next frontier. Help would be really good. #CMWorld
@mikemyers614
[email protected] Oooooh good call. I'd love to hear about dollars and cents related to #content campaigns #CMWorld. http://t.co/gqsT3GNATJ
@eccushing
@mikemyers614 We have a chat covering this over the summer! #CMWorld
@cmcphillips
A8: Might I suggest more #contentmarketing about @starwars? : ) #CMWorld http://t.co/DxAst5GCuh
@ringo66
Problem solving when plan B doesn't work! I love to hear how other people work. #CMWorld https://twitter.com/cmicontent/status/593093584808579072
@SheldonAYS
I have SO many posts to write >> @AmandaSubler: A7) I always get at least ONE new idea to try out or look into… often times more #CMWorld
@michelelinn
@BrandedCartoons Nice idea! #CMWorld
@cmcphillips
@MaelRoth If I never hear the phrase "growth hacking" again, I would be SO happy #CMWorld
@eccushing
@cmcphillips Cool! Should have figured. 🙂 #CMWorld
@mikemyers614
#DarthVader approves #CMWorld https://twitter.com/ringo66/status/593094519714934784
@CMIContent
A8) Augmented reality and how it can make content come alive. #CMWorld
@ideakid88
@michelelinn Get busy! #cmworld
@lindadessau
@Liliholl video content definitely 🙂 #CMWorld
@thedavepepper
@CMIContent A8: would love to see some convo around strategies for "converting" B2B content to MQLs #CMworld
@Topicurious
A8: Perhaps you should look into having @KnowledgeBishop as a guest. #CMWorld
@SpencerHudonII
@CMIContent A8: ideas for small biz / solopreneur or creative entrepreneurs. Small budgets, big passion! #CMWorld
@EmilyCretella
A8: I tend to love speaking about branding. That's how I got in the biz & that is now my biz. I also like saying biz. #MyBrand #CMWorld
@Mr_McFly
@SpencerHudonII @KnowledgeBishop Nice thought – thanks! #CMWorld
@cmcphillips
We'll spend the last 10 minutes asking @cmcphillips questions. Ask now! #CMWorld
@CMIContent
@tracibrowne @eccushing: What types of things are you struggling to measure most? Where are you most challenged? #cmworld
@michelelinn
A8 #branding is interesting to me. How should brand standards work with #contentmarketing? What can Content Marketers do to help? #CMWorld
@ashishkhera
A7: Knowledge. The opportunity to interact with experts (& hopefully friends!) in the fields of #SocialMedia, #ContentMarketing & #CMWorld
@ashishkhera
@eccushing @MaelRoth omg… I am giving you the biggest high five right now. I can't listen to it either! #cmworld
@sararuthw
A8: Might I suggest more #contentmarketing about starwars? : ) #CMWorld http://t.co/wE8lbu4ySA
@ashishkhera
@cmcphillips @amandatodo That's great! Thanks. #CMWorld
@mikemyers614
A8: Lots of chats are rah-rah, ac-cen-tuate the positive. How about troubleshooting? #CMWorld https://twitter.com/CMIContent/status/593093584808579072
@MusicAdamT
@ringo66 We're okay with that! 😛 #cmworld
@CrowdContent
@eccushing that's the most useless term in recent history…. #CMWorld
@MaelRoth
@ringo66 @starwars Haha – will you lead that discussion? Because I'm pretty sure I'd be useless. #CMWorld
@cmcphillips
Humor is so hard to do w/ only text. The tone is often misinterpreted. Would love to hear advice on it! #CMWorld https://twitter.com/BrandedCartoons/status/593094328563716096
@SpencerHudonII
The requests for video content has tripled for me since last year. It's growing #CMWorld https://twitter.com/thedavepepper/status/593094645057495040
@chrisyates11
@CrowdContent The force is strong with you! #cmworld
@ringo66
@lindadessau If I had a nickel for every post idea . . . I just need to get better at prioritizing #cmworld
@michelelinn
@Mr_McFly you should write a guest post for @getresponse our readers would love to see some insight into branding from an expert! #cmworld
@sararuthw
@ringo66 @starwars #hysterical #CMWorld
@thedavepepper
@EmilyCretella [email protected] has a new book coming out on this. Have you heard his Content Inc podcast yet? http://contentmarketinginstitute.com/content-inc-podcast/ #CMWorld
@CMIContent
Q: Any ideas on creating innovative content to any particular Niche #cmworld
@raj1094
@cmcphillips @starwars Hmmm… YES!!! #Stormtrooper #cmworld
@ringo66
@Liliholl Anything specific about video content that would be the most helpful to you? #cmworld
@michelelinn
@sararuthw @eccushing haha high five crossing the Atlantic right back at ya! #CMWorld
@MaelRoth
@MusicAdamT Troubleshooting anything in particular? I like this idea. #CMWorld
@cmcphillips
@dwheeler11 @cmworld He just wants to help you work! Mine once jumped onto a videoconference w/my boss looking for head rubs #whoops #CMWorld
@eccushing
@vegecomgirl @CMIContent I am so sad that I can't make it to the conference this year (will be on my honeymoon). I LOVE John Cleese #cmworld
@dwheeler11
@chrisyates11 this is not surprising! #CMWorld
@CMIContent
@CMIContent @JoePulizzi I have! Big fan of it. #cmworld
@EmilyCretella
@sararuthw I am willing to do that! @getresponse #CMWorld
@Mr_McFly
@michelelinn I hear you! #cmworld
@lindadessau
Indeed! Everyone is very friendly. 🙂 #CMWorld https://twitter.com/cmcphillips/status/593094158052560897
@SpencerHudonII
@dwheeler11 @vegecomgirl @CMIContent You know, Cleveland is nice in the fall… #CMWorld
@mikemyers614
Humor content is not about generating LULZ, it's about conveying personality. #cmworld
@BrandedCartoons
A8 What about content ideas for industries where content marketing wouldn't be the most obvious marketing choice? #cmworld
@martinlieberman
@mikemyers614 @dwheeler11 @vegecomgirl @CMIContent September – best weather month in Cleveland! #CMWorld
@cmcphillips
@Liliholl will do! We'll chat with @cmcphillips and let you know! #CMWorld
@CMIContent
@dwheeler11 @CMIContent Bummer that you can't make it, but congrats on your upcoming nuptials! #cmworld
@vegecomgirl
@michelelinn @tracibrowne My content exp is mostly w/community growth; I'd love more insight into measuring #content effect to sales #cmworld
@eccushing
@michelelinn don't hear many people talking about it…it's not easy…if content marketing isn't selling what's point? @eccushing #cmworld
@tracibrowne
@cmcphillips @mikemyers614 @vegecomgirl @CMIContent Sorry, New Zealand wins over Cleveland for my honeymoon 🙂 #cmworld
@dwheeler11
@martinlieberman That's a great topic, Martin! Noted! #CMWorld
@cmcphillips
@martinlieberman whoa that's deep! But a good thought! #CMWorld
@CMIContent
Good one > MT @martinlieberman: A8 content ideas for industries where content marketing wouldn't be the most obvious choice? #cmworld
@mikemyers614
@BrandedCartoons that is a golden sentence right there! #CMWorld
@sararuthw
@dwheeler11 @mikemyers614 @vegecomgirl @CMIContent Priorities, priorities! 🙂 We'll save you a seat in 2016! #CMWorld
@cmcphillips
@cmcphillips There are some audiences that gravitate toward extremes (misbehavior vs. silence). How do you manage the extremes? #CMWorld
@MusicAdamT
@vegecomgirl @CMIContent Thanks! Actually got hitched last month, just delaying the honeymoon. Something to look forward to! #cmworld
@dwheeler11
@martinlieberman great one! It's difficult to make e.g. aluminum profiles for industrial applications sexy ^^#CMWorld
@MaelRoth
@mikemyers614 I have been thinking about governance a lot. More to come on that. Do you know @lwelchman? She is my governance go to #cmworld
@michelelinn
@MusicAdamT That's really interesting. I'll chat with our team to see how we can address this. #CMWorld
@cmcphillips
@CMIContent how to change strategies according to different geographies. U know not all customers are online. #CMWorld #marketing
@saranshgarg
@michelelinn @lwelchman Not yet…but thanks for the recommendation 🙂 #CMWorld
@mikemyers614
@MaelRoth Or so you'd think. That would be the fun part of the chat, seeing the different ideas people have. #cmworld
@martinlieberman
@martinlieberman great topic. underserved communities are passionate and eager to engage. #CMWorld
@thedavepepper
What is everyone working on this week? #CMWorld
@cmcphillips
@Mr_McFly @getresponse Awesome! DM me your contact info and we could definitely get something going 🙂 #CMWorld
@sararuthw
@MusicAdamT @cmcphillips @madSMscientist wrote a great one recently about this! (The onion theory!) #CMWorld
@MaelRoth
@mikemyers614 @CMIContent @cmcphillips Thanks! 🙂 #cmworld
@martinlieberman
@eccushing @tracibrowne: Thanks, ladies. Measurement is such a tough nut to crack, but I want to help people incrementally improve #cmworld
@michelelinn
@cmcphillips This might be something I just see more – attorneys do not do social media like, say, an SEC fan. #CMWorld
@MusicAdamT
@sararuthw @Mr_McFly @getresponse love seeing our community in action! #CMWorld
@CMIContent
Sounds like an opportunity to discuss crisis social media and crisis comms plans. Really useful topic! #cmworld https://twitter.com/cmcphillips/status/593095972126892033
@ActualKats
@MaelRoth @cmcphillips @madSMscientist Onion theory? That sounds … ap-peel-ing. #CMWorld
@MusicAdamT
A8: Perhaps a focus on content marketing metrics? Apologies if you have covered this #CMWorld
@WilsoJS
@ActualKats that's a great topic too! #CMWorld
@CMIContent
@cmcphillips guides, guides, and more guides 😉 #cmworld
@sararuthw
@MusicAdamT Great point! We should look for experts in law and social to help guide. #CMWorld
@cmcphillips
@thedavepepper That's what I was thinking. Some folks just need to get out of their own head, hear some new ideas. #cmworld
@martinlieberman
@WilsoJS we have but we'll be doing more in the future! #CMWorld
@CMIContent
Thanks #cmworld for all you do. Great chat. Gotta go do some swiping.
@BrandedCartoons
@cmcphillips Working with @Joderama & @michelelinn on a new ebook for @CMIContent #cmworld #staytuned!
@ringo66
@michelelinn @tracibrowne Totally, &thanks for doing it! I feel like lots of marketers want to discuss $$ but are hesitant to share #CMWorld
@eccushing
@cmcphillips We're working on pulling those simple holiday messages (happy mother's day) up to more useful status. Possible? #CMWorld
@mikemyers614
@tracibrowne Super fun! I feel like we celebrate science in my house every day. #CMWorld
@cmcphillips
Good point. curious to know more about this. #CMWorld https://twitter.com/martinlieberman/status/593095490377555970
@saranshgarg
@martinlieberman yeah. I try to make it sexy but the company is quite old-school as well which doesn't make it easier… #CMWorld
@MaelRoth
@lindadessau I am intrigued by this idea. Do you have any specific examples of an underserved industry? #cmworld
@michelelinn
A8. Content for activism. How to help non-profits/causes get their message out to a broader audience #cmworld
@vegecomgirl
@sararuthw It's kind of like a new roof. Not what you want to spend money on, but it keeps the place in one piece! #CMWorld
@cmcphillips
@ringo66 you're working with me too, you just don't know it yet #wereyourearsringing #CMWorld
@MoninaW
@cmcphillips doing what I like the most in my job: evangelize great news and social media experimenting And you? #CMWorld
@katairobi
@ringo66 @Joderama @michelelinn @CMIContent Jodi's on a roll! #CMWorld
@cmcphillips
@BrandedCartoons remember, when in doubt, swipe left! #CMWorld
@CMIContent
@mikemyers614 @raj1094 Mike, you might like this recent post on that topic—getting more employees to write: http://contentmarketinginstitute.com/intelligent-content/blog/intelligent-content-application-economy/ #cmworld
@MarciaRJohnston
@MaelRoth Been there. Would be fun to brainstorm some ideas and get lots of inputs, wouldn't it? 🙂 #cmworld
@martinlieberman
@mikemyers614 You should talk to @moninaw on repurposing holiday messaging. #CMWorld
@cmcphillips
@ringo66 I am super excited about the new eBook! #cmworld A huge thanks to you and @jodimeda
@michelelinn
@JeremyBednarski one of the best because we had @cmcphillips with us! #CMWorld
@CMIContent
The 20 Bests And Worsts Passports To Have In Africa #CMWorld" TARGET="parent">http://t.co/y7PJoLpKVN#CMWorld #LowLevelConfessions #AfricaRising
@Prof_Brainy
@MarciaRJohnston @raj1094 Awesome! Thanks, Marcia. #CMWorld
@mikemyers614
@MoninaW Crickets chirping…LOL #Snarky #CMWorld
@ringo66
@katairobi Awesome! This week is planning the month of May for #CMWorld early bird registration! LOTS of action next week! #CMWorld
@cmcphillips
@vegecomgirl Great idea! We've seen a lot of clients in the non-profit sector recently. #cmworld
@CrowdContent
@martinlieberman the act of reaching out to underserved communities is powerful and full of untapped opportunity. #CMWorld
@thedavepepper
Iron Man. He's the most tech-savvy. He would dictate blog posts to Jarvis, insert live video streams, etc. #CMWorld https://twitter.com/MissSarahQ/status/593089239123947520
@SpencerHudonII
@cmcphillips @moninaw Good idea! Watch out @MoninaW #CMWorld
@mikemyers614
Well all of you great folk-a-doodle-doos in #CMWorld, catch you next week!
@Mr_McFly
@ringo66 I'm working on it! Need to get boss lady to approve some stuff first! #CMworld
@MoninaW
@CrowdContent TY! The digital space is so important for them to be. Many are scared about resources. Compelling content can help. #cmworld
@vegecomgirl
@cmcphillips I'm sure there are other niches that have different issues, and there are lessons to learn from each. #CMWorld
@MusicAdamT
@vegecomgirl If you're not already, be sure to follow @kanter & amyrsward for awesome nonprofit tweets. #CMWorld
@DaveWebb
@WilsoJS You may like this post from @getcurata: http://contentmarketinginstitute.com/2014/11/8-metrics-conquer-fear-measurement/ #cmworld
@michelelinn
Thanks to @cmcphillips for joining us on our #CMWorld chat today! Our community wouldn't have grown to be this dynamic without her work!
@CMIContent
@martinlieberman @MaelRoth #cmworld community group brainstorm sesh? We're in.
@CrowdContent
@cmcphillips haha love it, can I quote you on that? #CMWorld
@sararuthw
@JoePulizzi Joe, back on this topic… what are your thoughts on key strategies for building a loyal audience? #CMworld
@Topicurious
@MusicAdamT Absolutely. I don't mean to plug #CMWorld in Sept, but that's why we have industry labs on Fri, to talk challenges by industry.
@cmcphillips
@martinlieberman: I am intrigued by this idea. Do you have any specific examples of an underserved industry? #cmworld
@michelelinn
Agreed! @cmcphillips for the win! #CMWorld https://twitter.com/cmicontent/status/593097373204619264
@sararuthw
@CrowdContent @MaelRoth Right? Instead of folks sharing advice, let's all share IDEAS. 🙂 #cmworld #bestchatever
@martinlieberman
@michelelinn hard part is measurement process/value also depends on size of company/budget great tools available for big cos #cmworld
@tracibrowne
For more info on @cmcphillips, check out her blog posts on the @CMIContent website: http://contentmarketinginstitute.com/author/cathy-mcphillips/ #CMWorld
@CMIContent
Here's a short vine teaser we did 4 @neimanmarcus #NMmakesomenoise at https://vine.co/v/OY7hYqvDH9P @AmandaSubler #CMWorld
@chrisyates11
@tracibrowne Measurement has been tough since the dawn of marketing, it seems. More tools now avail, but also more touch points #cmworld
@michelelinn
@michelelinn Well, @maelroth and I are chatting about aluminum profiles for industrial applications. What about VC or consulting? #cmworld
@martinlieberman
Glad I was able to make it today even if only for a little while…good to see everyone…and @cmcphillips especially #cmworld
@tracibrowne
@katairobi Definitely! Stay in touch – I'm never too far from twitter. #CMWorld
@cmcphillips
@martinlieberman oh it definitely would. Getting something than the usual suspects Red bull etc… #CMWorld
@MaelRoth
Want to meet @cmcphillips and the CMI team? Attend Content Marketing World 2015. Early bird rates end 5/31! http://cmi.media/cmw #CMWorld
@CMIContent
@michelelinn So many more specific industries that think content marketing isn't for them, but want it to be. #cmworld
@martinlieberman
Want to meet @cmcphillips and the CMI team? Attend Content Marketing World 2015. Early bird rates end 5/31! http://cmi.media/cmw #CMWorld
@LisaBeets
@lindadessau @CMIContent @moninaw Thanks, Linda! Take care of yourself – see you soon! #CMWorld
@cmcphillips
They're a big part of mine MT @sararuthw: Gotta make these chats my weekly routine 😉 #CMWorld
@lindadessau
@vegecomgirl Did you see this post about @charitywater: http://t.co/spfZthpjQ1. Maybe helpful? #cmworld
@michelelinn
@michelelinn tough discussion topic too as small companies are so different from large companies. Don't have same resources #cmworld
@tracibrowne
@lttlewys have a good rest of the day, Brandie! Maybe if we're lucky, @cmcphillips will send chocolate 🙂 #CMWorld
@CMIContent
@lttlewys @CMIContent Thanks, Brandie! Think it's time for a quarterly catch up, eh? #CMWorld
@cmcphillips
@mikemyers614 @lindadessau and now I see why! totally adding this to my weekly schedule 😉 #CMWorld
@sararuthw
@michelelinn Thanks for sharing! Will check it out for sure. TY! @charitywater #cmworld
@vegecomgirl
@CMIContent @lttlewys Sigh. Can't I send something I'm good at making like soup or salsa or a veggie tray or something? #CMWorld
@cmcphillips
@sararuthw @mikemyers614 Great! Look forward to seeing you here again 🙂 #CMWorld
@lindadessau
Fill Your #ContentMarketing Calendar Without Really Trying http://heidicohen.com/content-marketing-ideas/ http://ow.ly/i/azaN6 cc @Kapost #cmworld
@heidicohen
@cmcphillips @tracibrowne 132 days #butwhoscounting #CMWorld
@CMIContent
Here's to you, @eccushing: http://giphy.com/gifs/iiS84hOJXh1Pq?tc=1 #CMWorld
@DaveWebb
DaveWebb it indeed was! Always fantastic hearing from our #contentmarketing friends! #CMWorld
@ashishkhera
Fill Your #ContentMarketing Calendar Without Really Trying http://heidicohen.com/content-marketing-ideas/ http://ow.ly/i/azaN6 cc Kapost #cmworld
@ashishkhera
Love video! Been doing it since 1990! I've just changed the channel from TV to Social Media #CMWorld https://twitter.com/thedavepepper/status/593098340478365696
@chrisyates11
Hear, hear! Kudos to @cmcphillips & the entire @CMIContent team. And thanks … for more than you realize. #cmworld https://twitter.com/CMIContent/status/593097373204619264
@martinlieberman
@DaveWebb hahahaha. Everyone is worthy of and deserves fun gifs! #CMWorld http://t.co/FCmixDqeFX
@eccushing
@cmcphillips #totesadorbs #CMWorld
@CMIContent
@martinlieberman We have done some posts on content marketing in "boring" industries. Great idea to explore some more #cmworld
@michelelinn
@martinlieberman If you have specific interest in VC, my go to person is @jay_zo #cmworld
@michelelinn
[email protected] Keep us on our toes, right? 😛 See you next week. #cmworld
@CrowdContent
@michelelinn @Jay_zo For sure. Jay and @kyleplacy. But I was just throwing out an idea. 🙂 #cmworld
@martinlieberman
@michelelinn For sure. But I can't recall a #cmworld chat about that topic. So it would be fun and different. I hope. 🙂
@martinlieberman
[email protected] @cmcphillips You too! (PS- we're starting our #cmworld 2015 prep and getting pumped!)
@CrowdContent
@martinlieberman @michelelinn These are great ideas! We're actually filled until after #CMWorld but that will give us time to think!
@cmcphillips
Here's another teaser type video we did for Dallas Museum of Art http://youtu.be/j25xnY3Z4bk @AmandaSubler #CMWorld
@chrisyates11
@cmcphillips @michelelinn WOW! You're scheduled that far in advance? I'm impressed! Not surprised, tho. 😉 #cmworld
@martinlieberman
@CrowdContent @CMIContent Yes!! I'm starting a series on the #CMWorld blog on Mondays in May – all for our awesome sponsors! Check it out!
@cmcphillips
@martinlieberman @mikemyers614 @michelelinn @kyleplacy I'm tagging in, what'd I miss? Oh, all of it…damnit #CMWorld
@Jay_zo
@Jay_zo @martinlieberman @mikemyers614 @michelelinn @kyleplacy Come on, Jay! Keep up! 🙂 #CMWorld
@cmcphillips
@Liliholl Thanks for the suggestion! This may help, but I will add your suggestion to our list: #cmworld http://ow.ly/MeV1B
@michelelinn
@cmcphillips @Jay_zo @mikemyers614 @michelelinn @kyleplacy Ha! An idea for future #cmworld chat: Content ideas for underserved industries.
@martinlieberman
@martinlieberman @michelelinn We are – lots of topics, great guests, and summer schedules mixed in! So planning ahead was a must. #CMWorld
@cmcphillips
Why Content Marketing Makes Me Sad-Happy-Sad Like I'm Crazy (Happy=#CMWorld chat) http://www.sorryformarketing.com/blog/why-i-get-sad-about-content-marketing http://t.co/LEXEsxdak0
@Jay_zo
@cmcphillips @CMIContent Oooh looking forward to it! #cmworld
@CrowdContent
@CrowdContent I really hope it's helpful! Though you're the pros on that sort of thing, but maybe you'll find some useful nuggets! #CMWorld
@cmcphillips
@Topicurious I think the most important is to focus on a content area that you really can be the leading info provider in the world #cmworld
@JoePulizzi
@chrisyates11 I'd love to see it. long run time serious topic narrow audience don't matter if the community is engaged! #CMWorld
@thedavepepper
@cmcphillips @CrowdContent agree. sometimes the smaller targets are more highly engaged. 🙂 #CMWorld
@thedavepepper
[email protected] scheduling tools can help with time management but time is the most valuable of all. #CMWorld
@thedavepepper
@JoePulizzi Great suggestion. Wow, that's a tough one though! Most industries are very competitive and thought leaders abound. #cmworld
@Topicurious
A7 #CMWorld is full of the best and brightest content marketing has to offer. I can't decide between the people and… http://t.co/dEmfRTrghV
@DreamDomains_
I'll be in #Pittsburgh for @AMA_PGH on 4/30 speaking on Epic #ContentMarketing. Come join us. http://www.amapittsburgh.org/events/5-essentials-to-epic-content-marketing-for-business/ #cmworld
@JoePulizzi
@PamFrostGorder This is one of the best infographics I've ever seen! #cmworld
@Frankly_Inc
@JoePulizzi In your opinion, is building 'engagement' with audience more or less important than the quality of content? #cmworld
@Topicurious
@idioplatform @CMIContent We firmly believe in this too. Be less sales-y to your customer. Be more relevant! #cmworld
@Frankly_Inc
Posted May 5, 2015 in: Event by Kim Borden
---