Content Marketing World is part of the Informa Connect Division of Informa PLC
This site is operated by a business or businesses owned by Informa PLC and all copyright resides with them. Informa PLC's registered office is 5 Howick Place, London SW1P 1WG. Registered in England and Wales. Number 3099067.
Giving Thanks for our CMWorld Community
'Tis the season for "thankful" posts, but hopefully by now our readers know that all of us from CMI are thankful for our community every single day. You make us smarter. You make us do our jobs better. You expect a lot, and are thankful for a lot too.
Here are a couple things I'm thankful for in our #CMWorld community:
The rocks of our #CMWorld twitter chats each Tuesday – Erika Heald, Traci Browne, Brandie McCallum, Mike Myers, Linda Dessau, Sue Duris, Christin Kardos, Kristen Hicks, Nenad Senic, Kip Meacham, Heather Vaughn, Katrina Douglas, Carmella Lanni and so many others.
The opportunity to meet new content marketing industry peers each day who so selflessly share their stories and successes, open up about failures or bumps in the road, who start friendly debates and conversations, and are open and giving to our group so we can all do better.
The industry thought leaders who join us and share their wisdom when travel schedules permit: Lee Odden, Ardath Albee, Heidi Cohen, Michael Brenner, Nick Kellet, Carla Johnson and so many more.
The 18,000+ people that contributed to the #CMWorld hashtag thus far in 2014 – whether it was joining in on a chat, having conversations with people we met at Content Marketing World, or sharing your blog posts and industry news to help educate our community.
Learning something new every single day from this group. You've helped mold our event, our blog post topics, our research and so much more.
Overall, I'm thankful that the #CMWorld community is active 365 days a year. This screenshot from our Hashtracking report is pretty amazing. Here's what I noticed: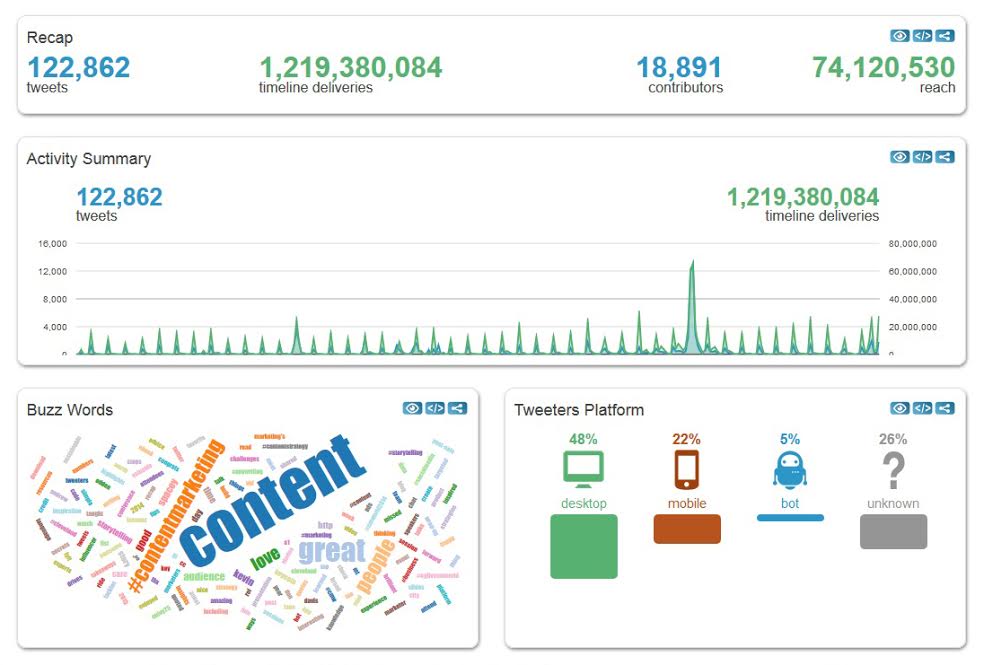 We are consistently chatty on Tuesdays! If you haven't been to a #CMWorld twitter chat, we'd love it if you'd join us.
Our event continues to resonate with both attendees and non-attendees. My wish? All 5,700+ people who were active on the #CMWorld hashtag from September 8-11, 2014 join us in Cleveland September 8-11, 2015. Wouldn't that be amazing?
122,000+ tweets! This is incredible and a testament to our growing industry. Let's keep it up!
Check out the word cloud from all of our tweets from this year. "LOVE," "GREAT," and "PEOPLE." That says it all, folks. Looking forward to ending the year strong, and another great journey together in 2015.
Last but not least, some of you may have met Monina Wagner on a recent twitter chat, but Mo is our Community Manager who has already taken over the reins on our #CMWorld community on our social channels. She's awesome, a perfect addition to the CMI team, and someone I really hope you all enjoy as much as we do. Introduce yourself to Mo next time you're online!
Seriously, we'd love to see you in person at CMWorld in September 2015. Registration opens December 1, 2014! Take advantage of 2014 rates while you can! It's the best rate you'll be able to get.
Posted November 27, 2014 in: Event by Cathy McPhillips
---
UP