Content Marketing World is part of the Informa Connect Division of Informa PLC
This site is operated by a business or businesses owned by Informa PLC and all copyright resides with them. Informa PLC's registered office is 5 Howick Place, London SW1P 1WG. Registered in England and Wales. Number 3099067.
Using global insights to produce content marketing gold: A #CMWorld Chat with Tim Hayden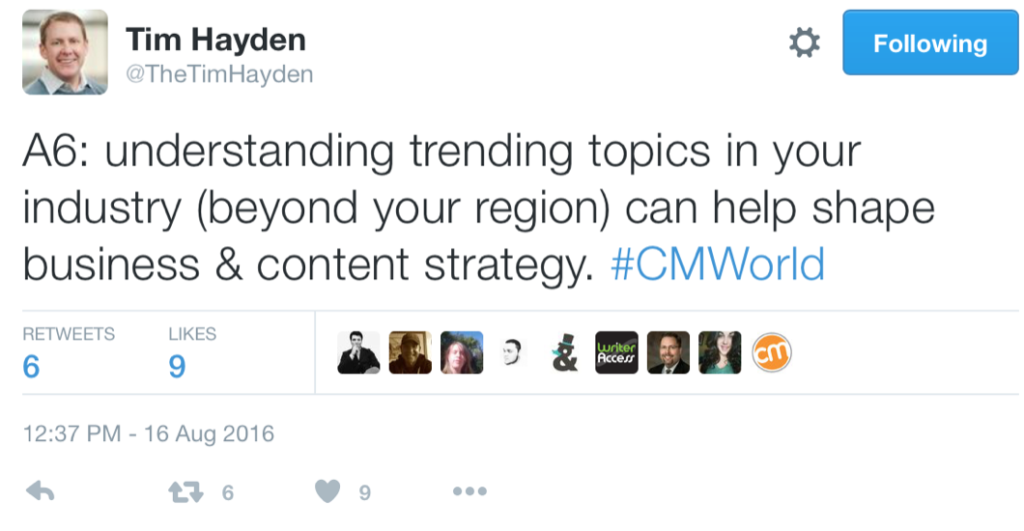 As marketers, we are inundated with data and analytics and are often stuck on what to do with all of this information. Now, factor in real-time and global insights, and now we need to move better, faster, smarter. Thankfully, Tim Hayden joined us for this latest #CMWorld Twitter chat to talk methods, technology and more.
A few highlights of the chat are below. Visit this week's Storify for even more great conversations on this topic.
Who owns insights in your organization? We had varying responses to this question: 
We also saw some great suggestions on tools and tips for collecting and analyzing data:
Thanks for a great and informative chat, Tim! We appreciate your expertise, and as usual gave us much to think about. Fortunately, we have CMWorld coming up where we can dig in to some of these tools and ideas even more.
Data and analytics will be a big focus on Content Marketing World this September, including these two sessions: Data Driven Content- Making Content Buyers Actually Want and Beyond Simple Numbers: ROI through Data and Analytics. Use code BLOG100 when you register to save an extra $100.
Posted August 17, 2016 in: Event by Cathy McPhillips
---
UP