With writing being a critical component to content marketing, it's no surprise that many members of our #CMWorld community, both online and offline, have a deep love of language, words, and usage. With that passion comes an equally strong distaste for grammar errors, habits, mix-ups, and yes, even the Oxford comma. While it felt like this chat was preaching to the choir of excellent storytellers and exceptional writers, it was nice to have an hour to spend together discussing some of our grammar pet peeves.
Ann Handley, Chief Content Officer of MarketingProfs and best-selling author of Everybody Writes, was our special guest on this week's #CMWorld Twitter chat. Who better to help lead the chat than the world's first chief content officer, and one of the most inspiring writers we know?
Monina Wagner and I were emailing back in March, and we came up with this idea after some consistent and blatant errors we were seeing on blog posts, websites and social media. Some of my biggest pet peeves? Usually misplaced apostrophes, or ones that just don't belong there in the first place.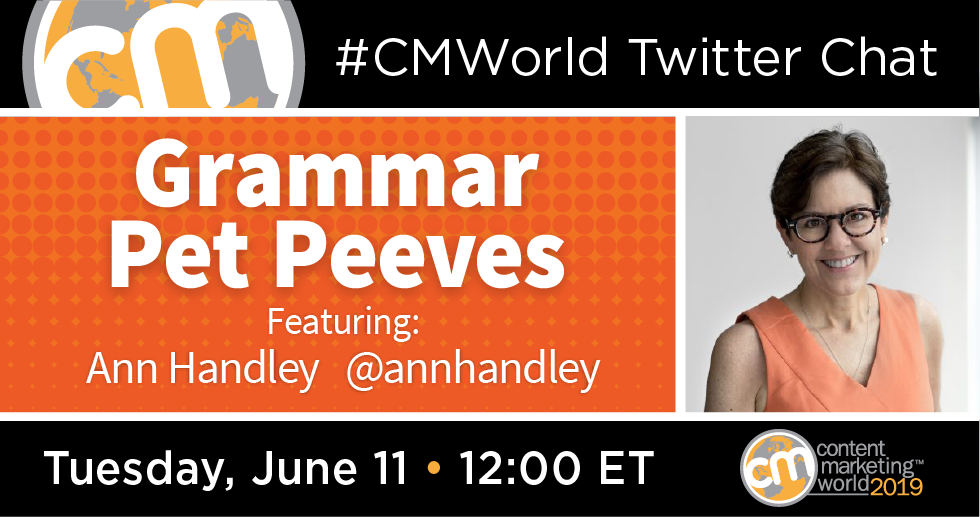 On this Twitter chat we talk not only about our biggest grammar pet peeves, but also ways to avoid it.
If you were there, thank you for participating! If you weren't, these Twitter Moments (part 1 and part 2) might help ease some of the FOMO. Check out the entire #CMWorld hashtag to see the entire conversation from our many participants.
We hope to see you on another #CMWorld Twitter chat soon!
Step 1: Get your team on board. How do you do it? Do you monitor things? Get everyone on the same page? How do you do it without policing your team and micromanaging?
But really, we wanted to get to the heart of the #CMWorld Twitter chat. What are YOUR biggest grammar pet peeves? What makes you cringe? Our chat participants had a lot to say.
What say you? Leave a note in the comments and let's continue the conversation. See you next Tueday at 12pm Eastern!
Are you missing out on the #CMWorld community? Join us in Cleveland this September at Content Marketing World. Register with code SM100 to save $100 off all main conference passes. September will be here before we know it. Register today!
Posted June 12, 2019 in: Event by Cathy McPhillips
---