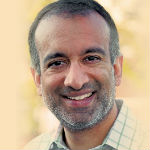 The Content Marketing World team is thrilled to announce that former Washington Post senior correspondent and associate editor, Rajiv Chandrasekaran will be a keynote at Content Marketing World 2015.
Why Content Marketing World?
Most recently, Chandrasekaran left his role at The Washington Post to embark on a new venture – producing nonfiction TV documentaries and other forms of media working to create social impact through creative storytelling. This comes on the heels of his work and collaboration with Starbucks CEO, Howard Schultz, and the book For Love of Country that they co-authored. Starbucks will be the first client in Chandrasekaran's new production company.
Chandrasekaran, "heartbroken" to have left The Washington Post, told Variety in a recent interview, "I'm not doing this so [Starbucks] can sell more cups of coffee. What we're doing is trying to play a positive and constructive role — and broaden understanding across the country around issues that matter to our nation."
Well-known in the content marketing space, Starbucks continues to create compelling content and large communities by tackling social, economic, environmental and political issues.
"While Rajiv's departure from The Washington Post is a personal one based on his passion and interest in social issues, this does reflect on a larger trend of brands working with, or acquiring media companies, media professionals and journalists," explains Joe Pulizzi, Content Marketing Institute founder. "Rajiv's understanding of how media in all forms can be used for social impact and storytelling will be a great lesson to our Content Marketing World attendees."
More on Chandrasekaran
Chandrasekaran's writing and reporting had previously been focused on the U.S. effort to stabilize Afghanistan, and he travels there frequently to meet with Afghans and Americans involved in counterinsurgency operations and reconstruction programs.
During his tenure at The Post, Chandrasekaran served as national editor and as assistant managing editor, and was also a bureau chief in Baghdad. He is the author of Little America, and Imperial Life in the Emerald City, a bestselling account of the troubled American effort to reconstruct Iraq. Chandrasekaran took a sabbatical from The Post in 2005 to serve as the journalist-in-residence at the International Reporting Project at the Johns Hopkins School for Advanced International Studies in Washington and as a public policy scholar at the Woodrow Wilson International Center in Washington.
Keynotes at CMWorld 2015 include John Cleese, Kristina Halvorson, and Rajiv Chandrasekaran. Join us in Cleveland, September 8-11, 2015. Find out more, and register today.
Posted April 23, 2015 in: Event by Cathy McPhillips
---