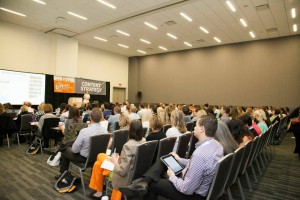 2015 will be the 5th – yes 5th! Content Marketing World. Amazing!
Last year we had our wall of fame for our four-year attendees, and this year, in true Hollywood spirit, we'll have our Walk of Fame! We're so grateful for the group of people that have come to every single Content Marketing World to date.
But if you haven't come all five years, don't worry, you're still a star in our book. So much in fact, we want to make sure you return year after year, and we work hard to ensure that the caliber of our speakers, sessions, tracks and workshops all grow as you grow.
Sure, we'll still have Content Marketing 101 workshops for those venturing in to the space or those interested in a refresher and a gut check. But, keep an eye on our agenda so you can see the overwhelming list of intermediate and advanced sessions as well as our intensives, longer sessions where we dig deep into analytics, personas and much more.
Did you know:
Only speakers with a 4 or 5 rating (out of 5) are asked to return to CMWorld?
Joe Pulizzi reviews every presentation before the big event?
Tracks and sessions are selected based on months of analytics and listening to what you want?
More than 60% of the Fortune 100 companies have been to CMWorld?
What say you? Will you join us in September?
Here's what a few of your peers had to say about Content Marketing World 2014:
Content Marketing World continues to be the best value for my company's dollar in terms of events I can attend. I can attend more sessions and get more ideas in two days at #CMWorld than I can get in a week somewhere else. All the big names attend, so I know I'm going to hear the latest about what's going on. It's also great to see the presenters attending other sessions — ours is a real community and #CMWorld serves the content marketing community well.

– Mike Myers, Nationwide
Note: Check out our YouTube channel for short segments of CMWorld 2014 speakers to get a glimpse of what Mike is talking about.
Content Marketing World offers compelling, relevant content presented by engaging speakers who are clearly experts within their field. Hands down, it's the best marketing conference I've ever attended.  Whether you're new to content marketing or trying to hone your skills, you'll find content that's right for you.

– Danalynne Wheeler, Dell
Note: Join Mo Wagner, CMI's community manager, and over 100 others each Tuesday at 12pm Eastern for our #CMWorld twitter chats. Talk about inspiring and supportive!
Content Marketing World has nurtured a community of practice that is truly supportive and inspiring. Content Marketing World helps people who have previously never had to embrace content, become better storytellers, and to empower their customers with helpful — and even life transforming — content resources as a means for their organizations to earn the customer relationship by being more engaging and relevant. Content Marketing World helps others help the world to become a better place.

– Carlos Abler, 3M
Note: Resources? Have we got resources. Visit our website for content marketing research and other resources. Can't find what you need? Please ask!
We really hope to see you in September. Let us know how we can help get you here! Register today for the best rates, and as an added bonus, use code CMI100 for an additional $100 off. Are you bringing a group? Contact Pam for the best group rates.
Posted March 13, 2015 in: Event by Cathy McPhillips
---