The Muppets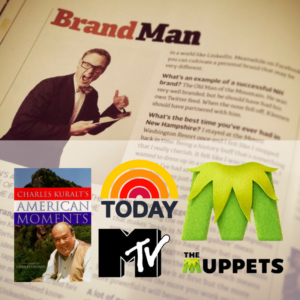 The Today Show
Charles Kuralt
Content Marketing World 2018
What do these iconic brands have in common? The one and only Andrew Davis.
Voted highest-rated speaker at Content Marketing World 2017, Andrew Davis has earned the spot on the main stage as opening keynote for Content Marketing World 2018. We look forward to hearing him share his knowledge, and set the stage for the week with his energy and inspiration
For those of you that have not had the pleasure of hearing from Andrew at previous CMWorld events, Andrew is a bestselling author and internationally acclaimed keynote speaker. Before building and selling a thriving digital marketing agency, Andrew produced for NBC's Today Show, worked for The Muppets in New York and wrote for Charles Kuralt. He's appeared in the New York Times, Forbes, the Wall Street Journal, and on NBC and the BBC. Davis has crafted documentary films and award-winning content for tiny start-ups and Fortune 500 brands. He also contributes to Chief Content Officer magazine each issue with his Unsolicited Advice.
Recognized as one of the industry's "Jaw-Dropping Marketing Speakers," (How many CMWorld attendees can attest to this?) Andrew is a mainstay on global marketing influencer lists. Wherever he goes, he puts his infectious enthusiasm and magnetic speaking style to good use teaching business leaders how to grow their businesses, transform their cities, and leave their legacy.
I asked a few people from our team to let us know what they think of Andrew:
"Andrew knows how to wow – I mean WOW – an audience. His wisdom, his practical advice, and his humor are just a few of the many reasons the CMWorld audience wants him back. And we can't wait to see what orange accessories he'll be sporting this year." – Stephanie Stahl, CMI General Manager
"It's the rare speaker that can actually make me belly laugh while teaching me something. I go out of my way to see Andrew Davis speak, and then inevitably to try and grab him after because I have a million questions.  He's simply a brilliant thinker – and truly entertaining. I'm so glad to have him on the big stage." – Robert Rose, CMI Chief Strategy Advisor
"Andrew is one of the most captivating speakers I've heard. It's no wonder his ratings are off the charts. I can't wait to hear what new thinking he's going to drop on the CMWorld audience in September!" – Lisa Dougherty, CMI Senior Blog & Community Manager
And Andrew has been part of our orange community for so long that he wears orange pants, and has orange glasses in his rotation…and even posts about our orange community on Linkedin: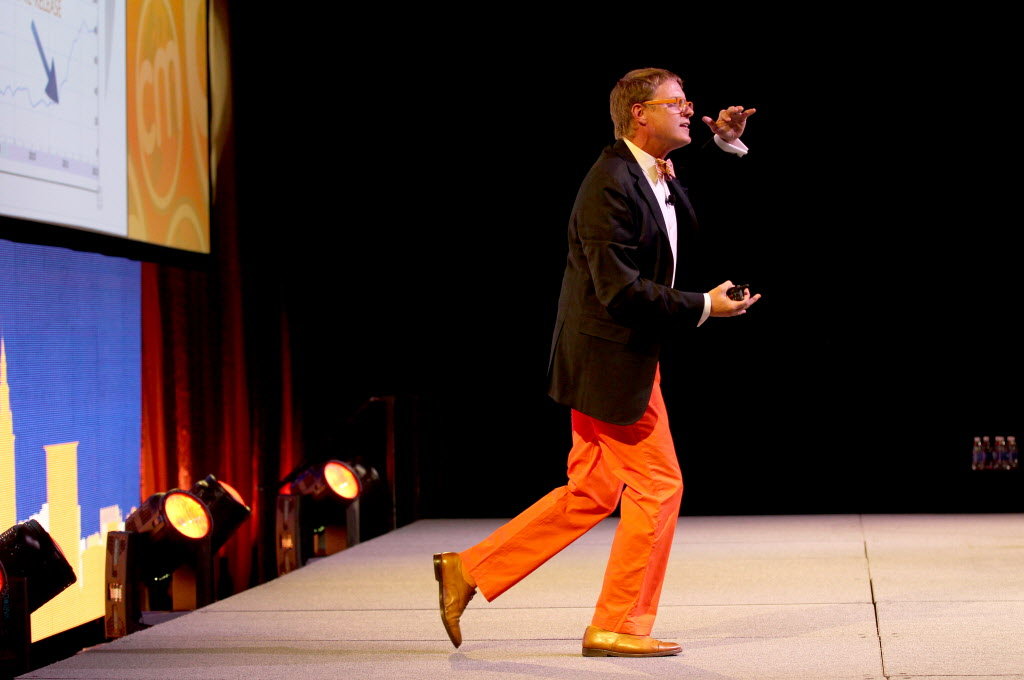 (source: Marvin Fong, The Plain Dealer)
At Content Marketing World 2014 he shared with us stories of a meatloaf journey. If you haven't seen Andrew in person, here's a glimpse of his storytelling and his energy:
And aside from all the knowledge he shares around the world, he's also one of the nicest humans ever. Whenever I see him, his first question usually involves asking about my daughter's high school swim season. And last year he mailed a piece of artwork to one of my colleagues knowing how much his teen daughter would love it (and she did). So, when you see Andrew at Content Marketing World and he says he wants to get coffee, catch up, or hear about life, he really means it.
We hope you join us at Content Marketing World when we watch, listen and learn from Andrew Davis when he takes the main stage. We know it will be a "most sensational, inspirational, celebrational" presentation.
Ready to register? Do so now before Super Early Bird rates end on February 28, 2018! Use code CMWBLOG to save $100!
Posted January 23, 2018 in: Event by Cathy McPhillips
---