Santa Claus is real. How do I know? Because he's stopping by CMWorld.
And of course, he's bringing gifts for all of the nice content marketers. As for the naughty ones? They get a lump of coal and bad SEO.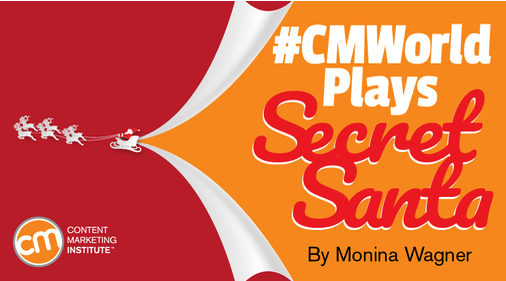 We want the holidays to be stress-free for the big guy, so we asked some friends to help find the perfect gift for their co-workers, mentors, and friends. We call it "The CMI Secret Santa Project." Check out these personal (and sometimes funny) presents our community members would put under the tree.
To:  Charlene Coughlin
From Your Secret Santa: Monina Wagner
Charlene is Managing Director at TWIST Creative. From the moment we first met, I knew she was a force to be reckoned with. Charlene doesn't let any barrier confine her talent. No obstacle can get in her way. Like this necklace, she's shattering glass and empowering other women to do the same.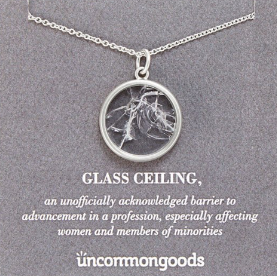 (Photo credit: UncommonGoods)
To:  Andrew Davis
From Your Secret Santa:  Mike Myers
I would give the gift of time to Andrew Davis so we could all enjoy more of his inspiring work. This includes his speaking, writing and other fun, like his Unsolicited Advice for brands and his Loyalty Loop videos for marketers. I'm not sure there's a harder working marketer alive — just imagine what else he could do if he had more time!
(photo credit: Suzy Hazelwood)
To:  Tom Fishburne
From Your Secret Santa:  Liliana Holloway
I would like to give a brand-new digital drawing tablet to Tom Fishburne because of the way he tells the story about the world of marketing as a parody through his cartoons. They are very funny and make me laugh, plus his work is very popular and he deserves to have more tools to draw his cartoons!
(photo credit: Lukasz Kowalewski)
To:  Ann Gynn
From Your Secret Santa: Monina Wagner
Ann is the editor of the CMI blog. I triple check everything because I don't want to embarrass myself. Your vs. you're. Affect or effect. Ugh. Ann is kind, so I know she would never judge me based on simple grammatical errors. But still, this mug is for her. And because I know she doesn't drink coffee, I'll toss in some winter spice tea with the gift.
(photo credit: Jedrki)
To:  Andy Jordan
From Your Secret Santa:  Dominic Garcia
I worked with Andy for five years at Splunk, where he was head of our media studio. As a former CNN/Wall Street Journal reporter, there's just no one better in the business at telling a compelling story or developing a narrative, especially when it comes to content that can be dry or technical, like technology. He's one of those colleagues that's a total professional while also being a genuinely good human.
As for a gift, Andy recently reached out to me for recommendations for a new BBQ grill, since he knows cooking meat (smoking, grilling, sous vide, etc…) is something I absolutely love to do. I got this book [Meat: Everything You Need to Know] a few years ago for Christmas and it covers basically everything meat – cuts, recipes, seasoning – you name it. I'd consider it a must-have for anyone cooking any type of meat. Happy grilling, my friend!
(photo credit: James Sutton)
To: Rachel Miller
From Your Secret Santa:  Brandie McCallum
I was thinking about what as marketers we do and how we spend so much time online, I wanted to share with a friend one of my favorite things to do. Read. For my Secret Santa to Rachel Miller, I want to gift time, time by yourself, in your imagination with a great book (gift card to Amazon) must be a fun book-not business, a bottle of wine, sweet treat and a notebook with pen. The notebook is pen is a fresh start to create. For me there is nothing better than spending time with friends, chatting and experiencing our friendship together. My gift is creating this special time when we can't meet with a special basket of goodies!
(photo credit: Suzy Hazelwood)
 
To: Gene Petrov
From Your Secret Santa:  Maria Marchewka
I'd like to give a gift to Gene Petrov. From the very beginning of my personal branding experience, Gene has always been a positive and encouraging light for my journey. Although he lives in Atlanta, he's a fan of my hometown NFL team, the Pittsburgh Steelers. And for that, I'd give him a brand-new Steelers hat to proudly show off the black & gold in Georgia!
To: Rich Schwerin
From Your Secret Santa:  Dennis Shiao
I'd like to give a gift to Rich Schwerin. Rich and I are fellow Bay Area marketers – we were introduced several years ago by a mutual friend. Rich is the ultimate connector – he constantly introduces me to like-minded marketers, passes along business opportunities and invites local marketers to join our content marketing meetup. Rich is a voracious mountain biker, so I gift him a weekend of glorious mountain biking at the destination of his choosing.
(photo credit: Greg Rakozy)
Have a gift you'd like to see in Santa's bag? Tell us about it in the comments below.
Once the out-of-office message is on and the presents are wrapped, relax by the fire and watch CMWorld Chatter. Recorded live at Content Marketing World 2018, these interviews feature industry pros like Ann Handley, Scott Monty, Shafqat Islam, and Andrew and Pete.
Posted December 3, 2018 in: Event by Monina Wagner
---