Women have been smashing the proverbial glass ceiling for decades. Look around our industry, and you'll find amazing women leading the way.
The 2021 Women in Content Marketing Awards (WICMAs) was designed to change that. CMI is proud to partner with Masthead Media to spotlight the women trailblazers, game changers, leaders, mentors, and rising stars of content marketing.
"Far too few of these women are spotlighted as thought leaders or given any kind of recognition for the contributions they are making to our industry," says Julie Hochheiser Ilkovich, WICMA and Masthead Media co-founder. "We created the WICMAs in order to bring overdue and well-deserved focus to these inspiring, industry-shaping women."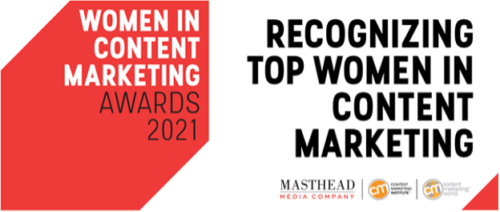 The WICMAs are designed to put an emphasis on the overall contributions the candidate. to keep the focus on those women who have made a career of propelling the industry forward, judges consider:
Creative and professional achievements
Innovative approaching and thinking
Leadership and mentorship
Community involvement and impact
"We are thrilled to be a part of this program again this year," shares Stephanie Stahl, general manager, Content Marketing Institute. "Recognizing and celebrating innovative women in content marketing will inspire so many others. CMI is excited to help elevate these bright minds."
In addition to presenting the WICMA award at Content Marketing World in September, Masthead Media will host a panel discussion called "Secrets from CMOs & CCOs: How Executives Evaluate and Measure Content" featuring WICMA judges and participants.
HOW TO APPLY
To submit a nomination, colleagues must use this form. Self-nominations will also be accepted. Nominations are due July 12, 2021. Entry fees are fully waived this year.
Candidates may be nominated for the following four categories:
Content Marketer of the Year Award: This award recognizes exceptional content marketing contributions made by the nominee. This can include work she has developed for a brand or organization, and ways in which the nominee has used her voice to inspire and lead others in the industry, or to rise above adversity. The nominee has five or more years of experience in content marketing.
Pivot Award: This award recognizes a nominee who has made a shift from a different career field into content marketing— and is already forging a path to greatness. She has fewer than five years of experience in content marketing.
Rising Star Award: This award recognizes an up-and-coming content marketer who has demonstrated exceptional work/talent. She has fewer than five years of experience in content marketing.
Freelance Excellence Award: This award recognizes a freelance content marketer (writer, designer, strategist, etc.) who has created outstanding work for a campaign on behalf of a brand or organization.
For more information on WICMA, click here.
Posted June 21, 2021 in: Event by Ashley Baker
---